Ancoats General Store is resonating with the local community in Manchester by embodying the future of convenience combined with the spirit of independence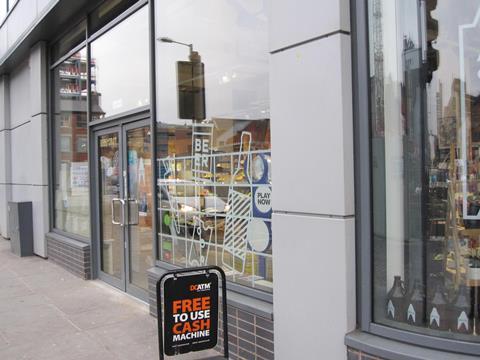 The future. That was the phrase that kept cropping up during the Convenience Retail Awards judging meeting when considering the merits of Ancoats General Store in Manchester against other finalists in the Best Independent Store category. It is a difficult store to assess, as it has a different look and feel to conventional convenience outlets. But there again, owner Mital Morar was never trying to be conventional with the project, which is why it is a worthy and appropriate winner.

Affiliated to the Simply Fresh group, but very much trading under its own identity, Ancoats General Store is a modern, urban community store created in an up-and-coming district of central Manchester. The store is on the ground floor of a new residential development, with young urban professionals as the target audience and the new community to cater for.

A unique and well-defined clientele requires a unique and well-defined shop, and as a consequence Ancoats GS is set up to be a lot more than the corner shop, although it does fulfil that purpose as well. The shelving and refrigeration account for no more than two-thirds of the store footprint, with the rest given over to a seating area of benches and small tables, where hipsters chat over artisan coffees, while other urbanites sip prosecco or knock back a craft beer or two.

The sales area is defined not by concrete walls and pillars, but by large sheets of exposed chipboard, while hip-hop music from a Spotify playlist is constantly playing instead of the usual in-store radio. And, adding to the sense of urban cool, the seating area at the front of the store has a selection of books and board games for those who just want to 'hang'.
Store facts
Ancoats General Store, Manchester
Store size: 2,200 sq ft
Year on year increase: 8%
Fresh participation: 30%
Key features: barista coffee, on-premise licence, craft beer
Owner: Store Group - led by Mital Morar
There are good reasons to hang around at Ancoats GS, too. Coffee comes from an authentic Sanremo machine, served up to shoppers with professional flair by a trained barista. The beans come from a local roaster, and the coffee cups are a specially-selected 8oz size (or 6oz, if a flat white is your thing) to complement the artisan coffee, with the takeaway versions made from compostable vegware.

Shoppers can also enjoy a pint of craft beer or glass of prosecco because of the on-premise licence (until 11pm). And there is also free wi-fi for those who would rather be left alone with their devices.

The ambience is vitally important to Mital, who has a background in running bars and restaurants, as well as an earlier stint as a convenience operator.

"We set out to create something unique and different," he says. "The core is about being an independent retailer immersed in the community. Simply Fresh is the most forward-thinking symbol group out there, but we didn't want to put a symbol above the door on this site."

The store may have an unfinished look, but its preparation was far from rushed, with Mital waiting until he had recruited an authentic barista before launching the coffee service. Overall, the bar and foodservice offer accounts for 10-15% of sales, with fresh and chilled departments providing a further 30%.

Take-home alcohol occupies a lot of space in-store, and as a result there's an impressive selection of craft beers and premium spirits particularly, but by no means exclusively, trendy gin.

Local food is stocked where possible, even bread and milk come from suppliers in Greater Manchester or Lancashire. Other local businesses have concessions on site, such as a florist who sets up an stunning display of plants and flowers inside the door. You can even by vintage clothing on site - a nearby boutique has a rail for shoppers to browse while they do their grocery shopping.

Mital would prefer C-Store not to print the total store turnover, but it is healthy, and recovering from the heavy disruption caused by the collapse of P&H, which interrupted the chill chain particularly badly both in Ancoats and the two other stores in the group, in Salford and Moss Side.

An interim supply deal with Bestway and then Nisa helped the stores through the worst of it, although it required them to take in all chilled deliveries at one store and redistribute stock themselves.

Much of the product selection is similar to other Simply Fresh stores, with premium, ethical, local, healthy, organic and artisan products very much to the fore. Mital sums up his stock philosophy with two cans of baked beans - "we are a convenience store so we stock Heinz baked beans, but the alternatives we stock are organic beans, not a value line".

Vegan and gluten-free lines are easy to find, and Mital is looking to provide as many refillable and recyclable options for customers as possible in future, starting with a fill-your-own detergent dispenser.

The neighbourhood spirit of community is going to be enhanced by a post office counter, which has recently been introduced to the Salford store and is due very soon to add to the services at Ancoats, too. But the store offers a characteristically unconventional range of community activities, more akin to a pub or village hall than an average convenience store.

There are usually two in-store events held each week. Examples include Scrancoats - a weekly event where an independent street food trader sets up in the store for the evening to provide sampling and to discuss the story behind the food - and Overdrawn, a live art evening where local artists come in and draw or paint, and where customers can get caricatures of themselves for £1 a time. Paper and paints are also left out for store visitors to have a go at creating their own masterpiece. And if you turn up on a Friday morning, the local "porridge lady" will serve you a freshly-made pot for breakfast.

Indeed, tasty food options are available for breakfast, lunch and dinner every day, including paninis (these can be heated on demand) and fresh soup, perhaps finished off with a brownie or piece of cake, locally made and freshly served.

The first week of the month sees the store host a quiz night, and for those who prefer their beer without any competitive questioning there are regular Shop Parties, involving food tasting, a live broadcast from local internet radio station MCR and, of course, plenty of beer from craft brands such as Brooklyn.

The party spirit extends to the in-store team, who go about their work in a lively and friendly fashion, and who greeted their win at the CRA Awards presentation event with typical enthusiasm.

"The key to it all is community," says Mital. Indeed, the links formed through the social activity are turning into strong bonds, with the radio station contemplating taking up permanent residence in the shop's mezzanine floor.

Social media is a very important means of getting the word out about in-store events, but also about the overall store proposition, and Mital and the team communicate successfully - the store has 1,000 friends and followers across the three platforms Facebook, Twitter and Instagram.

So there is even more buzz about the store than that emerging from the sound system speakers. And there could be more to come, as Mital is actively on the lookout for more sites to develop. So for now, and for the future, the spirit of independence is alive and well in the heart of Manchester.