Manager Anita Nye and her team at Premier Eldred Drive Stores in Kent go beyond the letter of the law to ensure they trade responsibly and foster good relations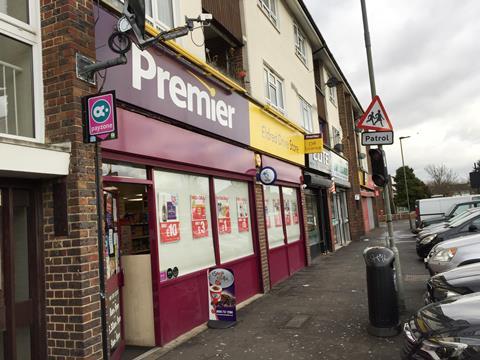 Responsible retailing is a complex discipline. Preventing underage sales and proxy purchases of alcohol and tobacco may be a long-standing legal requirement, but while enforcing these laws is straightforward in theory, it's not without its risk in practice.

Then there's the fact that some products are legally available to young people, but their suitability is arguable. Meanwhile, young people should perhaps be encouraged to consume more of other products, even if the margins are not as healthy. So retailers who have adopted responsible trading policies beyond their legal obligations are the ones who caught the attention of the CRA Responsible Retailing judges. And no store exemplifies this approach more than manager Anita Nye and her team at Premier Eldred Drive Stores in Orpington - which is why the store clinched the 2018 award.

First, Anita and the team work tirelessly to adhere to their legal responsibilities. "If we have difficulties with people when we ask for ID, we explain to them that's there's 10 or 12 people here so you may be asked 10 or 12 times. Each person is accountable for what they're selling," she says.

Regarding proxy purchasing, the store's healthy relationship with its customers has helped prevent incidents - for the most part. "Touch wood, we're quite lucky because our customers are really good and tell us if there are kids outside trying to buy cigarettes," Anita adds. "We've got cameras outside, too, so if we see an adult taking money off kids we'll refuse to serve them and ask if they realise that they could be fined and that we could lose our licence.

"We had a mum who came in once and I just happened to overhear her say to her kid 'What beer do you want?'. She got upset when I refused to sell it to her - sometimes they don't realise what's at stake for us. They just think we're being difficult. Obviously, there's a flip side, as in when that shopkeeper in London was recently killed over a pack of Rizlas."

She advises her staff to take a measured approach in the face of threatening behaviour. "We say, if you think it's going to escalate then call one of us out. We've got panic alarms everywhere, but that's if you're being physically attacked. But nine times out of 10, we can diffuse the situation," she says.

Being near the local schools, Anita takes her responsibility as a community retailer seriously and has fostered close relationships with the primary and secondary school, to positive effect.

"About five years ago we stopped selling to senior school kids after 8.30am. They had a spate of children who were bunking off school. We've got a good relationship with the school, so we phoned and said 'This is not on'. We asked if they were happy for us to not serve anyone after 8.30am and they agreed," Anita explains.

But it is the store's principled refusal to sell energy drinks to under-16s that has really chimed with the times. "We started about two years ago. It was ridiculous that we had primary school kids coming in and asking for a Red Bull."

At first it caused a few headaches, but soon customers accepted the rule, and the impact on sales has been negligible.

"At the beginning we had a few school kids throwing tantrums, but nothing too bad. The problem is we have a chip shop down the road which sells energy drinks, and sometimes parents blamed us for selling them the drinks, but we said it was nothing to do with us," she says. "But it hasn't affected trade at all. Kids will put the high-caffeine energy drinks down and usually buy something else. Mountain Dew is another product we don't sell to under-16s."

The team have become disciplined about asking for ID from the under-16s, which isn't always easy. "It is difficult to extract proof of age for the schoolkids. But a lot of them have their bus passes, which are set in age stages, and we know a lot of them through the school so they can't really get away with it," Anita explains.

Her advice to retailers who are considering adopting a similar policy on energy drinks, but are concerned about impact on trade, is to take the bull by the horns. "If it's your gut instinct that you don't want to sell to youngsters, just don't do it. Nine times out of 10 they will pick something else up," she says. "I reckon it'll be law within the year anyway. It just seems to be the way it's going."

The team have also started giving away free fruit to primary school children, on Mondays, Wednesday and Fridays. "We leave it out in a big basket and they help themselves. At first we couldn't give it away, but now it's really popular. I think we've contributed to changing eating habits. We had one boy of about eight who came in with his dad, and he had never eaten fruit before. I asked him to take an apple and come back the next day to say if he liked it, and he said he did," Anita reports. "I think it's boosted footfall."

By trading responsibly, and treating its customers with respect and consistency, Eldred Drive Stores is benefiting the community and its own bottom line. After all, weekly sales are pushing £35,000 from a 1,200sq ft space.