The hard work and dedication of Donna and Bruce Morgan was recognised with awards for customer service and community support at the recent CRA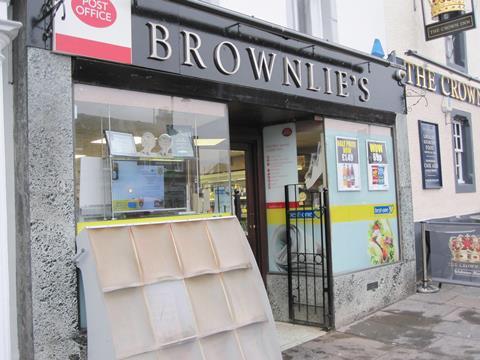 In today's intense trading environment, for any small store to be successful you would advise a good combination of customer service, community support and a point of difference in the product offering. But for Donna and Bruce Morgan, who have been running the Brownlie's store in the high street of the Lanarkshire town of Biggar for a decade, these three factors are not just desirable but vital, and mark the three cornerstones of their ongoing success.

For one thing, the premises themselves defy modernisation. The store is in a listed building, which has been occupied more or less continuously since the 18th century and has a protected status, meaning the tenants cannot make any significant structural alterations. As a result, Donna and Bruce have to trade from a shop spread across three rooms and run the business from a labyrinth of nooks, crannies and passageways.

But while the interior is not going to win any design awards or beauty contests, Donna and Bruce make up for it with their drive to serve customers brilliantly, support the community and constantly seek to improve their range, netting them two awards at this year's Convenience Retail Awards.

Biggar is a small town, but the Morgans do not have it to themselves by any means - there is a Spar store directly opposite and a Sainsbury's Local just down the road. The proximity of the competition means that the range is carefully selected so they are not trying to compete head-to-head on basic items and are instead emphasising their points of difference. And while this makes the product offering appear as quirky and discoverable as the store itself, there is a lot of thought and business discipline behind it.

So shelves are full of home-made rolls and local sandwiches, authentic pies, fresh curries, and meat and other delicacies from a local butcher. Bread is baked twice a day, and cheese comes from the Orkney Cheese Co.
Store facts
Brownlie's Best-one
Size: 1,200sq ft
Turnover: £18,000 per week, up 15% year on year
Opening hours: 6am to 10pm
Services: Post office, free ATM, PayPoint, National Lottery
Events are well-traded and the Morgans always have an eye out for tourist visitors as well as locals, so the store emphasises its Scottishness with a huge selection of Walkers shortbread and Border Biscuits (which are local to Biggar) available all year round, and lots of haggis for sale for Hogmanay and Burns Night.

The customer base in and around Biggar includes lots of retired people, and many others in one- and two-person households, so the plan is to sell nice food, in small portion sizes. "People have time, and come here because they want to cook," explains Donna.

The local demand for scratch-cooking is reflected in a large home-baking range, plus a huge array of spices, premium sauces and unusual ingredients such as mung beans and buckwheat. The selection has been built up over time based on customer requests, which are carefully monitored.

"We will always give something a try for a customer," explains Donna. "We will source it and put it on shelf and see how quickly it sells before deciding whether to re-stock. But we know that while we are doing that, the customer in question will be buying their bread and milk from us as well."

As Best-one symbol group members, Bestway is the main supplier and room is found in-store to display the relevant period's special offers, but for some of the more esoteric lines suppliers such as Petty, Wood & Co, Cotswold Fayre and Green City Wholefoods are also employed.

Premium soft drinks also perform well, but the real show-stopping feature from a range point of view is the off licence, which entirely occupies one of the three rooms in-store plus a chiller in the main section.

Wines of all prices and tastes are stocked and the Morgans deal with specialist suppliers, run their own promotions and stage wine events for enthusiasts. There are premium wines such as Cloudy Bay, and Bruce sourced a premium Italian Amarone for Christmas which sold out at £37 a bottle.

Local and craft beers are stocked alongside mainstream brands, plus more than 40 varieties of gin - the Scottish-made ones performing particularly well. The malt whisky selection is impressive, and the team run their own 'Malt of the Month' offers. In addition, Bruce has rigged up a tablet in the off-licence section to play videos (from sources such as You Tube) giving extra product knowledge to featured lines.

Brownlie's fulfils its requirement as the local shop with a range of services, including a free ATM and a Post Office Local counter, which is so heavily in demand, especially outside normal PO hours, that Donna and Bruce have to carefully manage its efficiency by handling bulk mailings for local companies away from the counter. Greetings cards and stationery are also big sellers.

In fact, the whole business is based on a service ethos. The store will accept orders over the phone for home delivery with no minimum quantity. This is a lifeline for some, particularly in bad weather, but many elderly customers ring almost daily. For regular customers, Donna has been known to take along some home-made macaroni cheese as well.

The store takes part in Scotland's drive for healthier lifestyles with a fruit and veg stand from Healthy Eating Scotland in the shop, and Donna also organised an educational event for 40 local schoolchildren whereby fruit was chopped up into small pieces and the children were asked to guess what it was. With typical diligence, she went all the way to Edinburgh to source some more unusual items to add extra interest to the quiz.

Local schoolchildren also make an annual visit to the shop so that Donna and Bruce can explain to them how the Post Office works, and the lucky kids can win a £25 prize in a colouring competition backed by Brownlie's.

And the support doesn't stop there. Donna sits on the local gala committee which organises a week-long gala in the town that involves a whole year of fundraising, and all the funds from carrier bags - the store was charging for these long before it became a legal requirement - go to Macmillan. Bruce personally ran 1,000 miles in organised races during 2016 and matched every pound raised out of his own pocket for Macmillan - raising over £2,500 in total. The store also sponsors a junior football team, with their name on strips, and Biggar rugby club.

The huge amount of effort put in by Bruce and Donna is definitely a win-win for the store and the community, as exemplified by Christmas Day when the couple man the counter themselves and the store takes £2,500 in four hours. "Christmas opening is good business, but it's also good for the community, " says Donna. "We might be the only people that some customers will see on Christmas Day."

Somehow the Morgans will have to find time for even more special events this year, to mark their 10th anniversary of being in the store. And plans to enhance the business are under way, as with Bestway's help they will be expanding the small, improvised coffee and hot food service they currently offer into a more substantial food-to-go proposition, providing hot drinks and bacon rolls to the commuters waiting for the bus outside the store at 6am. You certainly have to get up very early in the morning to catch the Morgans off their game.
Winner
Best Customer Service
Brownlie's Best-one is an example of a community store which places great emphasis on customer satisfaction and really engages with its community. Offering customers the best in promotions and listening to their needs, Donna and Bruce have ensured their store is the hub of the community.
As the sponsor of the CRA's Best Customer Service Award, Bestway would like to congratulate Donna, Bruce and all their staff for winning, and for exemplifying Best-one's 'Heart of the Community' ethos.
Sponsored by Bestway
Winner
Community Retailer of the Year
Brownlie's was chosen as despite intense local competition, the team have worked tirelessly to offer their customers new and innovative ideas, from homemade sandwiches through to wine-tasting evenings. They've also set up a successful home delivery service that really benefits elderly customers outside of Biggar.
The community theme continues with school events, sponsoring local sports teams and multiple fundraising activities. It's a fantastic example of a community store.
Sponsored by Camelot