With inflationary pressures coming to bear this year, offering price-marked packs will be more important than ever in encouraging consumer spend in convenience stores. Here, Budweiser Brewing Group reveals why it will be vital to the beer and cider category.
Covid-19 has undoubtedly had a significant and lasting impact on shopper attitudes and behaviours. One legacy of the pandemic is that shoppers are now paying more attention to health, and where products are displayed in-store when choosing which product to purchase, for example1. Yet price remains the second most important factor for shoppers when selecting their items2, and is likely to remain front of mind as British consumers' budgets are squeezed in the current high inflation environment.
So it's vital for retailers to do everything they can to reassure shoppers that they are getting good value. That's why stocking the right range of price-marked packs (PMPs) will be more important than ever for convenience stores this year.
View from the shop floor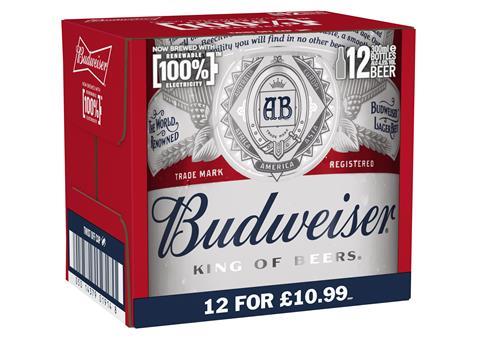 Recent research from Budweiser Brewing Group shows that PMPs are popular among both retailers and shoppers. More than two-thirds (68%) of independents are in favour of PMPs, citing how they give shoppers confidence as the key purchase reason3. Consumers echoed this view, with more than two-thirds agreeing that PMPs provide a guarantee that they are not paying more than they should4.
Not only do PMPs boost confidence in retailer price points, but they can also give the impression to the shopper that they are receiving a special offer on the product5, ultimately driving sales. Three in five consumers (60%) believe that the PMPs they see on-shelf are on a special promotion6.
The beer and cider opportunity
There is a huge opportunity for retailers around PMPs within the beer and cider categories in 2022. Not only is beer the second most popular PMP category7, but, more significantly, beer and cider shoppers are +147% and +161% more valuable than the average convenience shopper8. Plus, beer and cider PMP shoppers shop in convenience more frequently than average and with greater frequency than non-PMP shoppers9.
Getting the right range of PMPs is key for convenience stores. PMPs beer and cider shoppers are more likely to lie in the ABC1 demographic10, so premium products should be central to stores' purchasing strategies. We have PMPs available across our best loved premium brands, including Budweiser, Stella Artois, and Corona, in line with the broader trend towards premiumisation.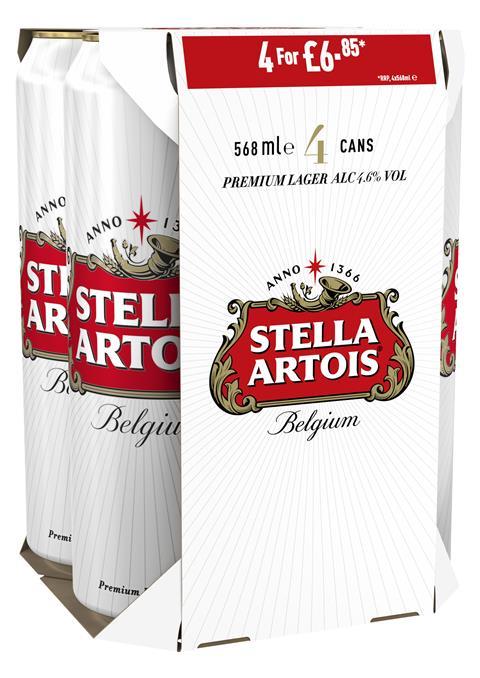 Promotions also play a key role in maximising the PMP opportunity. Beer and cider shoppers are not only more impulsive than the average shopper, but are also more likely to be on a mission to cater to at-home occasions such as the Big Night In11. Eye-catching displays with beer PMPs at their heart, especially cross-category opportunities with snacks like crisps and cheese, will help retailers capture this spend.
There is also an added opportunity around multipacks. As we approach the warmer months, and with restrictions set to be fully relaxed by summer, shoppers will be preparing for larger social gatherings. PMPs are more popular for multipacks among consumers12, so stores should ensure stock of these larger PMP SKUs. Budweiser also recently introduced a PMP version of its Budweiser 12x300ml bottle in line with mid-pack growth, further helping retailers to capitalise on their popularity. There will be a huge opportunity around multipacks, especially during the FIFA World Cup in the winter, where large viewing gatherings will take place in the home.
Boosting your profit margin
We're committed to help our convenience customers make the most of the PMP opportunity, whilst protecting their profit margin. Effective from February, we've updated our PMP range in line with category trends – reflecting new pricing among our most popular SKUs.
Our updated PMP line-up
Bud Light Regular Bottle 4x440ml PMP £4.75
Budweiser Can 4x440ml PMP £5.29
Budweiser Can 4x568ml PMP £6.70
Budweiser Can 6x300ml PMP £6.85
Budweiser Regular Bottle 6x300ml PMP £6.85
Budweiser Regular Bottle 12x300ml PMP £10.99
Stella Artois Can 4x440ml PMP £5.49
Stella Artois Can 4x568ml PMP £6.85
Corona Extra Bottle 4x330ml PMP £5.99
Contact your sales rep today to stock up on our optimised PMP range now.
Sources
1-12 Lumina Intelligence 2021