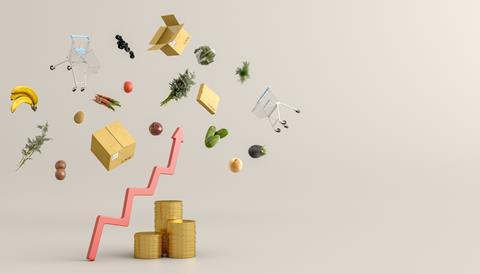 Inflation will continue to rise, but grocery will not suffer to the extent of other sectors, PricewaterhouseCoopers (PwC) told retailers at the ACS Summit on Tuesday. However, retailers must adapt to accommodate people on different budgets and to keep customers loyal, the firm warned.
"If you think inflation's bad now, you ain't seen nothing yet," said Kien Tan, director, retail strategy, PwC. He claimed that, up until the early part of this year, the vast majority of inflation wasn't from food or fuel. "Actually it's been in services - going out to eat and getting your hair done … it was stuff and services, rather than big stuff that's coming in down the track, which is utilities and food," he said.
He claimed that just before the Ukraine war the chairman of Tesco had said that in the last year, the big grocers had generally been able to keep price inflation down to about 1%, but with it likely to rise to about 5% going forward. "That 5% going forward looks quite optimistic now in the context of the war and those commodity prices," said Tan. "The government's own forecast - they think it's going to peak at 8 or 9% in the latter part of the year and big growth is going to be coming from utilities."
However, he noted that certain consumer groups weren't as badly affected as others. His research found that almost 20% of consumers felt they would be better off this year than last year. "You can see in my survey - [the] ABs [demographic] were the ones who benefitted. They weren't commuting so they felt great during lockdown, they were working from home still earning money and not spending it on their fancy holidays. And they are the ones who are still relatively positive compared to all the lower income groups. So there are groups of the consumer economy who will be more protected in the next year."
On the other hand, those in lower income groups would struggle more. "They [Our economic team] think that the average household will be £900 worse off this year, but that average hides a multitude of sins … For the richest households, they don't think they're going to be badly off at all - basically zero because of all these savings during lockdown. It's actually all concentrated in the poorer households."
Despite many consumers set to be hard hit, Tan believed that grocery spend would be protected. "At exactly this time last year, the priority categories last year were eating out, going on holiday and fashion. That's what's fallen off. They're the ones that are going to be harder hit. In general, you [retailers] are not discretionary, you were an essential service in lockdown and in general that means you could be protected. More people think they'll spend more on grocery, but if you ask them why, that's because they're baking in inflation. It's one area of spending that consumers think they're going to protect."
He claimed that shoppers were keen to stay loyal to their existing stores. "Help them to keep shopping with you, because they don't want to stop shopping with you because that's part of what they do, that's part of the relationship they've built up in the last two years in particular," he said. He claimed that consumers understood that prices would increase, noting "they've already budgeted for the fact that prices are going to go up in certain categories". But he advised retailers to ensure that there was a range of prices within different categories, so that consumers could trade down when necessary. "What can you do to allow them to treat themselves with the things that they want, but also trade down? Not necessarily keep your prices down for everything, but if whatever product category isn't as important to them - is there a lower option that they can put in their basket so that they can still treat themselves to whatever chocolate they want?"
Bestway Wholesale retail director Mike Hollis added: "Food inflation is not a bad thing as long as stores are maximising their opportunity without insult pricing. Previously, when you bought stock you bought at best an asset that stood still, but probably depreciated. That's not the case today. You're buying stock that is appreciating in value. Therefore you have to think differently as a retailer.
"What is clear is that convenience has emerged as a fundamental channel for shopping of all types of shoppers, not just older shoppers or distress missions. Convenience is appealing to the young, the hybrid worker, the local shopper and the ethically conscious. One offer that doesn't fit all is not right for the future. They want individualism and localism, along with quality and brand trust, but with behaviour changing rapidly, this all needs to be hyper flexible so that the needs we're meeting today evolve and then we meet them tomorrow."