The Covid-19 pandemic has been a unique test for convenience retailers, who have returned to the centre of community life as people have stayed at home and shopped locally. Symbol groups have used their collaborative advantages to adapt quickly, an edge that will prove useful as restrictions ease, as SPAR argues.
The symbol group's unique operation has allowed for rapid exchanges of information and best practices, bringing together a central office, five regional distribution companies, and 2,600 SPAR and EUROSPAR stores across the UK. While other retailers were stretched by the pandemic, the company's network provided each store with support.
For some businesses, re-branding ahead of the pandemic was key to weathering it. Evelyn Spence, owner of SPAR Ballywalter, County Down, completed the transition process in February 2020. "We got through it thanks to the safety net of such an established, organised and professional outfit at Henderson Group," Spence says, referring to her regional SPAR wholesaler.
Going forward, the question on all convenience retailers' minds is how to adapt as lockdown lifts. Members of symbol groups can share experiences to craft the best shopper journey, drawing on in-depth customer behaviour and location analysis. To this end, SPAR partners with CACI to design and lay out stores with a focus on profits.
The latest propositions include fresh hyper-local stores, capitalising on the trend for people to shop in their immediate area during the pandemic. The approach exemplifies a broader point, which is that new ideas should always be tailored to specific customers, as one size does not fit everybody.
At the same time, broad campaigns will be pitched towards the changing public mood as restrictions ease. SPAR's summer marketing campaign, 'Make It Your Summer' seeks to inspire shoppers with the symbol group's range of own-label food and drink.
New products and expansions on existing successful formats will capitalise on changing shopper habits. To take one example, SPAR has always had a strong selection on shelf and chiller wines. Its popular Crisp White and Fresh Rose will be available in new 2.25 litre bag-in-a-box formats just in time for barbecue season.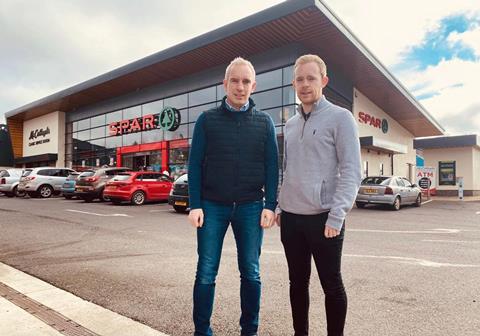 Social media reach will be tapped for 'Make It Your Summer' initiatives, which include delicious and healthy recipes to provide shoppers with seasonal inspiration for home cooking. These will be promoted across all online SPAR channels, driving footfall as customers seek out the wide range available from their local store.
Over the two bank holiday weekends, SPAR will also be boosting its headline deals and branded barbecue range. This will be complemented by a consumer competition across all SPAR social media channels, offering the prize of the Ultimate BBQ Bundle.
Looking beyond the summer, modern convenience stores must tap into the latest food-to-go trends as consumption moves away from the home. One example of this is SPAR's Daily Deli counter, which provides customers with a selection of cold meats, cheeses and sandwiches, the latter being fully customisable.
Introducing these features may require a refit of an existing store. Jonathan and Terry McCullagh, owners of the Classic Service Station in Omagh, County Tyrone, recently doubled their store's size to over 7,000 square foot. This allowed them to add an in-store off-licence and a broader product range, enabling customers to do a full weekly shop in the store. Average basket spend has risen substantially.
Likewise, Teresa and Nick Blight at SPAR Blights Motors in Bideford, Devon, have used a refit to better position themselves against four direct multiple and discounter rivals located nearby. The changes, which took place in May with appropriate social distancing restrictions, have led to a 20% rise in sales.
As well as allowing existing retailers to change and broaden their offering, symbols groups can ease new retailers into convenience. Olly Andrews, owner of SPAR Maiden Newton near Dorchester, credited SPAR for supporting him as he improved his retail expertise, including by helping him to upgrade his store.
SPAR retailers are backed up in these efforts by one-to-one business development management and multimillion-pound marketing packages. As lockdown eases, symbol groups can provide vital support, ensuring every store can respond to the latest consumer trends.