When local stores put the needs of the community at the heart of their offer, it motivates consumers to shop more at convenience outlets, says Spar.
Over the past couple of years, UK consumers have reassessed how they use convenience stores after being forced to shop differently. At Spar, shoppers have told us that when local stores put the needs of the community at the heart of their offer, it motivates them to shop more at convenience outlets.
While a return to some normality has started for many, post-pandemic, the convenience market is continuing to work hard to manage the supply chain despite ongoing challenges in the marketplace.
But there are positives; now is also a great time for convenience stores to take advantage of changing consumer shopping habits and retain those customers who shopped with us during the pandemic.
Being local and on people's doorsteps provides us with a great opportunity and an advantage over city centre stores and forecourts as people return to work and start travelling more around the UK.
Independent retailers operate around customer needs and the sense of community is what sets us apart. As we return to a new normal pace of life, people are now in the habit of shopping locally. So, it is important for the convenience sector to keep thinking about how and what is needed to keep new customers shopping locally.
Speed of change
In the past two years in particular, communities have been shown the value of independent local stores and how they are best placed to really understand the needs of customers in their area… and deliver on these.
Staying innovative, agile and true to customers will help local convenience stores prosper.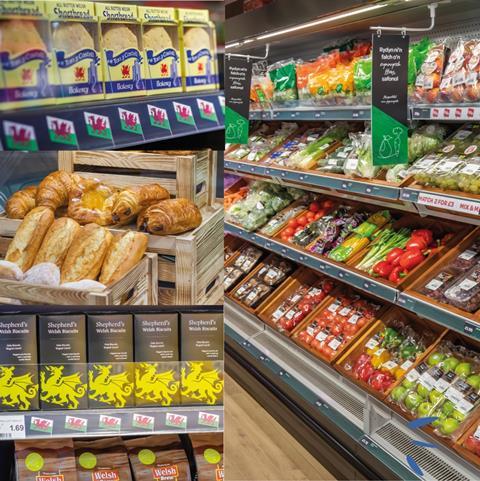 Convenience stores have already shown that they are a resilient part of the food sector. We have built a better community environment where our stores are loved more. We have proven we are there for more than food-for-now, but also for meals and dinner tonight.
The shift in consumer behaviour and how they shop continues to offer a huge opportunity for the convenience sector. Shoppers have become used to visiting their local stores more frequently, and speedy developments in retail technology have meant that shopping, collections and deliveries can all be made from these local outlets.
So, the key to future success will revolve around personalisation and a blend of digital and physical experiences to meet consumer expectations.
The Joy Of Living Locally
In 2020, Spar looked at its brand to understand what it really meant to customers. In the middle of the pandemic, Spar was there for communities at a time when it was needed most. Following extensive research, Spar unveiled its new UK-wide brand positioning in January, celebrating the unique characteristics of its convenience stores, and the local approach at the heart of it all.
The new brand positioning, called 'The Joy of Living Locally', launched in Spar stores nationwide and across all its digital communication channels. It encapsulates the entire Spar brand philosophy and demonstrates what the retailer really means to customers and how its 'There for you' motto comes to life.
Over recent years, Spar has seen how stores are valued for meeting the needs of consumers for local convenience, availability of products and friendly service.
With 'The Joy Of Living Locally', Spar is talking about its loyalty to a local area where retailers and colleagues live and work, the local customers they meet every day, the local suppliers they work with, as well as the local charities and organisations they support.
This is being brought to life with three distinct platforms: passionate about local; nurturing our neighbourhoods; and value on your doorstep.
Each pillar has its own distinct creative badge, which will also be incorporated into future store designs and across all marketing collateral. These pillars will communicate to shoppers how Spar is adding value through promotional activity or everyday pricing, nurturing neighbourhoods by employing people from local communities, supporting local causes and charities and celebrating neighbourliness, as well as being passionate about showcasing local food and producers.
Mission-based store formats
It is important for independent retailers to meet the needs of their customers as this will help improve shopper loyalty. Catering for range breadth before depth is crucial. The challenge for retailers is to identify the products which their customers will switch to and from, and those that they must offer in their range.
The convenience market has benefited from customers shopping locally because of the pandemic. Customers' shopping habits have changed, however, and top-up will remain an important mission.
Spar operates a multi-format retail strategy, aimed at meeting specific customer propositions. We deliver profitable store developments tailored to suit each store, each local community and local shoppers. Collaborating with retailers to develop their stores frees them up to focus on driving sales and profit margins.
Spar has developed a portfolio of data-driven mission-based store formats that optimise sales and profit and have proven a tremendous success.
For example, a customer-centric range has been trialled in two fresh and convenience formats. The average margin across Spar Wareham and Spar Poundbury (each 1,900sqft) grew by one percentage point versus control stores. Store propositions saw an increase in margin and sales through the adoption of the right ranges, innovation and design.
Meanwhile, a brand-new store format was introduced in Spar Carnon Downs, Cornwall last year (see gallery below). This is a fresh store, and the format has been adapted to cater for local customer needs. Situated in a highly affluent area, with strong consumer demand for fresh and local products with provenance, the store design and offer reflect these requirements.
The most important shopper mission in a fresh store is making-a-meal, so the space and range have been tailored to meet this demand. A greater proportion of space and variety of range were dedicated to fresh produce, meat, fish, poultry and savoury groceries, so that customers can buy all the ingredients they need in one place.
Why join Spar?
By delivering and communicating a distinctive and meaningful brand, Spar is shifting the relationship with its customers from functional to emotional, in the belief that this will ultimately drive greater revenue and benefits to independent retailers.
Spar provides innovative and profitable retail solutions to independent retailers, enabling them to serve local communities in ways that exceed customer expectations, and its new brand positioning supports this.
Strong relationships with local suppliers, butchers and bakeries and in own-label have been developed and are a strategic strength for Spar stores.
The combination of great store teams, retail insight, excellent store standards, availability and relevant innovative technology is enhancing the overall shopper experience.
Over the last 12 months, Spar has invested into the brand, stores, ranges, technology and infrastructure to support the sales and profitability of its independent retailer businesses.
With a successful year in retailer store recruitment, Spar will continue to focus on the customer and develop each store in line with their customer shopping missions by providing data-driven, customer-led formats that ensure the correct proposition is in place to maximise sales and profitability for independent Spar retailers.
If you are looking to fulfil all the needs of your local customers, then why not partner with the leading symbol group in the UK and find out how the Spar family of independent retailers can increase your sales and profits.
Visit www.spar.co.uk/own-a-store