Unilever's Partners for Growth team asks category director Kat Simpson to analyse what impact the pandemic has had on shopper behaviour and how convenience retailers should respond
With more people staying at home and working from home, there has been a big shift to shopping locally, with one in three shoppers buying groceries in their local shop more often during lockdown1. This resulted in the convenience channel growing by 28% during the lockdown period, and independents and Symbols growing by 57% over the same period1. While sales have dropped back from their peak in the first lockdown, the convenience sector is still in growth vs pre-pandemic levels and this is expected to continue until 2023 as people have re-engaged with the value and benefits of a local convenience store.
However, online shopping has been the biggest winner, taking sales from supermarkets as shoppers have chosen to shop online to stay safe. Having now experienced the benefits of shopping online, this is now becoming a new habit and, therefore, a more mainstream retailer channel. Online will only continue to grow, as increased retail and supplier resource is directed to it.
Partners for Growth has recently witnessed many convenience retailers creating their own online shopping services to help support their local communities in staying safe. A great example is one of our Retailer Advisory Panel members, Mandeep Singh of Singh's Premier. He has used his 17,000-strong Facebook following to launch Singh's Drop, an online delivery service with a commitment to deliver within 30 minutes of an order being placed. Find out more here.
What specific areas of change has the convenience sector seen?
Overall growth in convenience has been driven by shoppers visiting fewer stores during lockdown. More shoppers have been choosing to get their main shop from local stores, which has inevitably led to a significant increase in convenience basket spend.
However, not all areas of the store have fared as well, with food-to-go sales in particular seeing big falls because of reduced footfall, as a result of many people working from and staying at home. Additionally, sales of impulse categories, such as soft drinks and confectionery, have fallen significantly, again as fewer shoppers are visiting the stores overall.
What have been the main trends driving change in core categories?
With more time on their hands, shoppers have taken the opportunity to reflect, making changes to their routines to embrace wellbeing while staying at home.
There have been significant changes in shopper behaviour across many categories. However, by far the biggest impact on behaviour has been on those categories where shoppers have wanted to protect themselves and their loved ones from infection risk. Therefore, personal care, home hygiene and laundry have all seen big growth spikes.
So, what changes have there been in personal care?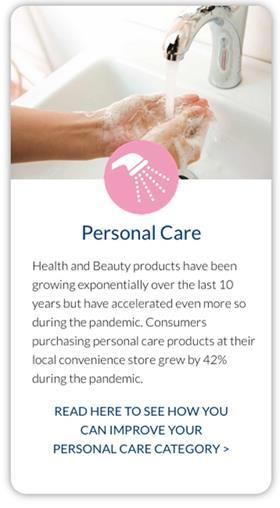 Health and beauty products have been growing exponentially over the last 10 years, but they have accelerated dramatically during the pandemic, with sales of personal care products through local convenience stores up by 42%, and now worth £312m to the convenience channel2.
If we analyse this further, we see how the dramatic changes in consumer consideration of where and how often they buy personal care products have driven this growth. The increasing importance of convenience retailers to shoppers, coupled with the increasing need to wash our hands more frequently, has seen handwash products grow by a staggering 320% in convenience3.
The personal care category priorities have not only changed in massive favour of handwashing; there has also been considerable growth in the other personal hygiene subcategories including haircare (+50%), skincare (+42%) and shower (31%)4.
These dramatic changes mean retailers need to review their range to ensure they are meeting the new shopper need states. Find out more here.
And what has been driving growth in home cleaning and laundry?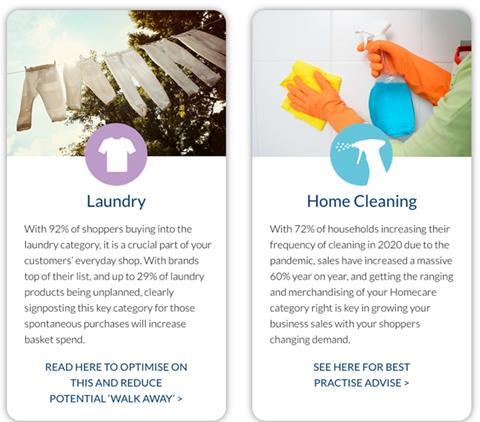 The importance of hygiene is being more frequently and extensively communicated in the media, and with more people are spending more of their time at home, it has resulted in a 72% increase in household cleaning frequency during 20205.
This increase in shoppers buying into the subcategory more frequently has had a direct knock-on effect on sales, and household cleaning sales value has grown 60% year on year6.
In fact, it would be fair to say that cleaning is fast becoming an essential national habit, and convenience retailers will need to flex their range to provide shoppers with their product and category needs.
Laundry has always been a crucial part of a customers' everyday shop, with 92% of shoppers buying into this category7. Nevertheless, we have seen a 42% increase in usage as a result of the pandemic7, and it is important to consider your ranging and merchandising in this high-penetration, growth category. Find out more here.
So what other factors have driven a change in shopper behaviour?
Health and wellness has been a big driver for many shoppers, spurred on by national media communication around the importance of being healthy during the pandemic.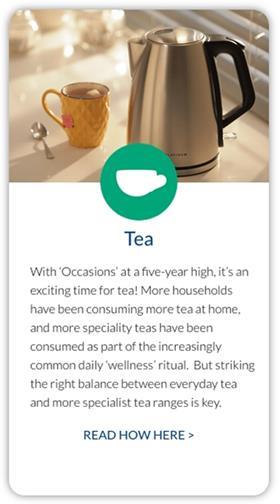 Take the tea category, for example, which has seen occasions grow to a five-year high during the pandemic, as more households are consuming more tea at home.
In part, this has been driven by snacking and lunching occasions, both of which are up 14%8, but there is also an increasing trend to treating tea as an 'occasion' and, as a result, both value and volume are up in this category.
There has also been an increasing trend for people to consume more speciality teas as part of their daily 'wellness' ritual to try to stay physically and mentally fit, either as a moment of pleasure, a transition into the working day, or relaxing after work back into home life. Check out the latest tea advice here.
What has been the impact on ice cream sales?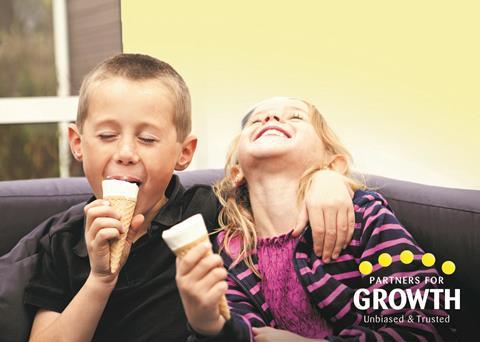 While impulse and out-of-home ice cream sales have suffered, due to lockdown restrictions causing lower footfall in shops, as well as hospitality venues being closed, take-home ice cream has seen a 30% increase in sales this year9. This has largely been driven by shoppers swapping meals in restaurants for dinners at home, often including a dessert or ice cream.
Interestingly, as noted in the last recession, we are seeing sales of premium ice cream growing faster than the rest of the ice cream category, as more furloughed and budgeting shoppers opt for the odd permissible treat. Find out more here.
What impact are recessionary fears having on sales?
The pandemic has had a big impact on shopper confidence, with many households being forced to tighten their belts as they face job losses or significantly reduced household income because of being furloughed.
With recessionary pressures continuing to increase at a time when more people have been staying at home, many households have turned to scratch-cooking to make their household budgets go further. We have seen a 40% increase in scratch-cooking 'occasions' as these enable households to make a saving of 13p, or 10% per serving on average. What's more, we anticipate that plant-based products will continue to grow ahead of meat-based products, as the average cost of a meat-free meal is £0.88 versus £1.81 where meat or fish is included10. Consumers are also seeking diets that reduce their carbon footprint while improving their health, and this has motivated one in three people living in the UK to follow a mainly vegetable based diet with occasional meat dishes, and to consider themselves as flexitarians. Convenience retailers need to be both price- and product-sensitive to optimise on these cooking ingredients sales, encapsulating the messages on how shoppers not only can save money, but also to be more sustainable and improve their health.
What is your advice to help retailers cater for these changes in shopper behaviour?
The significance of the changes in shopper behaviour because of the pandemic cannot be understated. Until people feel more confident about returning back to their normal lives, retailers should look carefully at the updated and unbiased category advice on the Partners for Growth website here, and ensure they take this into account when making their ranging and merchandising decisions. Retailers need to consider delivering greater value to shoppers, as they try to manage their budgets more carefully amid a rise in recessionary pressures. By doing this, they can be confident that they are catering for the dramatic changes we have seen in shopper behaviour resulting from the pandemic.
About Partners for Growth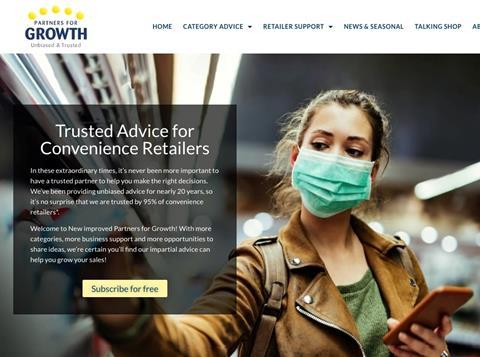 Partners for Growth is an industry initiative from Unilever that aims to benefit retailers, consumers, and manufacturers by addressing the estimated £1.2 billion
11
in missed sales opportunities for the sector each year, with the provision of unbiased ranging and merchandising advice.
The data provided by Partners for Growth is gathered independently, providing retailers with unbiased information, which has been shown, time after time, to have a direct impact on increasing category sales, by up to 42%.
The Partners for Growth website has now been updated with new unbiased ranging and shopper mission advice that reflects the impact on shopper behaviour of the Covid-19 pandemic, together with retail insights and advice from our award winning Retailer Advisory Panel members to help retailers innovate and improve how they run their store. The advice is freely available by visiting
www.partnersforgrowth.co.uk
.
Sources
1 to 8+10 Kantar, Total Grocery, L24 w/e 09.09.20
9 Nielsen, MAT, 3 October 2020 (Total Impulse)
11 HIM! data