As cola is the number one segment within the soft drinks category¹, it is crucial that convenience retailers have the right range in-store and stay on top of growing trends to ensure they have the most appropriate formats to offer their shoppers, says Britvic
With the UK tackling the effects of the recent recession and the ongoing impact of the Covid-19 pandemic, there are three core areas that Pepsi MAX has focused on to help retailers drive cola sales in their store:
1. Offer choice, including low/no sugar
2. Grow cola flavours
3. Include larger formats
Low/no sugar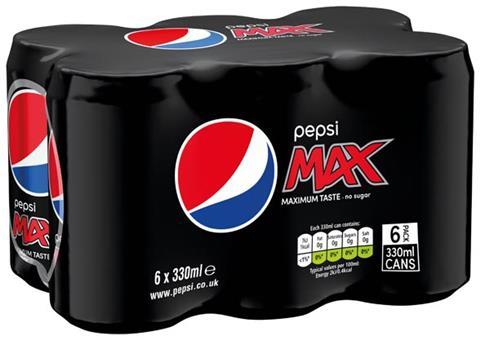 The low-/no-sugar trend is not so much of a trend any more, but a key segment within the soft drinks category – one that continues to grow, with the value of low-calorie drinks up 7.7%2. It is vital that retailers cater to those looking for low- and no-sugar alternatives of the core range – with Pepsi MAX offering the perfect solution.
33% of the population are trying to reduce sugar in their diet3, with sugar-free the number one attribute that prompts a healthier soft drink for shoppers4. Low-/no-sugar cola is rapidly growing, with people who buy these variants purchasing over twice as many litres than standard cola buyers5, so there is a clear opportunity here for retailers to merchandise their low-/no-sugar ranges clearly in-store.
The key to a robust and successful cola range is offering variety and choice to shoppers, including the full sugar range, Pepsi MAX (including flavours) and Diet Pepsi.
Flavours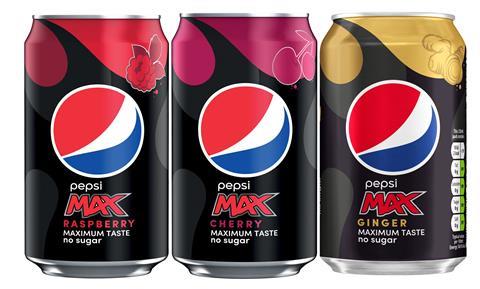 Pepsi MAX boasts an enviable flavour portfolio, including Pepsi MAX Raspberry, which launched in 2019, and has already become a £20m+ flavour extension6. Pepsi MAX Cherry is also going from strength to strength, delivering 23.9% YOY growth7. Pepsi MAX flavours - Cherry, Raspberry and Ginger - now make up 53% of the total flavoured cola segment8 and are all available in a range of formats that suit any, and every occasion.
Larger formats

Socialising in the house has increased, with 2.1 billion at home social soft drinks occasions for adults, up 14.7%9. During lockdown and tiered restrictions, occasions such as the 'Big Night In' have continued to be key for consumers, as 'staying in' has become the new 'going out'. This trend lends itself to larger pack formats (such as 1L or 2L bottles) and multipacks – perfect to share at a time when more people are spending time at home together.
However, looking to the months ahead, the roll-out of multiple vaccinations against Covid-19 offers some hope of a not-too-distant recovery and some semblance of normality. As people start to feel more confident about returning to variations of their old day to day routines – whether that be attending university or working from the office more regularly – retailers will need to prepare accordingly by stocking a range of soft drinks that cater for the latest consumer needs, including on-the-go.
Top tips to boost your cola sales
• Showcase NPD: new products should be given extra visibility to encourage retailers or operators to try something different. Include POS to highlight the fact that it is a new addition.
• Cross-category merchandising: create dedicated fixtures to locate complementary products together, to encourage cross-category purchases and increase basket spend. For example, site larger soft drink formats with crisps, snacks and confectionery for Big Night In occasions.
• Use social media as a tool to promote any offers you are running in-store; this will encourage customers to come in and check them out, even picking up other items along the way.
For more information and advice on ranging and merchandising your cola offer, go to www.britvic.com.
Sources
1 Nielsen Scantrack, Grocery and Impulse, Value and Volume Sales, 52 w/e 26.12.20
2 IRI, Symbols & Independents, Value % Growth vs YA, 52 w/e 24.01.21
3 IGD ShopperVista Health, Nutrition and Ethics Monthly Shopper Update, March 2020
4 MCA HIM Healthier Eating Report 2019
5 Kantar Worldpanel, Take Home Panel, 52 w/e 27.12.20
6 £20.317m - Nielsen ScanTrack, Total Coverage value data to w/e 21.11.20
7 Nielsen Scantrack, Total Coverage GB, Value % Change YA, 52 w/e 02.01.21
8 Nielsen Scantrack, Total Coverage, Value Share of Flavoured Cola to w/e 21.11.20
9 Kantar AH Consumption occasions – 12 w/e 29.11.20 vs YA
Note: In Home socialising = occasions described by the consumer as "celebration", "social", "together time", "romantic", "treat", "relaxing", "special"