Spar Titanic Quarter in the heart of Belfast has implemented a brand new retail concept, becoming a fully self-service checkout store, powered by epos software, and enabling manpower and cost savings.
Self-checkout solutions have been key to retail success in recent years. Nowadays, they are efficient not only in meeting customer service needs but also in the use of physical store space. A great self-service checkout system can improve the checkout process and attract more customers by removing friction during the process.
With convenience retailers looking to adopt more retail technology to ease store operational challenges, one innovative Spar store in Belfast has moved to a fully self-service store and is reaping the benefits.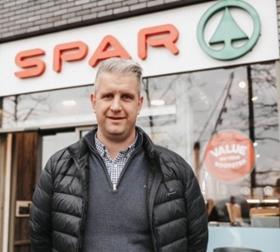 Andy Davis (right) and Graham Johnston are joint directors of 77 Retail, a group which has six Spar convenience stores and forecourts across Northern Ireland and has been trading with the Henderson Group for five years. Their sixth store, Spar Coagh in Cookstown, opened in 2021, becoming the 300th Spar store to be opened in Northern Ireland.
However, the company's Spar Titanic Quarter store in Belfast was hit hard by the Covid-19 pandemic in 2020, as it was heavily reliant on office workers, college students and tourists. This gave Andy and Graham the opportunity and time to rethink the store concept, and how it could look post-pandemic.
So, in late 2021, the outlet underwent a full refurbishment and has now been refitted with a new layout and a more convenient flow in the grocery section, leading into its award-winning hot food 'Green's Deli' area. And the final part of the jigsaw was the introduction of a fully self-service till area close to the exit.
Andy says their store has benefited hugely from the move, "Before the pandemic hit, we had three self-checkout card-only tills and two manned tills. We then took the brave step to move all five of our tills to self-checkout, which means that the store is now fully self-service, although we do still have cashiers available if a customer requires cigarettes, lottery and Paypoint transactions.
"One of the main reasons behind this was that we saw how well the three self-checkouts were already working in our store. With the advances in self-checkout technology and the innovative integrations developed by Henderson Technology, plus being able to offer both card and cash transactions through the Glory units at our self-checkouts, moving to the system was not an issue for us. We can have one member of staff manning all five tills as the traffic light system on each one will indicate if a customer requires assistance on their transactions.
Benefits of going fully self-service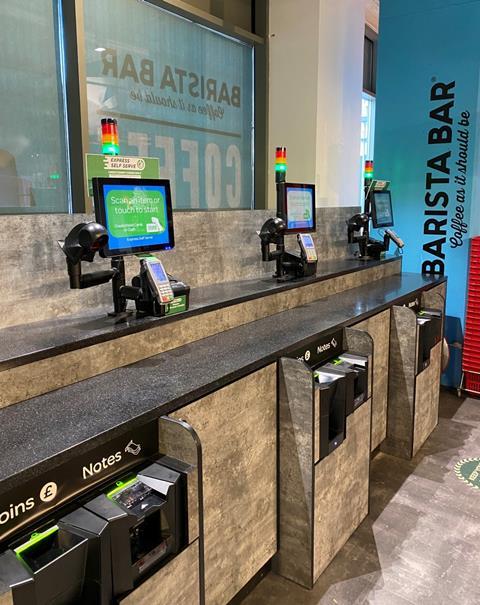 "Since making the changes, we haven't lost the personal touch; we still have one employee available to help customers and to check ID, for example on age-restricted sales," adds Andy. "Before, we would have had five employees manning the tills, whereas we now have one person, which is a big benefit. This has enabled our staff to focus on different areas in the business and has eliminated the need for them to stay behind to get caught up on other tasks, so they are much happier with this new concept.
"I would say at least 95% of all store sales are now going through self-service. The only times that a cashier must serve a customer is for Paypoint transactions, or if a particular customer really does not want to use self-service, which is extremely rare in this store.
"Approximately 80% of our self-service transactions are still paid by card, smart phones, smart watches, etc, rather than cash. The Glory integration allows us to switch all of our tills to self-service, even with the 20% cash transactions. The queues in-store have been reduced dramatically with the introduction of our new concept."
Multi-functional approach
77 Retail also implemented the EDGEPoS Head Office system in 2017. "We have a mixture of forecourts and convenience stores in our group and the EDGEPoS Head Office system copes with all store environments and allows us to save time and money by having that visibility and control," explains Andy.
"For us as a multi-site retailers, the introduction of the Head Office system gives us full control from one central location. A sandwich supplier recently advised us of a range price increase. With the Head Office system, we were able to send out a pricing batch to all six stores, where the manager in each store activated the pricing at back-office level, reducing repetition and saving time.
"We have also been using the deals function for the deli in the Head Office system; we create a deal at Head Office level and send it out to five of our six stores. Previously, we would have had to create five different deals at store level, but now we are able to control what products are in each deal and what cost the deal is sold at in each store.
"The password-protected EDGEPoS Head Office system allows us to see the entire business, from when a cashier touches the till right through to transaction level. We have full control of our businesses in an efficient way and it's easy to use."
What's next for Spar Titanic Quarter?
"Our next project with Henderson Technology is to install EDGEPoS Electronic Shelf Edge Labels (ESELs) in Spar Titanic Quarter. We have ESELs in one of our other stores and have seen many benefits."
Should independent retailers look to upgrade their epos systems?
"We have forecourts, convenience stores and delis in our business and EDGEPoS manages all of them," adds Andy. "We also use the integrated scales in our deli area, so it is a fully integrated solution for every part of the business. It is everything you need as a retailer and if you want more time to be efficient within your business, then we would definitely recommend installing EDGEPoS."
Visit Henderson Technology at NCS 2022
To learn more about EDGEPoS, visit Henderson Technology at the National Convenience Store taking place at the NEC Birmingham from 25-27 April.
On stand E40 you will see retail technology available from Henderson Technology including:
● Convenience and fuel EDGEPoS systems, Head Office and Self-Checkouts
● Gander, Appetite! and Scan, Pay & Go! and the newly launched EDGEPoS Analytics
● New Appetite! Self-Serve Kiosk
● EDGEPoS ESELs
For more information, go to www.henderson.technology, email sales@henderson.technology, or call 028 9094 1900.