Independent convenience retailers Charlie and Ruth Hamilton, who run three Spar stores in Northern Ireland, explain why retail technology has really made a difference to their bottom line.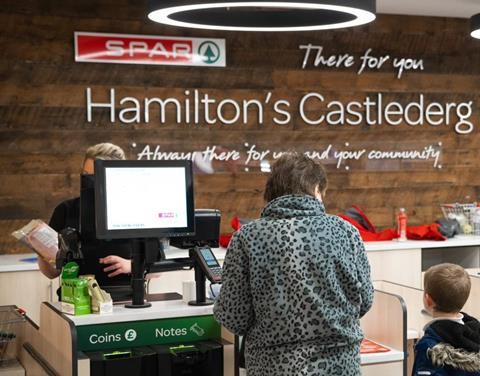 Charlie and Ruth Hamilton opened their first Spar store in Newtownstewart in 1979, followed by Spar Castlederg in 1995 and Tamlaght Road, Omagh in 1998. All stores are supplied by Henderson Wholesale.
Dedicated to offering the best in food retail and following a total renovation of their Omagh store two years ago, Charlie and Ruth decided to renovate their 6,000sq ft store in Castlederg this year.
While the couple have made a number of improvements to Spar Castlederg over the years, including areas such as an off-sales department and their own butchery brand, this most recent renovation has seen the family business make a substantial investment into the local community with the opening of a fresh food superstore.
Hot and cold food counters, a self-serve salad bar and pre-packed sandwiches made in-store are also available. The store also offers a huge range of value items and products from local suppliers, while the in-store culinary team prepare products for those customers on the 'tonight's tea' mission. Meanwhile, the dedicated butchery team provide a broad range of fresh meat and fish, served under the Hamilton name.
With parking for 65 cars accessible on-site and fuel available 24 hours a day, the store also offers soft-scoop Morelli's ice-cream, a Slush machine and Barista coffee.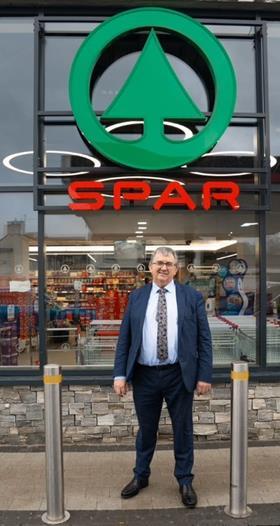 Charlie Hamilton says: "It has been an honour for Ruth and I to serve our local community for the past 42 years. We have always grabbed the opportunity to invest in retail technology whenever we can and we are thrilled to see Castlederg shine as a fantastic fresh store."
However, one of the elements that has made a real difference, he feels, is staying at the forefront of retail technology, which has helped the business grow significantly over the years.
"We were one of the first retailers within the Henderson Group to implement scanning in-store many years ago," reveals Charlie. "When we chose EDGEPoS, we saw how it offered us so many more features than any other third-party solution. We felt it was tailor-made for us and gave us so much more control. EDGEPoS has been a huge part of our growth and is the modern-day EPOS system that every retailer needs."
New concept retail technology store
Nowadays, when an independent retailer develops a new store, technology needs to be part of the investment, says Charlie: "There is a time to introduce new retail technology, and the time is now! It has been the right decision for us, and we are never going to look back.
"Technology is definitely the way forward in convenience stores. Our customers expect it and that's why we upgraded the hardware for our EDGEPoS system, and introduced the Glory Cash Management system, two self-service checkouts and the electronic shelf-edge labels (ESELs) in-store."
Self-service checkouts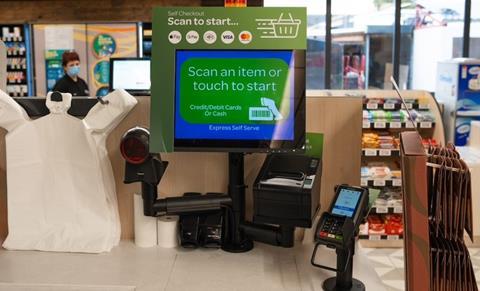 Consumers are used to retail technology and self-service checkouts are no longer an unusual sight in stores.
Now in its sixth week of trading since the refurbishment was completed, the Spar Castlederg team has seen an increasing number of customers heading straight to the two recently installed self-service checkout tills, which keeps queues down at the other bank of five manned tills. A traffic light pole system has also been put in place at the self-service checkouts which makes staff aware if any assistance is required.
"Other retailers who use EDGEPoS have seen margin growth as a result and this formed part of our decision to invest," says Charlie. "It's staggering to see that 26% of all store transactions are already going through the self-service checkouts at Castlederg.
"With the added integration of the Glory system at the self-service checkouts, they can accept both cash and card tender. Cash is still very much in use and we felt it was important to offer this option on our self-service tills."
He adds: "My advice to other retailers looking to invest in self-service checkouts is – offer it with cash and card – it's really simple to use and just works."
Other technology improvements
The Hamiltons invested in a couple of other elements to enhance systems in-store, including the implementation of the Glory Cash Management Back Office system. "We are in the early stages, but already we have saved on having to bring in one member of staff on a Sunday to check the cash," says Charlie. "We also save time on how often cash needs to be counted. It has made a huge difference."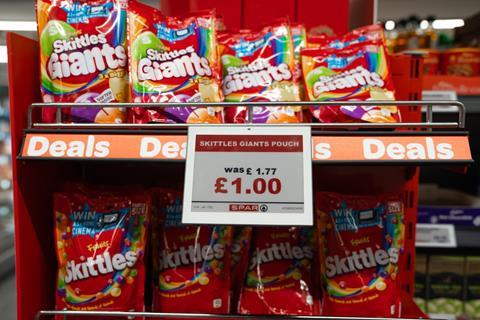 Introducing ESELs also means promotional changeovers are now easy and instant. Store staff find they are much more disciplined in their promotions as a result of the ESELs as they have had to polish up their procedures, he notes. "In a big store, like Castlederg, changing paper SELs would have taken a long time, but now it's instant," explains Charlie.


Why EDGEPoS?
"Every good retailer should open a store with a reliable and functional EPOS system," concludes Charlie. "EDGEPoS has helped us grow our business and is the only system we would ever consider using. Plus, the support is always there from the team at Henderson Technology – 24 hours, seven days per week.
"Following the success of the refurbishment at Castlederg, we now hope to bring the same retail technology to Omagh and Newtownstewart."
To find out how EDGEPoS can help your business boost sales, contact sales@henderson.technology or visit our website here.