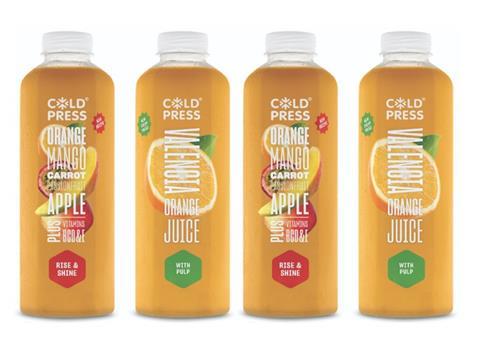 Coldpress juices will be expanding its range with the new inclusion of 'Rise & Shine' and 'Valencian juice with pulp.'
'Rise & Shine' is a mix of orange, mango, carrot, apple and passionfruit and aims to showcase orange juice's more extravagant flavour potential.
Coldpress' new with pulp juice is tapping into the trend of good gut/high fibre diets as it says pulp has plenty of vitamin C and additional fibre.
According to Coldpress Juice founder, Andrew Gibb, "these are certainly two well thought through additions to our buoyant HPP 'with added vitamins' offer. Our Pink Lady apple juice has long been celebrated as the pinnacle of premium tier apple juices, so it was important to build upon our full-bodied Orange juice ambitions by focusing upon the 3 core pillars of our business: the best ingredients, an ingredient friendly process (HPP) that rejects debilitating heat-based treatments and an extra dash of essential vitamins to support today's increasingly hectic lifestyles."
This Spring will also see revisions to two of the business's core Super Juices, 'Thrive & Survive' and 'Mend & Defend' including the addition of ginger and lemon, aiming to create heightened appetite appeal.