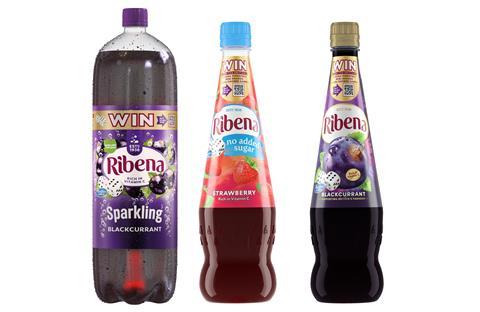 Suntory Beverage & Food (SBF) GB&I has announced the return of its Ribena partnership with Hasbro, which sees the juice drink offering shoppers the chance to win board game prizes. The on-pack promotion will offer shoppers the chance to win one of 10,000 limited edition Ribena Mini Monopoly boards, as well as thousands of other prizes across Hasbro's classic games, including family favourites: Cluedo, Battleship and Jenga.
For a chance to win, shoppers simply purchase any promotional pack - including 2l Ribena Sparkling Blackcurrant, 1.5l, 850ml or 600ml Ribena Squash in Blackcurrant and Blackcurrant No Added Sugar or 850ml Ribena Squash in Strawberry - and scan the QR code on the collar of the bottle to enter.
Charlotte Flook, head of Ribena at SBF GB&I said: "Following the success of last year's promotion, we're thrilled to be partnering with Hasbro and its iconic gaming brands again this year to bring Ribena drinkers an even bigger and better promotion. The at-home drinking occasion is still hugely popular with shoppers so this partnership between Ribena and Hasbro is the perfect match in helping consumers liven up an evening in!
"Hasbro's playful nature and range of products makes it a fantastic fit with our much-loved Ribena brand and together they make for a really eye-catching promotion in store, with a striking on-pack promotion to capture shoppers' attention in store."