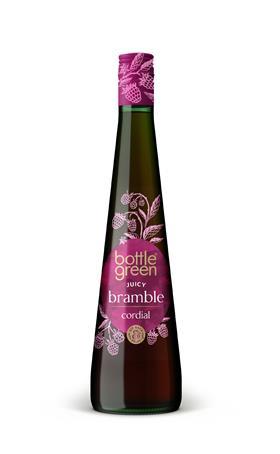 Bottlegreen, which claims to have witnessed a 25% sales increase within the impulse channel in the last three months, has added a new flavour to its cordial range, and teamed up with Great British Bake Off Winner Peter Sawkins.
Available in a 500ml bottle (rrp £3.40), Bottlegreen Bramble Cordial follows hot on the heels of the brand's Bramble Sparkling Pressé, which launched in January. The cordial combines rich blackberries and tart sloes, offering a new flavour to adult drinkers of premium dilutables.
The drinks will be supported as part of the brand's partnership with Sawkins, who has developed three baking recipes using different cordials. These comprise: Elderflower & Lemon Scones; Rhubarb Crumble Tray Bake; and Bramble Bakewell Tart.
He will also introduce consumers to three 'drinkable desserts': Elderflower & Lemon Meringue Float; Ginger & Lemongrass Cheesecake ; and Raspberry Crumble Frozen Smoothie. The elderflower recipes will be profiled first to tie in with the May-June elderflower season and spotlight the brand's flagship cordial.
The Sawkins partnership will benefit from significant PR support across press and social media.
Sawkins said: "Bottlegreen cordials are a hugely convenient and adaptable way to incorporate vibrant and interesting flavours into recipes. I discovered this myself first-hand last year and am now happy to be sharing these easy-to-make recipes which showcase the versatility of Bottlegreen in the kitchen."
Jo Hussey, head of soft drinks at bottlegreen, said: "This campaign is all about demonstrating Bottlegreen's wide range of uses, and there's no better way than working with Peter who is so passionate about getting creative with flavour. The activity aims to inspire those familiar with our brand with new and exciting ways to use bottlegreen cordials and engage new audiences to showcase how flavourful and versatile our products are."
The bottlegreen portfolio comprises seven 500ml cordial flavours and seven 750ml sparkling pressé variants, plus two 'light' pressé versions. Bottlegreen cordial sells the equivalent of 110 million glasses annually (Nielsen Total Coverage, Cordial category Units MAT 27.03.21).