Take home has dominated soft drinks over the past year but what other formats are proving to be winners for convenience?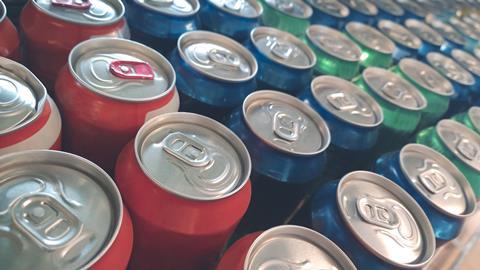 1. Carbonated soft drinks are worth £1.8bn
Carbonates remain the backbone of the fixture, worth £1.8bn and accounting for 66% of the total convenience soft drinks category (IRI Marketplace, Value Sales, MAT to 27.12.20, GB Convenience)," claims Barr Soft Drinks. "It is one of the most important categories for retailers to get right," says marketing director Adrian Troy, adding that Summer is the key season for soft drinks to shine. "Rubicon's Sparkling range is enjoyed by 2.5x more shoppers in the Summer months (IRI Marketplace, Value Sales, MAT to 27.12.20, GB Convenience)," he says.
This summer in particular represents "a huge opportunity" for retailers, claims Coca-Cola European Partners (CCEP). "As restrictions begin to ease, it is likely friends and families will look to enjoy social occasions in the sunshine, whether that's drinks in the garden, BBQs with friends or picnics in the park," says senior trade communications manager Amy Burgess. "Soft drinks - and sparkling drinks in particular - help to bring social summer occasions to life."
Joe Williams of The Village Shop in Hook Norton, Oxfordshire, agrees. "Carbonates have performed well, we're about 10% up compared to pre-pandemic," he says. He believes this will continue as people begin to socialise. "I think in the next couple of weeks with pubs still being shut, and the first bit of hot weather we've had - people can get together. We don't know if people are going on holiday- will they have more garden parties instead of going to pub."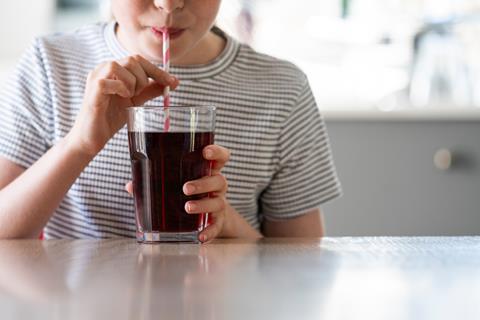 2. Take Home sales have overtaken Drink Now
Take Home has been "the star of 2020", claims Bestway Wholesale trading director Kenton Burchell. "This is now larger than Drink Now, however we would expect to see Drink Now move back into growth as lockdowns ease," he says. "The importance of Take Home has grown as shoppers look to c-stores to provide a main shop solution as they look for quick and easy shopping solutions. This was more pronounced in Lockdowns one and two but can still be seen in the current lockdown three. Shoppers are looking for larger packs as they restrict the number. As lockdown eases, we would expect the importance of Drink Now carbonates to increase to a similar level as seen before the pandemic and Drink Later growth to slow slightly but still be ahead of pre-lockdown."
Barr Soft Drinks expects take home growth to continue throughout the summer. "The balance of Drink Now and Take Home Soft Drinks changed during lockdown as social occasions moved to 'in home' and, while we expect 'food to go' shopping missions to recover, the warm weather, combined with sporting events and longer evenings creates the perfect opportunity for retailers to continue to drive take home sales by inspiring and exciting their shoppers," says Troy.
Bigger packs for take home consumption have boomed at Nichols. "Larger formats have done particularly well and sales of our carbonated Vimto Original 6pck format increased by +39% in impulse (Nielsen, Total Impulse, MAT 27.02.21), which is bolstered by the variety of our take-home pack portfolio including our Vimto 2L fizzy bottle," says brand and innovation controller Angela Reay.
SBF GB&I claims that lower-sugar soft drinks are particularly important in contributing to the growth of take-home formats, which is especially relevant after a year which saw larger packs grow by +8% (IRI SL Data latest 8 week data to 17.05.20 (Total Drink Later change vs. YA). "Diet & Zero take-home drinks are growing by 19.3% (Kantar, FMCG Panel, Take-Home Soft Drinks, % value sales, 24w/e 6th September 2020 vs. 24w/e 8th September 2019), outperforming the total drink-later market and highlighting the consumer appetite for these options," says channel director, wholesale Matt Gouldsmith. "Consumer favourites such as Ribena Light and Lucozade Zero are now worth a combined £45.7m (EXT IRI, MarketPlace, GB, latest 52 week data ending 22.11.20)."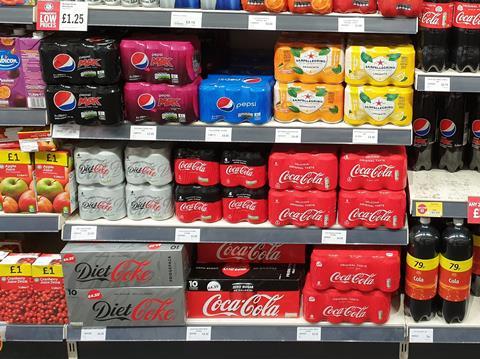 3. Multipack cans catapult into triple digit growth
Within Take Home Carbonates PET is still the largest pack format, growing at +13.5%, while Multipack Can is the fastest growing format +256.4% [Neilsen, 52 wk/e 29 Jan 2021], states Bestway. "Shoppers have been looking for larger bulk packs with convenience since lockdown," says Burchell. "330ml x 24pk Cola have more than doubled their sales +128.4% as shoppers look to limit the number of visits to stores. 8pk Colas have also seen significant growth +108.8% [ibid]. Flavoured Carbonates have also seen triple digit growth in 24pk +488.4% [ibid]."
CCEP predicts that larger packs will remain in high demand this summer as people start to socialise again, and with consumption in and around home likely to continue. "Value sales of our Coca-Cola multipacks are up 25% in independent and symbol stores thanks to the volume and value they offer, especially for consumers looking to stock up in a single shop," says Burgess.
Turnover is up 45% at MJ's Premier store in Oldham thanks to his online delivery service, which makes it easy for customers to buy in bulk. "Because we're online, the bigger packs sell well - the 24-pack of PepsiMAX is our number one seller," says owner Justin Whittaker. "But in-store the 10-packs and 12-packs do better. People can't carry a bigger pack, but that's not an issue online."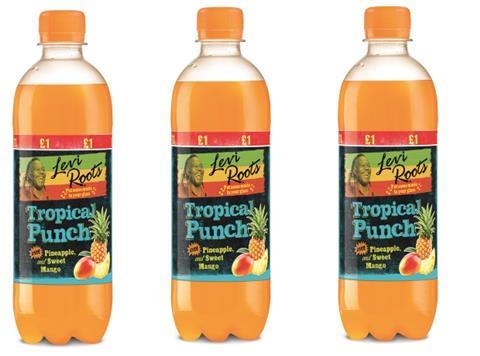 4. Flavoured Carbonates have fizzed up 22.6% in Impulse
Flavoured Carbonates have seen a significant uplift with growth of +22.6% in Impulse stores (Nielsen, Total Impulse, MAT 27.02.21), claims Nichols. "With this in mind, stocking a range of carbonate drinks could really help to drive sales," says Reay. "For example, in 2020, we launched Levi Roots Tropical Punch and we are thrilled with how it's performed; both for us and our convenience store customers. Sales for Levi Roots are up 14.3% year on year [ibid] which has really added value to the category."
The Vimto carbonates range, which includes Vimto fizzy, Vimto fizzy zero and Vimto fizzy remix, has grown 15.5% in volume sales within the off-trade YTD (IGD Retail Analysis, Convenience Trends, February 2021). "Having grown consecutively YOY for the past decade, Vimto is now worth £97.6m [Nielsen Value Sales, Total Coverage, MAT 27.02.21] and brand sales are up +7.9% year-on-year, growing almost three times faster than the category [ibid]," says Reay. Nichols launched a Vimto brand redesign earlier this year.
"Vimto and Irn Bru are both doing really well," says Justin. "There aren't as many people going to work, they're at home, so they're just getting in big bottles."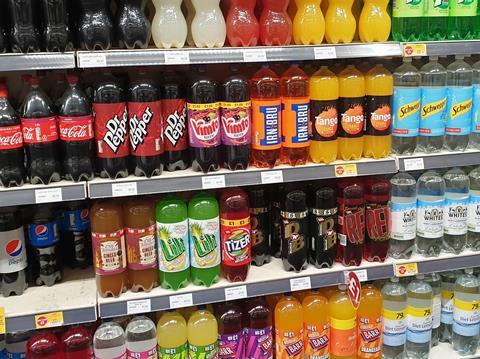 5. Last summer 2l flavoured carbonates grew +65% in symbols and independents
The past 12 months have been transformative for the 2l format, according to Bestway. "Last summer, we saw flavoured carbonates in the 2L format grow +65% year-on-year (IRI S&I Value Chg, latest 13 week data ending 28.06.20)," says Burchell. "It has slowed since the summer period but they are still in 14.4% growth." He claims that Dr Pepper 2l, Sprite 2l and Fanta 2l flavours (Orange, Fruit Twist, Lemon) have added the most value to the Flavours PET sector, while Ribena Sparkling 2l has contributed the most value in terms of NPD. He expects this to continue as shoppers still look to buy larger packs as they limit the number of shopping trips they go on throughout the week.
2l bottles seem to have driven sales all the way through the pandemic, claims Joe. "It's a combination of children being at home and people working from home. They aren't looking for impulse bottles - big bottles are better for take home, they aren't going anywhere. When they're on the move, the impulse tends to go." He claims that the Spar range of carbonates is his strongest flavoured 2l performer. "Parents give those to the kids and treat themselves to the brands," he says.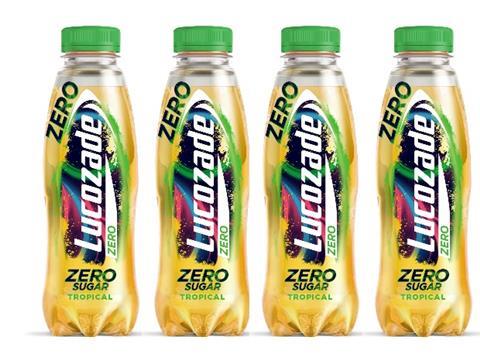 6. Diet drinks now account for 63% market share
When it comes to lower-sugar soft drinks, it's important to understand that this trend is part of a wider, long-term shift in consumer attitudes as we are all becoming more aware of our health and wellbeing, states SBF GB&I. "The market has already seen significant changes; in 2015 diet drinks accounted for 56% share vs regular soft drinks and in 2020 that volume now accounts for 63% (Kantar Worldpanel data to 52we 27th December 2020)," says Gouldsmith. Lucozade recently launched Lucozade Zero Tropical, available in 500ml bottles. The firm states that one in three shoppers claimed they would buy more Lucozade Zero if a new flavour was available (Dunnhumby UK, Shopper Thoughts Research, 02.27.2020 – 03.23.2020).
Meanwhile, zero sugar Irn-Bru Xtra delivered £20m of sales nationally last year (AG Barr Sales Data), according to Barr Soft Drinks. "We know that the way people live is changing - health is becoming more important and, especially with younger shoppers, we're seeing an increase in demand for lower calorie products and a significant reduction in the consumption of alcohol," says Troy.
"Health is now an even bigger motivator for consumers to improve their diet in the wake of COVID-19,22," says Burgess. "To ensure that there's choice for those looking for a healthier accompaniment to a summer occasion, our light colas range includes Diet Coke, worth more than £500m in retail, and Coca-Cola zero sugar, worth more than £300m and in 11.9% growth."
"Meanwhile, our zero sugar flavoured carbonates are also worth more than £100million, highlighting the popularity of brands like Fanta Zero," says Burgess. "This includes Fanta Zero Raspberry, which launched in January 2020 and has delivered £4.5m in sales in its first year."
Sugar is a key consideration of shoppers, claims Britvic. "33% of shoppers are trying to reduce sugar in their diet [IGD ShopperVista Health, Nutrition and Ethics Monthly Shopper Update, March 2020], and sugar free is the number one attribute that prompts a healthier soft drink purchase [MCA HIM Healthier Eating Report 2019]," says out of home commercial director Phil Sanders. "Sugar free choices are of particular importance in the fruit carbonates segment, having grown +18% in the last two years [Nielsen Grocery and Impulse, Value sales % chg MAT vs 2YA to w.e 23.01.21]." The firm launched Tango Sugar Free Dark Berry in a range of formats last month.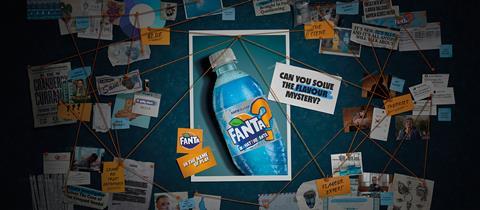 7. New trending flavours accounted for 80% of sales last summer
One of the biggest growth areas in the summer is flavoured carbonates, which sees a +17% seasonal uplift (IRI Marketplace, Value Sales, 2020, GB Convenience (Summer months versus rest of the year), with new trending flavours accounting for 80% of sales last summer (ibid), states Barr Soft Drinks. The firm claims that Barr Flavours sell four times faster than the total OFC Category during the summer months.
Bestway claims that Orange is the largest single flavour, growing at 3.1%, while Mixed Fruits is the largest flavour up +4.4%. "Blackcurrant is the flavour with the most growth driven by the launch of Ribena Sparkling; and Lemon has also seen good growth (+17.4%) the majority of growth coming from Fanta Lemon," says Burchell. He adds that CCEP has brought back #WhatTheFanta for 2021 with the launch of a bright blue mystery Fanta variant.
Over in flavoured Cola, CCEP expanded its Diet Coke range with Diet Coke Sublime Lime last year and the firm claims it has already delivered £5m worth of sales.
Meanwhile, Britivc has seen big success with its Pepsi MAX Raspberry variant, which launched in 2019 and has already become a £20m+ flavour extension (£20.317m - Nielsen ScanTrack, Total Coverage value data to w/e 21.11.2020). Pepsi MAX Cherry is also going from strength to strength, delivering +23.9% YOY growth (Nielsen Scantrack, Total Coverage GB, Value % Change YA, 52we 02.01.21). Britvic claims that Pepsi MAX flavours (Ginger, Cherry and Raspberry) now make up 53% of the total flavoured cola segment (Nielsen Scantrack, Total Coverage, Value Share of Flavoured cola to w/e 21.11.20).
Pepsi MAX Cherry is a good seller for The Village Shop. "We've slowly started seeing Raspberry flavours coming through," adds Joe. "It's time to update the range a bit as we haven't looked at it since before lockdown, so we're planning a range review to decide what we need to stock. I need to jig it up a bit because people get bored of the same flavours."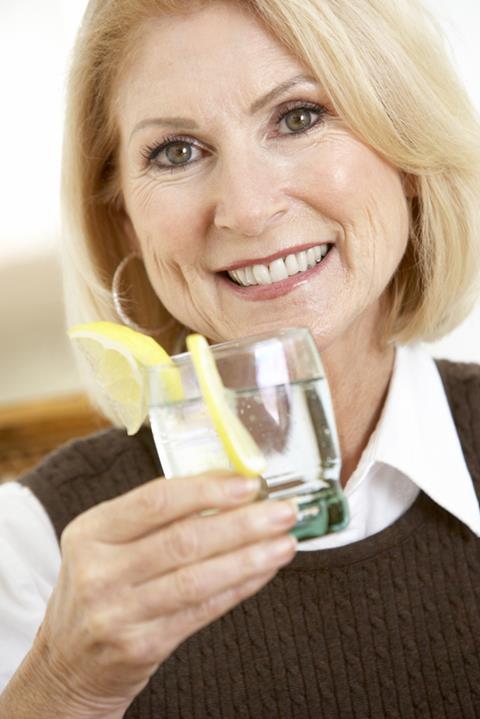 8. Mixers are the fastest growing carbonate sector, up 29.9%
Mixers are the fastest growing carbonate sector at +29.9% (Neilsen, 52 wk/e 29 Jan 2021), states Bestway's Burchell, adding that both Schweppes and Fever Tree are showing similarly strong growth. "Lemonade has grown strongly during 2020 as shoppers use it as a Mixer as they replicate the pub experience at home," he claims. "Mixers have also seen a significant uplift for similar reasons. Whilst this trend is expected to slow as lockdowns ease we would still expect growth due to BBQ, Seasonal and Sporting events throughout the rest of the year."
CCEP notes that mixers are hugely popular as consumers drink at home while the pubs are closed. "In recent months many consumers have been looking to recreate the pub, bar or restaurant experience with drinks that capture the excitement of going out, like mixed drinks, cocktails and non-alcoholic mocktails," says Burgess. "While we look forward to helping our hospitality customers open their doors as swiftly and safely as possible, we expect this trend to continue."
Schweppes is worth more than £120m in retail and has increased value by almost a third over the last year, claims CCEP.
Sanders adds that Cola is frequently used as a mixer. "Cola is the second most consumed mixer with spirits and this is growing at a faster rate than overall cola consumption [Kantar Worldpanel, In-Home Usage Panel, Cola value growth, 52wks, Data to w.e. 30.09.20 (Growth is 2YA CAGR)]," he says.
Justin can't believe how well mixer lines are going. "Schweppes, Barr's lemonade and 7up are doing absolutely amazing," he says. "At the moment we're struggling to keep up with demand. As much as we're putting it on shelf, it's flying out the door. It's definitely used for adult drinks because it peaks up to the weekend."