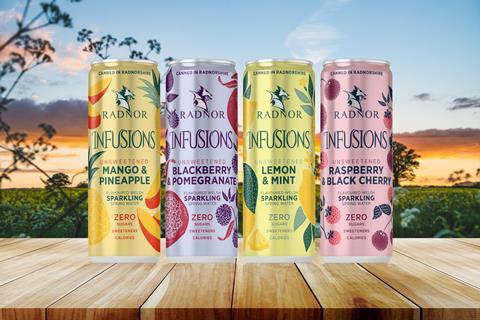 Infusions, the flavoured Welsh sparkling spring water brand from Radnor, has launched two new flavours. Blackberry & Pomegranate and Mango & Pineapple join the existing Lemon & Mint and Raspberry & Black Cherry flavours. The drinks come in environmentally conscious cardboard shelf ready 4 x 330ml can packs (rrp £3.50) and have been designed for easy access in the fridge.
Infusions is crafted in the ancient county of Radnorshire, using gently sparkling spring water delicately infused with flavours and extracts. It has been designed as a soft drink which also makes a refreshing mixer for gin and vodka.
The drinks are sugar, sweetener, calorie and preservative free and come in an infinitely recyclable can. All are packed on Radnor's zero to landfill site in Wales.
William Watkins, managing director of Radnor, said: "We crafted Infusions to target a consumer looking to drink something other than plain water but who didn't want the additives and calories that come with many sparkling drinks.
"With Infusions, our customers have a drink that they can enjoy as many times a day as they like without worrying about additives and sugar."
Infusions launched in exclusive partnership with Weight Watchers reimagined as one of their most successful ever Tier 1 rewards in their reward platform WellnessWins.