Five snacking start-ups from across the UK have joined forces to encourage more consumers to buy natural snacks.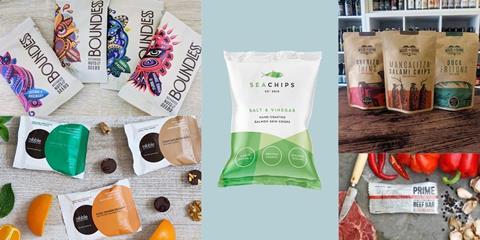 Available to convenience stores and independents now, the quintet of snacks includes:
• Boundless: a range of nuts and seeds that have been soaked in water and flavoured with spices and other blends (rrp £1.49).
• Made for Drink: maker of premium beer snacks such as chorizo thins, mangalitza salami chips and duck frittons (rrp £2.49).
• Nibble Brownie Bites: Marketed as healthy brownies and created by Nibble Protein, the bites are made using dried plum purée instead of dates and contain 1g of sugar and fewer than 100g calories per piece (rrp £1.59).
• Prime Bar: Beef jerky bars made from British beef fruits, herbs and spices. Flavours include chilli & red pepper and apricot & sage (rrp £2.49).
• Sea Chips: Handcrafted salmon skin crisps range flavoured with salt & vinegar or lime & chilli. Sea Chips also donates 10% of its profits to sea-cleaning charities across the UK (rrp £1.59).
Commenting on the importance of healthy snacks, Made for Drinks founder and ceo, Daniel Featherstone, said: "Unfortunately snacking is still a word that many people that still lazily associate with a 'frivolous, calorific treat without gourmet or healthier living aspirations.
"This of course couldn't be further from the truth because today's demanding millennials are only too happy to break ranks with their daily eating routines for sublime snacks that deliver on many fronts: taste, indulgence, energy, gluten-free low sugar, all-natural, vitamin enrichment."