Walkers has identified the core range of savoury snacks convenience retailers should focus on, following research that saw the crisps company partner with independent retailers across the UK.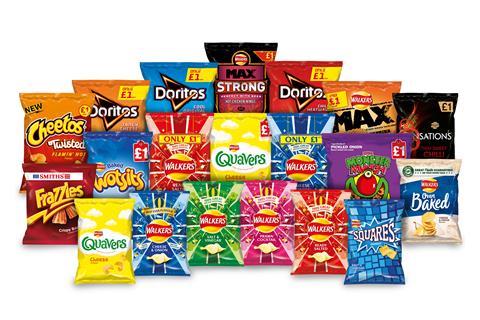 During the past 12 months, the PepsiCo-owned company has worked with Nisa and Premier retailers to trial a new category approach to the snacking category - designed to allow c-stores to stock the best sellers that are right for their customers.
The year-long project included carrying out in-depth research, as well as shopper behaviour analysis and in-store trials. The trials took place over three months at stores in rural and urban locations.
Many retailers who took part in the project reported double digit sales increases after updating their range and fixture to focus on Walkers 'Hero 20' line-up (see above).
The score of products consists of single, pricemarked and sharing versions of Walkers' most popular skus including Cheese & Onion and Ready Salted, Oven Baked, Sensations, Doritos and Cheetos.
Will Kerr, head of impulse category at PepsiCo, said: "This impulse focused project has helped us challenge norms and delve deeper than ever into the savoury snacks category. It has also led us to develop the Walkers Hero 20, made up of some of the best-selling and much-loved brands in the savoury snacks category. We hope this on-going project demonstrates our continued support for the impulse channel."
For more information on Walkers' 'Hero 20' advice for convenience retailers, visit www.countsformore.co.uk (The company's online rewards and savoury snacks category management website).