KP Snacks is developing its £1 price-marked (PMP) range with the addition of a Thai Sweet Chicken flavour from McCoy's.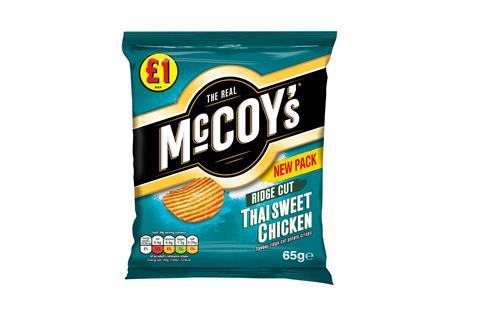 The launch follows the introduction of three new PMPs in February, which included £1 bags from Pom-Bear, Wheat Crunchies and McCoy's Muchos. The addition of a price-marked McCoy's Thai Sweet Chicken pack takes the total number of PMPs in the KP portfolio to 21.
Matt Collins, trading director at KP Snacks, said: "Stocking the right products, in the right formats is of paramount importance to retailers wanting to drive sales. We know that 47% of shoppers prefer a PMP [HIM 2018] as it reassures them they are getting value for money and a great tasting snack. By adding brands and flavours that are rooted in insight, like McCoy's Thai Sweet Chicken, we are enabling retailers to maximise the food-to-go occasion and will continue to see growth in this area."
The £1 McCoy's Thai Sweet Chicken PMP will made available to convenience stores in 16 x 65g cases from w/c 1 July.