Christmas is the season for splashing out on festive goodies. Here's how c-store retailers can ensure that they get in on the yuletide spend.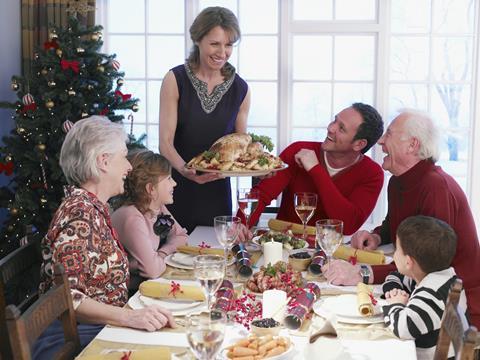 There is something magical about Christmas. The end-of-year festivities have the power to bring people together and create a universally jolly atmosphere that reaches across the nation.
The winter holiday also gives convenience retailers a chance to connect with not only regular shoppers, but those who might not usually visit, and those stores that offer a standout shopping experience have the opportunity to drive sales well into the New Year.
However, finding your place in the festive frenzy isn't easy, especially since the supermarkets, discounters and online giants go all out with Christmas cut-price deals.
To compete, Dave Hiscutt, manager of Londis Westham Road in Weymouth, isn't messing around with his Christmas range this year – he's going in early. He started stocking festive products in his seaside store at the end of August.
"People complain at first when you start bringing the Christmas lines out in late summer or early autumn, but that doesn't stop them from buying them," he says.
"Most people don't mind if they buy something with festive packaging from September onwards, as long as it is at a good price."
Dave also has a clear strategy when it comes to what to stock. "For our type of store, it is about focusing on snacks and impulse items that people can buy early in the season, or at the last-minute after their main Christmas shop."
Paul Hargreaves, ceo at Cotswold Fayre, thinks it pays off for smaller retailers to start thinking about festive lines early.
"It may seem obvious, but the earlier products are displayed, the earlier the opportunity to capitalise on spending," he says. "While many retailers are already planning displays for Christmas, there is still time to pick the right products to create real theatre and excitement in-store."
Dean Holborn, owner of two convenience stores in Surrey, is readying his business for the Christmas season, using his local connections. He says: "We started to do some planning for Christmas a few months ago and have had discussions with our tree supplier, so we are always trying to think ahead and introduce new things."
Matt Collins, trading director at KP Snacks, believes retailers are wise to think ahead at Christmas, but should also be prepared for a last-minute rush just before the big day itself.
"Data shows us that people start stocking up for Christmas as early as October and November, spreading out the cost across several paydays," he says.
"Shoppers tend to plan early, but also shop late. For example, 22% of value sales in the final two weeks before last Christmas took place on 21-22 December, and the number of shoppers leaving things until the last minute is increasing year on year (Nielsen Homescan weekly data to 29 December 2018 vs YA)."
Heather Burgess, head of marketing for Paul Hollywood at St Pierre Groupe, agrees that stores need to allow for the less organised of shoppers.
"With consumers facing more demands on their time than ever during the festive period, it is inevitable that some items are missed off the shopping list," she says. "This is when convenience stores come to the aid of shoppers rushing out on Christmas Eve to purchase those forgotten groceries.
"Our advice is to sell a balance of tempting festive products alongside the key staples and last-minute shortcuts that consumers have come to rely on in their convenience stores."
Facelift for Aunt Bessie's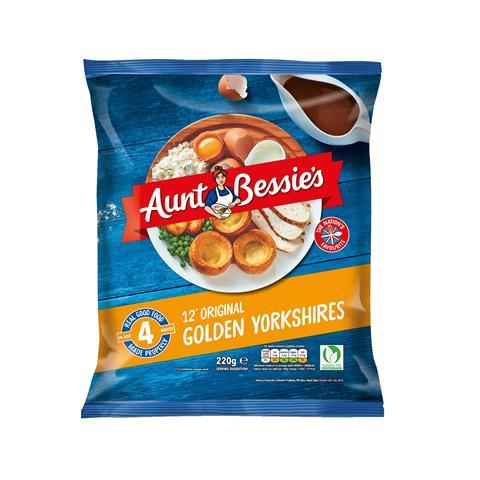 Aunt Bessie's has been given a packaging revamp in time for Christmas. The update sees the return of the brand's blue on-pack colours, alongside more appealing product shots and a new logo. Recipe ideas are also included on packs for the first time.
The essentials
One category that shoppers have come to expect from their local c-store is fresh and chilled, and most people aren't prepared to compromise on taste or quality over the festive period. For many independent retailers this year marks the first time that they will be able to access the Co-op's Christmas own-label products, which includes a host of lines for the chiller.
Chris Taylor, owner of Taylors of Tickhill, near Doncaster, South Yorkshire, will be using the range as a like-for-like swap with the old Nisa Heritage brand, and is expecting the Co-op-branded products to do well for him.
"The Co-op own label has proved popular with our customers so far, because it is a trusted brand that most people recognise," Chris says. "We would expect the Christmas lines to sell just as well as the all-year-round lines such as their Irresistible pizzas.
"Some of the chilled lines that we have ordered for Christmas, such as their sausages wrapped in bacon, are familiar but still a good improvement on the Heritage brand in terms of packaging."
However, to add a bit of variety to his range, Chris Taylor isn't relying solely on the Co-op own label this Christmas. He wants to offer customers a more regal shopping experience.
"We work with about 45 different suppliers and after trading since 1946 we know that our customers want something unique from us," he explains.
"That is why we get our salmon from Scotland using the same supplier as the Queen. If Inverawe Smokehouse is good enough for Her Majesty then it is good enough for the people of Tickhill."
The Inverawe salmon has a more premium price tag of about £7 for a 100g pack, but Chris Taylor argues that customers are more than willing to splash out at Christmas.
"The salmon is something that people come to us especially to pick up over festive season, even though we stock it all year round," he says.
"People in our village are drawn to the quality of our range. For example, we have a cheese counter selling about 60 different varieties and these sell so well at Christmas as an after-dinner course."
Anita Nye, manager of Premier Eldred Drive in Orpington, Kent, is another retailer that moves her chilled range more upmarket at Christmas. She explains: "We do all of the Christmas dinner essentials such as turkey and fresh veg. For our meat, we have a local butcher who does all of our turkey crowns and delivers them to us as we need them.
"We also offer a loyalty card so people use that to save up for Christmas food. It means they buy stuff they wouldn't tend to buy in a c-store, because they have £5 saved on a card and are happy to buy more expensive items."
Chris Shelley, owner of Shelley's Budgens in Horsham, West Sussex, knows that most customers won't do all of their Christmas shopping in his store, but likes to think that they could if they wanted to.
He says: "We do all the items people would expect for a Christmas dinner. We know in reality most people will do their big shop in the supermarket, but we still have everything in stock.
"We get our turkeys from a local butcher who sources them on a pre-order basis from a local farm. Most of our fresh products come through Budgens so it is all good quality."
He holds off from introducing too many festive chilled lines, though, until people start opening their advent calendars.
"Halloween is so big now that it probably means that we hold off a little bit from going too big on Christmas early in the season.
"From around the first week of December, we bring in lots of party food and sharing packs from the Booker own label that people can pick up when celebrating with family or friends."
Grenade gets Christmassy with limited-edition variant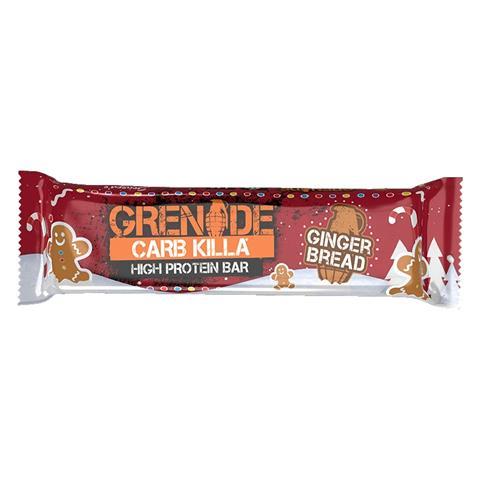 Grenade has brought back its gingerbread-flavoured protein bar as an exclusive for the 2019 festive season after its success last year.
The 60g bar (rrp £2.50) was Grenade's best-selling Christmas product last year (UK Retailer Data 13 w/e 6 January 2019) and re-joins the brand's Carb Killa range this month for a limited time only.
The spiced bar combines ginger, cinnamon, nutmeg and allspice with a white chocolate drizzle and cloves to create a Christmas-inspired flavour.
The gingerbread bar also contains fewer than 220 calories and 22g of whey protein and 1.6g of sugar.
Grenade ceo and founder Alan Barratt comments: "After popular demand last year, we feel it's only right to bring back the Christmassy Gingerbread Carb Killa protein bar flavour.
"We pride ourselves on offering consumers great tasting, high-quality, innovative snacks – and the festive period is no exception.
"For people who are actively trying to be more health conscious during the festive season, it can be a very tempting time for snacking – the Grenade Gingerbread Carb Killa bar lets people indulge guilt-free."
Savoury snacks
Most people would admit that Christmas isn't the most active of holidays, with lots of us giving in to the temptation of too many snacks and finding ourselves camped out in front of the telly a little too often. However, Chris Shelley points out that c-stores can take advantage and capitalise on seasonal hunger for savoury extras, which are often bought on impulse or at the last minute.
"A big part of our Christmas range is dedicated to snacks, novelties and boxes of cheese biscuits, which are areas that do well for independent retailers," he points out.
"We know we are going to get a lot of people coming in for top-ups or at the last minute if they have forgotten something or need a quick gift. This is why we always see growth in snacking during the festive season."
Collins reports that shoppers make more frequent trips and buy more when shopping for impulse snacks, such as crisps and nuts, at Christmas. "Daytime snacking becomes more important over Christmas as family and friends gather for lunches or afternoon drinks and want nibbles at these occasions," he says.
"As a result, we saw 10.4% of the total sharing crisps and snacks occasions occur in the four weeks leading up to Christmas 2018, making it the biggest month of the year (Kantar Worldpanel usage data, four weeks ending 31 December 2018).
"Demand for bagged snacks has been growing for five consecutive years with consumer spend topping £252m in 2018 (Kantar Worldpanel, four weeks ending 30 December 2018)."
Collins continues: "The sharing format is particularly popular within crisps and snacks, accounting for 42% of the category (Kantar Worldpanel, four weeks ending 30 December 2018)."
Cotswold Fayre's Hargreaves argues that focusing on snacks with gift appeal is a smart move for retailers who want to increase basket spend over the festive season.
He says: "While there will always be a place at Christmas for traditional products, we continue to see a move away from 'all year-round products' with a festive touch, to more specialised, 'thoughtful' gifts that add something special to a gift for a friend or family member."
Snacks may be in big demand for parties and nibbling, but there's no denying the demand for sweet treats and puddings at Christmas as the nation turns its back on healthy eating – for a while, at least.
Chris Shelley has all the Christmas favourites in his dessert aisle, along with ingredients for shoppers to make their own.
He says: "We bring a selection of gateaux into the store for Christmas, alongside Christmas puddings and mince pies that people obviously have to have.
"The market for home baking your own desserts also increases at Christmas so pastry and mincemeat soon become a top seller for use once people start to get into the festive spirit."
Jen Brown, head of marketing for cake & dessert at Dr Oetker UK, argues that retailers can't afford to forget about home bakers in the weeks leading up to Christmas and Boxing Day.
She says: "Seasonal occasions bring huge peaks to the home-baking category, with Christmas the biggest period for sales (IRI, Cake Decorations & Ingredients & Sweet Cake Mixes, Total Market, 17 August 2019).
"As consumers become more adventurous with their festive bakes, both traditional and non-traditional areas of the category are over-performing. The key sectors that drive the uplift at Christmas are marzipan, icing, decorating icing and shimmers and lustres – ranges which can be used for traditional Christmas cakes, as well as extravagant centrepieces and novelty decoration (IRI, Cake Decorations & Ingredients & Sweet Cake Mixes, Total Market, 17 August 2019)."
Add some festive cheer to your biscuits fixture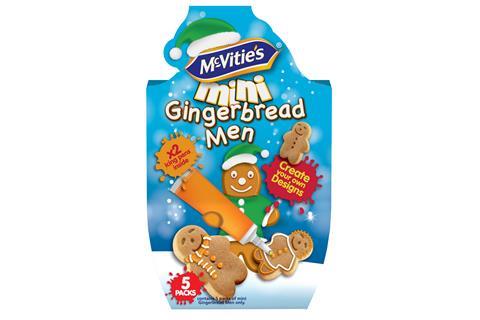 To tie in with its 2019 'Merry Biscuits Everyone' Christmas campaign, global snacking company Pladis has unveiled a collection of festive goodies under the McVitie's brand.
This year's seasonal selection is designed to tap into the popularity of gifting tins and sharing formats, including returning favourites such as McVitie's Victoria (rrp £1/100g; rrp £5/300g; rrp £8/550g; and rrp £11/825g); and McVitie's Family Circle (rrp £3/360g; rrp £6/620g; and rrp £8/900g).
Joining them are McVitie's Jaffa Cakes Christmas Pole (rrp £6/40 Jaffa Cakes), and McVitie's Jaffa Cakes Christmas Tin (rrp £10/292g).
In addition, Pladis has also added some new products to its McVitie's Christmas line-up, such as McVitie's Gingerbread Men Decorating Kit (rrp £2) and the McVitie's Luxury Chocolate Biscuit Selection (rrp £10/400g) with its luxury packaging making it ideal for gifting.
Jonathan Bull, head of McVitie's commercial & seasonal brands at Pladis UK & Ireland, points out that whether consumers are gathering with friends and family, work colleagues or neighbours to celebrate this Christmas, there is something for every occasion in the McVitie's latest seasonal range.
He adds: "By combining long-standing favourites such as the iconic McVitie's Jaffa Cakes Christmas Pole with enticing NPD, we're not only delivering the festive products loyal McVitie's fans know and love, but also appealing to a new generation of Christmas shoppers – and giving retailers the chance to grab their slice of the seasonal sales opportunity."
Get it all covered
With all the hustle and bustle over the festive holidays, shoppers are bound to forget something. Take batteries, for example – no parent wants to wake up on Christmas morning missing the vital part of their offspring's Christmas gift, but it is usually up there among cranberry sauce and sticky tape as the most missed item from the shopping list.
The demand from shoppers is part of the reason why batteries feature heavily in Chris Shelley's Christmas offering. Every year he works with Duracell to set up two dedicated displays in his store, positioning them close to the till point so customers are reminded to stock up before the big day.
"The displays are really effective at reminding people about the products, and we know that batteries will sell well at Christmas," he says.
"They are also one of those products that people will pick up when visiting our post office to send a parcel. Other extras such as wrapping paper and tags also get picked up at the same time and are another good seller for us."
It is the same story for Chris Taylor in Yorkshire. He says it just wouldn't be Christmas in his store without wrapping paper and batteries.
"Like most retailers, we bring in a number of extra displays of batteries and if we didn't do that then it would feel like we weren't doing Christmas properly.
"Wrapping paper is something else we have to have and it always does well for us. I have to admit I'm always glad when we sell the last roll, though, because then it feels like we have done our job for the season."
Aryzta unwraps festive bakery and hot food lines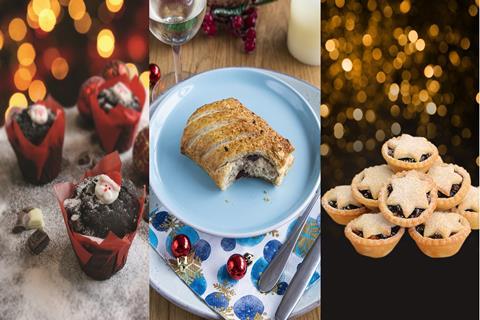 Aryzta Food Solutions is aiming to unwrap the profit potential of the festive season with its Christmas sweet bakery and hot food-to-go ranges.
The company's marketing manager Paul Maxwell says in-store bakery shoppers already spend more than your average c-store customer, and shop more frequently (HIM 2017), so a good range of seasonal bakery options is sure to appeal to those looking for a quick bite in between Christmas shopping.
The line-up comprises nine seasonal skus, four of which are new for 2019. The mix of sweet and savoury products also includes vegan and vegetarian options.
Among the savoury lines are a turkey & chardonnay slice, Christmas cracker roll and cheese & cranberry sausage roll. Sweet treats include a vegan mince pie tart, Santa triple choc muffin, luxury shortcrust mince crown, mini mincemeat pies, chocolate & orange flowerpot muffin and a gingerbread muffin.
Maxwell says: "The run-up to Christmas provides a major opportunity for retailers to maximise their in-store bakery and food-to-go profits.
"We're enabling retailers to use our high-margin, limited-edition products to capitalise on the festive feel-good factor at a time when shoppers want to indulge."
He believes the vegan and veggie options mean retailers will have something to suit everyone.
Merchandising
While shoppers may be willing to splash out more at Christmas, the competition for that seasonal spend is great, so having standout fixtures throughout your business can be a good way to draw people into making bigger purchases.
"Christmas captures attention, but don't forget it is still business as usual and shoppers nipping out to grab a last-minute distress purchase can be interrupted and inspired by POS," points out Collins.
"Retailers should optimise promotion timings and stock availability to capitalise on the last-minute shop and drive value sales," he says.
Burgess believes stores can go even further with their displays at Christmas than at other times of year, driving incremental sales throughout the holidays.
She says: "Retailers should create 'Don't forget!' displays of products that regularly tick the 'last-minute purchases' box, and merchandise these products near the checkout or at the front of the store so they can't be missed.
"Cross-merchandising is also particularly effective in convenience stores as many shoppers visit to top up quickly on one or two items without taking the time to browse. It is therefore up to the store merchandising to inspire shoppers and tempt them to impulse purchase."
Hargreaves' advice to c-stores is to make sure their shelves are full of lines designed specifically for the Christmas gifting season.
"Truly seasonal products will sell well as gifts, not something that is available to buy all year round," he asserts. "But with all products, it's likely to be the more unusual flavours or product stories that draw consumers to gift purchases."
Free-from puds for the festive season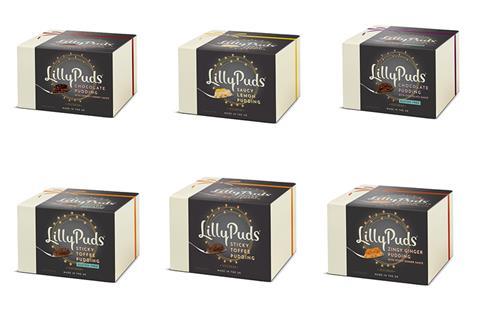 The annual Christmas dinner just wouldn't be the same without a sweet treat, and LillyPuds is aiming to attract shoppers looking for allergy-friendly desserts this season.
The artisan brand is known for its gluten-free tradtional Christmas puddings, but has extended its range further with the launch of an alcohol-free pud and another without nuts. Adapted from the original LillyPuds recipe, the new variants are designed to appeal to a broader range of consumers who need or want to buy free-from puddings at Christmas.
Alison Lilly, founder of LillyPuds, says: "Last year we launched our vegan and gluten-free puddings. This year we wanted to broaden our customer base further. The alcohol-free and without-nuts puddings mean we now offer something for everyone, whatever their allergies or dietary requirements."
The new alcohol-free Christmas pudding combines premium ingredients with fruit juice and a zero alcohol beer for flavour, while the without-nuts pudding uses the same LillyPuds recipe with the omission of ground almonds.
Available in 454g (rrp £12.75) and two x 120g (rrp £8.75) packs, the new puds will sit alongside LillyPuds' existing range of traditional, Fairtrade and plum Christmas puddings.
All products are available for convenience stores and independents to order now.
In-store events
It's not all about the products, though, and Christmas provides the ideal opportunity to put your store at the heart of your community. Those who hold festive events, such as Chris at Shelleys Budgens, report that they not only introduce people to their neighbours, but can also attract new customers for the New Year.
"We have carol singing outside the store at Christmas," he says. "The group is usually no bigger than four people, but we get the staff and customers to join in, too.
"As a goodwill gesture, we also hand out samples of mince pies with mulled wine as a way to thank customers for their trade. This type of event can't hurt sales and is good for the community."
Chris Taylor promotes his Christmas events and festive product sampling on social media, posting pictures of customers and decorations inside his Yorkshire shop.
"We hold a number of sampling events in the run-up to the festive season," he says. "They are a really good way for us to test some of the products we ordered back in June and mark which are shoppers' favourites.
"The customers like it because the types of people that come to our store come because we offer something a bit different and a more premium experience that they can't get at the supermarkets."
Anita is hoping to go the extra miles for the parents and kids that live close to her neighbourhood c-store and build excitement around the Christmas break with festive events.
She says: "We didn't do it last year, but hopefully this year we can create a Santa's Grotto in the store for all the kids at the nearby nursery school and junior school behind the shop."
She also runs a letter to Santa scheme, and ensures the children get a personal reply (which Anita herself writes). "A lot of places have started charging for the service, or asked people for more information that they can't give out," she says.
"Last year we arranged for the nursery to come round en masse and we got someone to dress up as Father Christmas. All the kids handed their letters to him personally and he put them in the letter box and they got a present back."
This kind of community engagement and in-store theatre really pays off, reports Anita.
"The day was so successful that we did another one on a Saturday morning for any children who came in and who wanted to send their letter to Father Christmas," she adds.
"We put snow all over the shop – it was a mess but obviously the kids and parents loved it! I would say 100% that this kind of thing increases sales, too, and the customers expect it from our store.
"It is also good for the community and, in my opinion, breeds loyalty."
Whether you choose to premiumise your chiller, lay on a show-stopping snow-capped in-store event, or stock up on mountains of biscuits and desserts this Christmas, the quantity and quality of your range has to appeal to customers shopping early in the season as well as those leaving things until the last minute.
As long as you follow a clear plan and don't get distracted by the multiples' battle for festive market share, then there's every chance your sales should stay merry.
The elves are back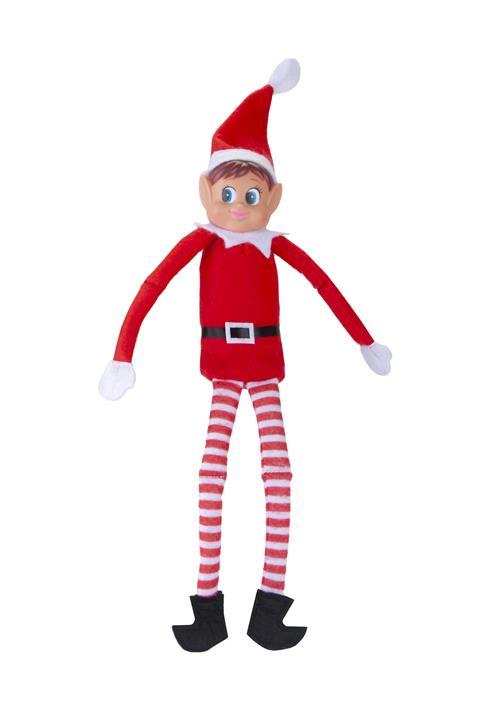 PMS International, importer and wholesale distributor for toys, games and novelties, is bringing back its Elves Behavin' Badly range this Christmas, to add some mischief to retailers' shelves.
There are two toy elves: a male character called Elfie; and a female character called Elvie.
The elves are designed for both kids and adults, and this year PMS is marketing the toys as a token gift, secret Santa or stocking filler through a new social media and PR campaign launching in November.
The campaign will encourage people to take part in daily December dares – such as hiding the elves or surprising people with the toys.