Country Choice has a basketful of thaw-and-serve lines to tempt consumers over Easter.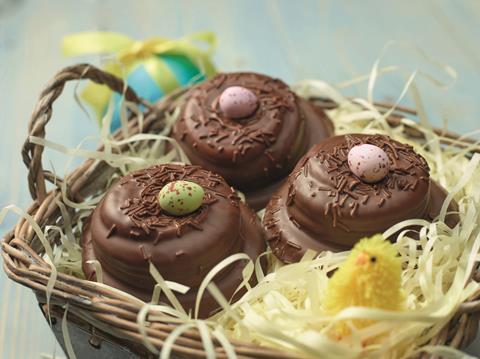 The range includes mallow nests along with a six-pack of fruited and spiced hot cross buns, a gingerbread bunny, themed cupcakes, tarts and cornflake cakes.
The Easter mallow nests have a sweet biscuit base, a layer of mixed fruit jam topped with fluffy marshmallow, finished with a chocolate flavour coating, milk chocolate vermicelli and a mini egg, while the Easter cupcakes come decorated with two flavours of icing, either lemon or chocolate, with chocolate shavings and a chocolate mini egg. Both individually-wrapped treats have a 14-day shelf-life once defrosted and an rrp of £1.35.
Also new for Easter 2020 is a rabbit-shaped ginger-flavoured biscuit, finished with chocolate decorations. The ginger bunnies (rrp 75p) come in cases of 30s.
Two year-round lines that are always popular at Easter are the cornflake cakes (rrp £1.25) and Bakewell-style tarts (rrp £1.35). The chocolate-flavoured cereal cakes are topped with chocolate eggs and sugar strands and come packed 20 to a case. The Bakewell-style tarts, available in both lemon and chocolate flavours, have a wrapped shelf-life of four days once defrosted and are packed 24 to a case. The first tart is a sweet pastry shell filled with a lemon-flavoured frangipane, topped with lemon fondant, while the other holds a chocolate sponge topped with chocolate fondant and a white chocolate decoration.