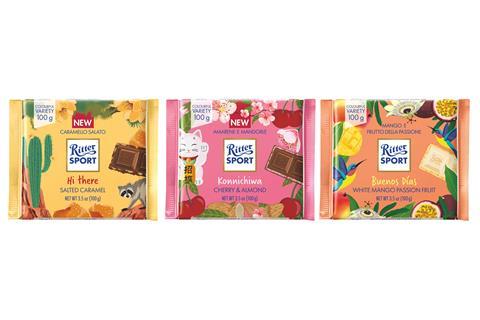 Square chocolate brand, Ritter Sport, has brought back its limited edition Taste The World range for another summer with two new exotic flavours.
The limited-edition range comprises three 100g block chocolate bars made from sustainable, chunky chocolate packed with ingredients inspired by the flavours of Southwest America, Japan and Costa Rica.
Headlining the range is new Salted Caramel. Inspired by Southwest America flavours, the bar comprises salted caramel crisps and crunchy caramel pieces coated in milk chocolate. The brand has high hopes for the new flavour as Nielsen research shows caramel is the third largest flavour sector in the UK after milk and nut.
Joining Salted Caramel is a Cherry & Almond Milk Chocolate bar, borrowing flavours and design from Japanese culture. The bar sees cherry cream mixed with chunky chopped almonds and coated in a chocolate. With almost one in five (18%) consumers likely to buy a product that's a new flavour (Mintel), and with the range's striking packaging design delivering shelf standout, Ritter claims that its exotic Taste The World range is set to get tills ringing.
The third SKU for 2022 is the range's best-seller. Back by popular demand, fans of white chocolate can now pick up their favourite Costa Rican-inspired White Mango and Passionfruit bar, once again.
The Ritter Sport Taste The World block chocolate bars have an rrp of £1 and are available until September, with retailers able to order via Dhamecha, Bestway, Rayburn, CJ Lang, Fishhills and others.
Ben Daniels, managing director at Ritter Sport UK & IRE, says: "Our seasonal-edition Taste The World range continues to perform really well, with the range garnering huge interest on social media each year. Consumers know and love the exotic range and look forward to the latest flavours being announced. Thanks to our surrounding PR and social media activity, there's certainly demand amongst shoppers for this year's range.
"We know consumers are hungry to explore new flavours, just as they are hungry to explore the world post-Covid. This year, we're thrilled to have secured such wide distribution for the trade, meaning more retailers can get hold of the range, than ever before. And what puts us in an even stronger position is the continued growth of block chocolate and the opportunity this presents retailers…"
According to the Mintel 2021 Chocolate Confectionery Report, 63% of consumers recently purchased block chocolate, versus 54% in the same period, the previous year.
Ben concludes: "Stock up and let your sales take flight. Don't miss out and be left in the departure lounge!"