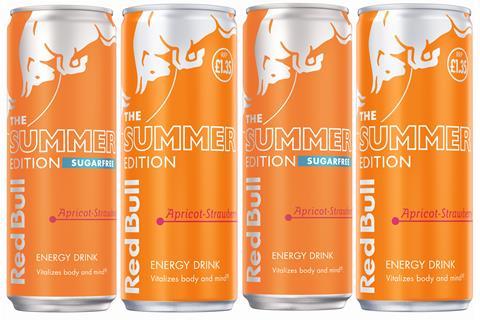 Apricot-Strawberry is the latest flavour to be added to Red Bull's Editions range. The 250ml orange cans (rrp £1.35) will come in plain and pricemarked pack formats. The standard version is available now and a sugar-free variety is available from 28 March, both for a limited time only.
With the performance of the Red Bull Editions portfolio growing across all metrics, including an a +116% uplift in sales, which now total £15.5m (Nielsen Scantrack, Total Coverage, Value Sales, Value % Change, UnitSales, Average Number of Stores, MAT, W.E. 25.12.2021), Red Bull claims that Summer 2022 is the perfect time for retailers to stock up on new flavour formats to maximise their seasonal sales.
The firm claims that shoppers are purchasing Red Bull Editions more often than ever before - with average frequency +129.6% vs YA (Kantar Combined Panel, Red Bull Editions, Total UK, Frequency 52 weeks ending 26/12/2021). The new flavour aims to draw on the successful launch of the Red Bull Summer Edition 2021, Cactus Fruit – which proved so popular with shoppers that it has now become a permanent SKU known as the Green Edition. The company states that the 2022 Red Bull Summer Edition will continue to drive category growth within Sports & Energy whilst satisfying the ever-expanding 41% of energy drink consumers who are looking to try more exotic fruit flavours (Lightspeed/Mintel, May 2019, Base 2000 Internet users aged 16+ (Energy Drinks Users 661, Non Users 1161)).
The launch of the latest Red Bull Summer Edition aims to drive the continual growth of flavoured options in the Sports & Energy category. Flavour Editions remain incremental to the Red Bull portfolio and drive new users to the brand, with 10% of new energy drink shoppers opting to buy Red Bull Editions SKUs over any other format (Kantar Worldpanel, Take Home Panel, Share of Buyers, 52 WE 26 Dec 21).
The launch will be supported with 360 in-store marketing investment, including POS, FSDU's and more.