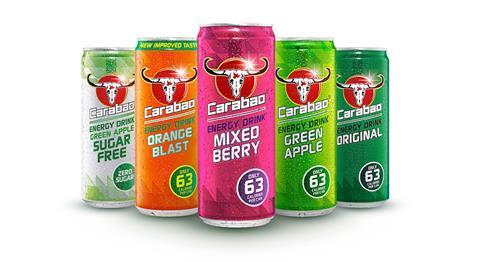 With the Scottish Professional Football League (SPFL) season back in full swing, low calorie, low sugar energy drink brand Carabao has announced a partnership with Hibernian Supporters Limited, the second largest shareholder of the Edinburgh-based football team, Hibernian.
The agreement, which is in place until June 2022, will see a donation from product sales on all multipacks purchased from the Carabao online store when customers use specific promotional codes.
All fans need to do is buy a case of Carabao from their online store drinkcarabao.co.uk and £1 from every multipack sold will be donated to the club. In addition, first time buyers of Carabao can enter the code FAMOUS5 and receive a further £5 off their order.
John Luck, chief marketing officer at Carabao, said: "There is no better example of the importance of supporters groups to football clubs than the work of HSL. We are honoured to be able to support them as part of our wider agreement with Hibernian FC and would encourage fans of the club within the local community to get involved over the coming months."
Hibernian Supporters Limited (HSL) has been contributing to the financial stability of Hibernian FC every month since 2015, and to date have raised over £600,000.
There will also be opportunities for HSL members to win fantastic prizes such as signed shirts and balls, hospitality tickets to a match, and the opportunity to meet Hibernian FC playing and management staff. Fans should look out for further updates on how they can get involved, to be announced in due course.
Jim Adie, Hibernian Supports chairman added: "We are really pleased to be working in partnership with Carabao Energy Drink to generate additional funds for the club. One of our core aims is to help the football club to achieve success on the pitch. We are thankful to Carabao for their support and look forward to working together as the season progresses."