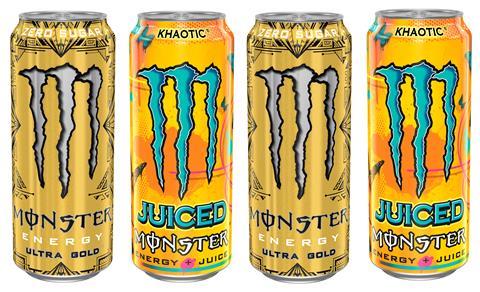 Coca-Cola Europacific Partners (CCEP) is bringing more flavour to the energy drinks chiller with the arrival of Monster Ultra Gold and Monster Khaotic.
Pineapple flavoured sugar-free Ultra Gold is HFSS-compliant and comes in a shiny gold pack.
Orange flavoured Monster Khaotic is a shake-up of one of the original Monster Juiced variants, which has been lightened-up and had juice blend adjusted improve its taste. A bold and bright packaging design has been created by legendary street artist RISK, bringing his iconic West Coast style and vibrant presentation to capture the spirit of Monster Khaotic and deliver maximum impact on-shelf.
Both drinks are available in plain and pricemarked 500ml packs.
Monster Ultra remains the No.1 zero sugar energy drinks range in GB, up 41.4% in value (Nielsen Total GB incl dis MAT Val to 01.01.22), while the Juiced range is worth £75m and in 60% growth (ibid), according to CCEP.
Point-of-sale materials including shelf strips, totems, wobblers, free-standing display units. Convenience retailers can request POS materials via My.CCEP.com.
Martin Attock, vice president of commercial development at CCEP GB, said: "Monster has led the diversification of the energy sector in recent years, which has helped energy drinks appeal to more consumers, on more occasions, by offering the choice and great taste of soft drinks, but with added functional benefits.
"Monster delivered more than 50% of energy drinks' £200m growth in 2021 (ibid), but it didn't just put the energy into energy drinks; it was the biggest value contributor to the entire soft drinks category (ibid).
"The latest great tasting variants will bring excitement to the energy fixture and help drive sales for retailers, offering new flavours – with and without sugar – alongside the high-octane marketing and in-store activation that Monster is famous for."
Monster recently launched the next phase of its Sales Supercharged convenience retailer support initiative where convenience retailers offer advice on how to boost sales.