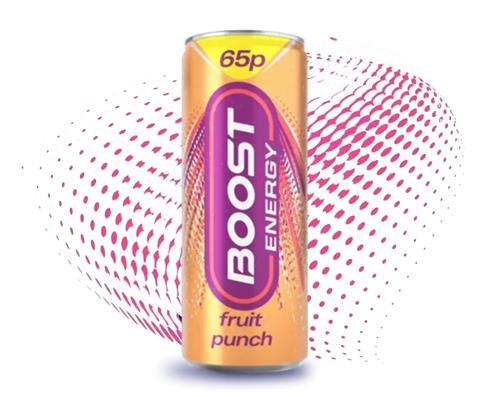 Boost Drinks has expanded its Energy Stimulation range with the re-formulation of its Fruit Punch flavoured 250ml SKU.
The 3rd largest selling energy stimulation brand (IRI Marketplace Symbols & Independents and NI Convenience 52 weeks unit sales to 20th February 2022) is introducing a reformulated variant of its Fruit Punch flavour, which will replace the existing sugar-free variant of Fruit Punch.
The new Fruit Punch flavour is available in wholesalers nationwide in 24 x 250ml cases with cans displaying a 65p pricemark.
Fruit Punch is one of the fastest-growing flavours in the energy drink category, growing at +28% YoY and accounting for 28% of unit sales in flavours (ibid). With 39% of stimulation shoppers making their purchase based on flavour (Cousins Davis U&A research).
Made up of punchy flavours including peach, passionfruit and banana, Boost's fruit punch medley of flavours offers a point-of-difference against current SKUs in the category.
Available now in 65p price-marked packs (PMPs), the new offering continues to enable retailers to communicate great value amidst increased consumer price-consciousness, whilst still delivering excellent margins to sellers.
Adrian Hipkiss, marketing and international business director at Boost Drinks, says: "The energy stimulation market is very much driven by taste and flavours with consumers increasingly looking for flavoured variants when choosing an energy drink.
"We anticipate our new Fruit Punch flavour to be very popular with consumers, especially as we head towards the warmer months and demand for exotic flavour profiles continue to be in high demand."
To support the NPD, Boost is activating a wide-ranging marketing communications programme for Boost Energy Fruit Punch including OOH and digital advertising, trade and consumer PR, press and influencer engagement, social media launch campaign, print and digital trade advertising, consumer and experiential sampling, depot activation, retailer and depot POS as well as featuring as part of the distribution drives across 2022.