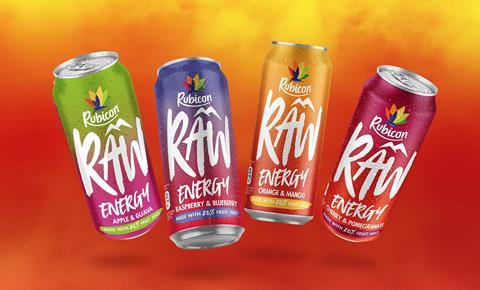 Apple & Guava is the latest flavour from Barr Soft Drinks' Rubicon Raw brand.
Available from May, the 500ml cans, which come in outers of 12, are available in plain and £1.29 pricemarked packs.
"The new flavour has exceeded our expectations in research with 90% of shoppers saying that they would buy it again and 87% rating it as good or excellent", states marketing director Adrian Troy. "We know that new flavours drive interest and growth in the category, delivering £131m last year [IRI Marketplace, Value Growth % and Value Growth Actual, MAT 25.12.21, Total Coverage].
"In market research, consumers said that Rubicon Raw delivers on taste and exciting, interesting flavours more than its Big Can Energy competitive set [BASIS Brand Tracking June - December 2022]. The Rubicon Raw Apple & Guava flavour allows us to grow our brand, but more importantly, it allows retailers to invigorate and excite their category with a product that has delivered exceptional results in consumer research."
The flavour will be supported with a wide ranging social and digital marketing campaign as well as in-store POS materials.
Now worth £1.6bn and growing at +14.2% [IRI Marketplace, Value Sales, MAT to 25.12.21, Total Coverage], the energy drinks market is the biggest and most profitable drink-now segment in the UK, claims Barr. "Big Can Energy is driving that growth at 22% [IRI Marketplace, Value Sales, MAT to 25.12.21, Total Coverage] with Flavoured now accounting for over half of all volume sold [IRI Marketplace, Volume Sales, Large Can Energy Drinks, MAT to 25.12.21, Total Coverage], so it's important that retailers offer a wide range of flavours to cater to shoppers," says Troy.
"The energy market is changing and consumer needs have changed. Energy is no longer the reserve of the traditional young gamers. Innovation has seen the consumer base shift and the category must be exciting and varied to keep a broader range of shoppers engaged."
Rubicon Raw has sold over 11 million cans in its first 12 months, according to Troy. He claims that 60% of the brand's sales have been incremental by recruiting new and lapsed energy consumers (IRI Total Outlets to 27/11/21 & Tesco Dunnhumby TO 12/12/2021).