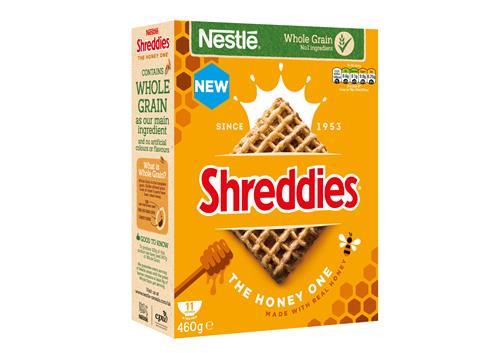 Nestlé Cereals has extended its non-HFSS (non-high in fat, salt or sugar) cereal range with the launch of Shreddies The Honey One.
Shreddies The Honey One takes the total number of non-HFSS Nestlé Cereals brands up to 24.
The latest launch also follows Nestlé Cereals announcement that it has removed an estimated 59 million teaspoons of sugar and 3 million teaspoons of salt from its products since 2003.
Toby Baker, regional marketing director UKA – Nestlé Cereals, said: "At Nestlé Cereals we've been committed to improving the nutritional profile of our cereals and making breakfast better for over 18 years. The launch of SHREDDIES® The Honey One, which is categorised as non-HFSS and contains whole grain as the number one ingredient, further demonstrates our commitment to doing just that.
"We also know that consumers – and particularly families with children - are increasingly looking for better breakfast options that don't compromise on taste. SHREDDIES® The Honey One offers retailers the perfect opportunity to cater to this growing demand and drive sales, as not only is it a non-HFSS product, it also tastes great and is made with real honey – one of the most popular flavours for cereal."