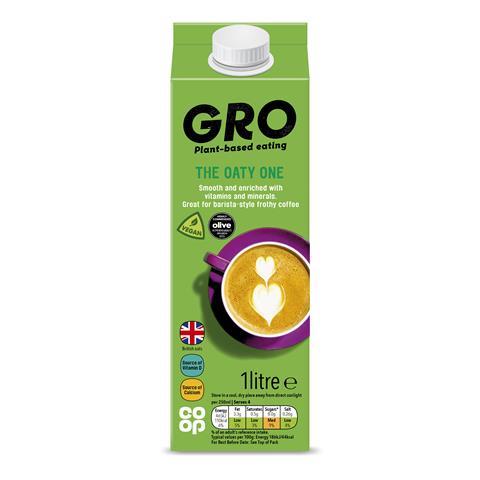 Co-op's first own-brand, plant-based milk, The Oaty One, will be available in selected Co-op and Nisa stores from 26 July, at just 79p for 1 litre, which is 58% cheaper than the leading branded oat milk.
Joining Co-op's fifty-strong plant-based range, GRO, the new barista-style oat milk is created using British oats and enriched with vitamins and minerals including B12, vitamin D and Calcium.
In May, Co-op committed to price match its own-brand, plant-based range to non-vegan equivalents to make the plant-based choice an easy option for our members and customers and this new addition to the GRO range is at a leading price compared to other own-brand milks on the market and comes in a fully recyclable tetra carton.
Michelle Rowley, Co-op's head of product development and innovation said: "Our new oat milk is a great addition to our popular and award-winning vegan range, GRO. The British oats ensure great quality so it's perfect for a barista style frothy coffee, while it is just as tasty on its own or as a versatile ingredient in baking. Equally, with our new GRO pricing commitment, it's also one of the cheapest on the market, without having to compromise on sustainability, which is something we're extremely proud of."