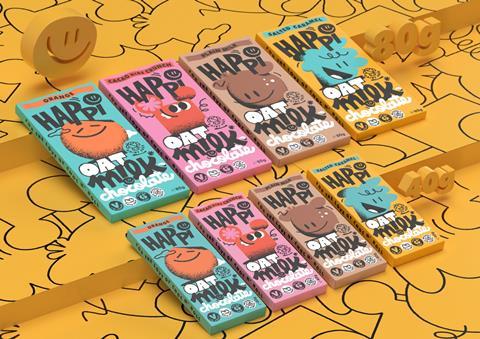 Made with oat milk and rice syrup, Happi is 100% natural and promises a rich and creamy taste with 'no nasties'. The dairy free chocolate comes in 40g and 80g bars in plain Happi, cacao nib crunch, salted caramel and orange flavours, as well as 100g plain milk buttons, with rrps ranging between £1.75 and £3.50.
Using 47% single origin chocolate sourced directly and ethically from farmers and growers with a full 'farm-to-bar' supply chain, Happi has replaced soya lecithin with sunflower lecithin to make the range completely allergen free. It is also 35% less sugar than other mass market chocolate brands.
"When we began working on Happi about eight months ago, we looked around at the oat milk chocolate options in the speciality sector and they were either very expensive or not particularly tasty," explained founder Gavin Cox. "We've set out to create a fun and approachable oat milk chocolate brand that is reasonably priced, tastes delicious and is something that parents would be happy to give their kids – and eat themselves!
"We've paid careful attention to the ingredients we've used, sourcing sustainably throughout the supply chain to appeal to a wide market of younger consumers who are both health and environmentally conscious. The Free From market is dominated by major brands, however challenger brands are beginning to breakthrough and we want Happi to introduce new consumers to the category and have them buying not once, but multiple times."
All Happi packaging is from sustainable sources and is either fully recyclable or compostable and contains zero single use plastic. The company gives 1% of its annual net sales revenues to good causes and mental health organisations.
Retailers can order direct, or through Diverse Fine Foods or Hancocks.