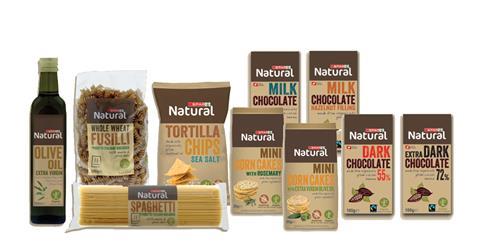 Spar has launched a new Natural range of 15 products into selected stores.
The Spar Natural range includes 12 prompts for the shopper looking to address allergies or follow a mindful approach to food and lifestyle including vegan, vegetarian, organic, lactose free, sugar free, honey free, gluten free, wheat free, dairy free, egg free, wild grown and allergen free.
The launch of the Spar Natural range of organic products is being supported in stores by POS, Spar Radio, leaflets and digital including social media giveaways.
Hoping to capitalise on the rise of healthier eating, this new range enables customers to make more informed choices whether it is for on-the-go with Spar Natural organic corn crackers, or take-home SPAR Natural organic olive oil. The range of organic products includes pasta, fruit and nut bars, block chocolate and soya milk and is gluten, dairy and wheat-free.
Spar UK senior brand manager Amrit Rebello said: "One of the top priorities for consumers in 2021 is healthy eating. This includes all types of free-from food and drink products. The SPAR Natural range provides customers with better choices that encompass free-from, organic, and Fairtrade. We know this new international range perfectly meets the needs of shoppers looking for health and wellness products. SPAR stores will benefit from the incremental impulse and core grocery sales opportunity that this range brings."