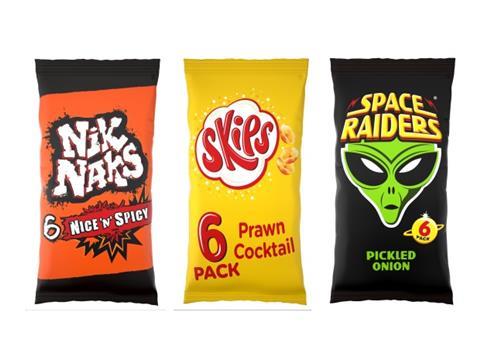 KP Snacks has announced a 410-tonne reduction in plastic packaging in 2021, reducing consumer packaging by 6.8% across a number of brands.
The snacks business saved 142 tonnes of plastic across brands Skips, Nik Naks and Space Raiders, freeing up space on retailers' shelves and resulting in 644 fewer lorry journeys. Additional packaging modifications also saw plastic reductions across McCoy's, Hula Hoops and Butterkist, as well as the KP Snacks PMP range.
The move follows a 77-tonne packaging reduction in 2020 across Hula Hoops, Tyrrells, and popchips, the introduction of a KP Nuts' fully recyclable Christmas nut caddy and a 100% recyclable KP Peanut Butter jar.
KP Snacks recently joined the Flexible Plastic Fund, a cross-industry collaboration managed by Ecosurety that is working towards a long term vision of a circular economy for flexible plastics. In collaboration with manufacturers, retailers and recyclers, the Fund will help to drive the development of UK infrastructure for flexible plastic recycling through collaboration and by providing financial incentives for recyclers. KP Snacks has also partnered with TerraCycle to support the recycling of bagged nuts, popcorn, crisps and pretzels packets nationwide. With locations around the UK, consumers can drop off their used KP Snacks packs for recycling. Through the TerraCyclepartnership, 13m snack packs have been recycled so far.
Head of sustainability at KP Snacks Nicola Robinson said: "We're committed to lessening the environmental impact of our activities and this investment in reducing plastic across our portfolio is just the first step in this process. While reducing plastic in our supply chain is a key element of our approach, we also recognise our responsibility to help develop recycling solutions over the long term so that ultimately, we can turn our crisp packets back into new crisp packets. Achieving this will require deep collaboration across the value chain, which is why we're proud to be a member of the Flexible Plastics Fund, as well as partnering with TerraCycle to help support infrastructure development within the UK."