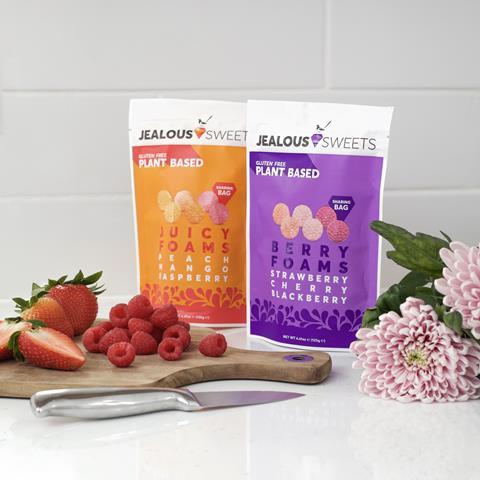 Jealous Sweets has revealed Berry Foams and Juicy Foams, available in 80g bags (rrp £1) and 125g sharing bags (rrp £2). Berry Foams packs are filled with strawberry, cherry and blackberry flavoured sweets, while Juicy Foams packs contain Peach, Mango and Raspberry flavours. The range is gluten free and plant-based.
The company claims that the sweets allow consumers to experience a soft mouthfeel with waves of fruit flavour delivering a powerful fruit punch. The texture is filled with clever micro-bubbles that retain flavour giving a long-lasting length and fruit sensation, claims the company, which uses pectin instead of gelatin to make its products animal friendly.
Imran Merza, co-founder and chief candy magician, said "Our mission is to make life sweeter for our customers, retailers, animals and the planet. I am delighted that the new Foams range delivers a consistent, high-quality, sophisticated taste profile while maintaining zero toxins, no animal derivatives, and using ethically sourced premium ingredients. We're dedicated to creating products that are plant based, gluten free, real fruit juices, no palm oil, no synthetic flavours, no artificial colours."
The Foams join the existing line-up, which comprises: Jealous Bears, Tangy Fruits, Sour Beans, Foam Fruits and Sugar Free lines.