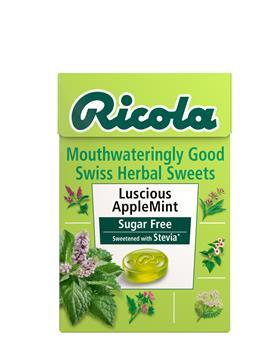 Ricola Apple Mint is the latest addition to the herb-based confectionery's portfolio. Apple Mint is vegan friendly, sugar free and contains just 6 calories per sweet. The confectionery comes in a lime green click box and has an rrp of £1.99. The sweets contain a combination of 13 Swizz Alpine herbs that the brand is famed for.
Ricola sources 1,400 tons of fresh herbs each year from over 100 Swiss mountain farmers. These herbs are grown without the use of artificial pesticides or herbicides.
Ricola started its journey 90 years ago in a small town called Laufen in Switzerland and is still there today. The sweets are sold in more than 50 countries around the world and there are eight different variants available in the UK.