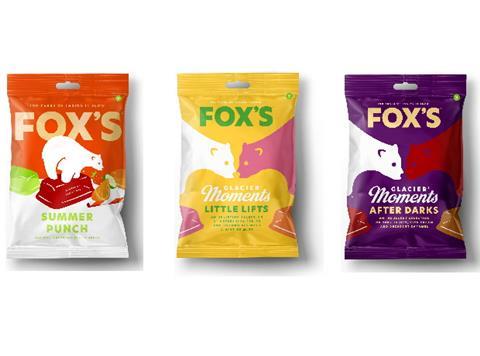 Valeo Snack Foods is launching a permanent premium range, Fox's Glacier Moments, and a Limited Edition Summer Punch variety. The new launches come as Valeo invests a seven figure sum into a rebrand and through the line marketing campaign for Fox's.
Designed for grown-ups who want a premium treat, Fox's Glacier Moments (170g, rrp £1) come in two varieties and deliver long lasting, complex flavours. The Little Lifts variety is a daytime treat comprising Strawberry and Hibiscus; Peach and Passionfruit; Apple, Pear and Spearmint; and Lemon, Mint and Elderflower flavours; while After Darks targets the evening occasion and comprises Decadent Banoffee and Cherry Bakewell Tart alongside Smooth Irish Cream and Dark Fruits flavours. After Darks will also be available in a 120g £1 PMP.
Fox's Glacier Limited Edition Summer Punch (170g, rrp £1) was created to meet demand for cocktail-inspired and botanical flavours. The bag contains four flavour varieties: Strawberry, Orange, Elderflower Spritz (Cucumber, Elderflower, Tonic and Mint) and Summer Punch (inspired by fruit cup cocktails).
Russell Tanner, marketing and category director at Valeo Confectionery said: "Fox's Glaciers has stood the test of time but we want to ensure the brand remains relevant for a younger and more modern audience.
"Fox's boasts 91% brand recognition, so bringing new SKUs to the range is a brilliant way to encourage consumer trial and broaden our appeal. Our new variants encourage consumers to explore new occasions to enjoy a Fox's sweet, and bring a more sophisticated flavour offering to appeal to a new shopper audience as well as satisfying brand fans. These sweets are an indulgent escape which is certainly needed in the current climate and beyond."