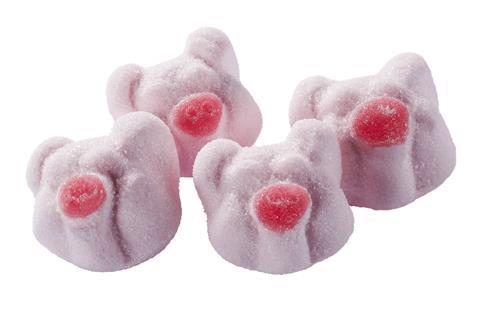 Confectionery wholesaler Hancocks has added new mallows and vegetarian options to its pick and mix range.
Vanilla flavoured Kingsway Mallow Tube and Mallow Bears both come in 1kg bags containing approximately 200 sweets.
Also new to the range are Kingsway Mallow Filled Strawberries, which come in a 1kg bags containing around 200 pieces.
Strawberry filled Marshmallow Pigs with a jelly red nose are expected to be a popular new range among children and their parents. These tasty sweets are available in a 900g bag.
Already proving popular are the Kingsway Happy Flowers sweets. These gummy treats come in a 3kg bag.
Vidal Veggie Fizzy Slices come in tropical, strawberry & cream and watermelon flavours, and Veggie Sour Mini Tongues are also new.
Chris Smith, marketing communications manager at Hancocks said: "Our pick and mix range is always a popular choice for retailers and convenience outlets. As lockdown restrictions slowly begin to ease and more Britons get out and about, we're expecting to see their popularity grow.
"The new additions are great for traditional pick and mix displays but they can be used by customers in lots of other ways too. They're ideal as fun cake decorations and perfect to include in party bags for children."