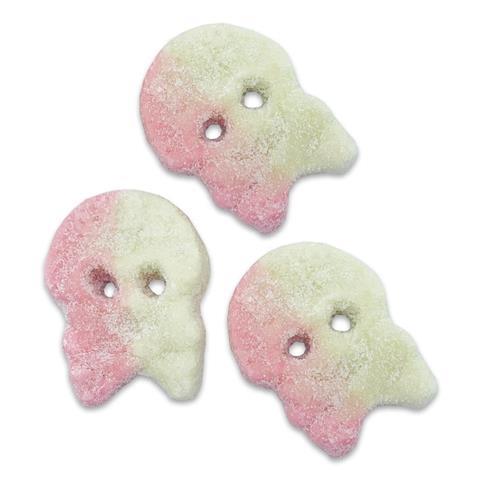 Confectionery wholesaler, Hancocks, has expanded its product range with exciting vegan friendly additions.
To capitalise on the growth in veganism in the UK, Hancocks has introduced a variety of new dairy and gelatine free products.
The wholesale company has added more lines from Swedish confectionery brand Bubs including Cool Melon and Sour Raspberry & Lemon Foam Skulls, Strawberry Cheesecake and Watermelon Foam Sweets, and Banana Mini Ovals. These ranges start from £7.59 for 2.6kg.
Vegan pick and mix fans can also enjoy two new fizzy dummy flavours from Kingsway. These fruit flavour jelly sweets with a fizzy sour coating are now available in Watermelon and Tongue Painting varieties. Retailers can buy these 3kg boxes which contain approximately 300 pieces for £8.79.
Just in time for the football season starting, Swizzels have launched a Football Fever Share Bag that's suitable for vegetarians and vegans and is now available to buy in bulk from Hancocks. These share bags contain an assortment of Swizzels favourite sweets individually wrapped in football themed wrappers.
Other new products include three new flavours of vegan fudge from Mrs Tilly's: Original, Sea Salt and Belgian Chocolate. These gift sized boxes of handmade fudge can be bought in packs of five for £9.29, to be sold for £3.75 per unit.
Chris Smith, marketing communications Manager at Hancocks said: "It's estimated that the number of vegans in the UK has quadrupled in the last five years, so these are customers that retailers are definitely going to need to cater for, if they don't already.
"Many of the country's confectionery favourites are already dairy and gelatine free, but for others, recipes will have to be tweaked slightly to accommodate this dietary requirement.
"The new products cover all buying occasions from sharing to gifting, and the most important thing to note is that these new treats don't compromise on flavour.
"With lockdown restrictions easing over the coming weeks, we're urging retailers and leisure facilities to stock up to take advantage of the increased footfall."
Hancocks is the one stop shop for confectionery for over 25,000 independent retailers and the partner of choice for over 250 suppliers from across the globe.