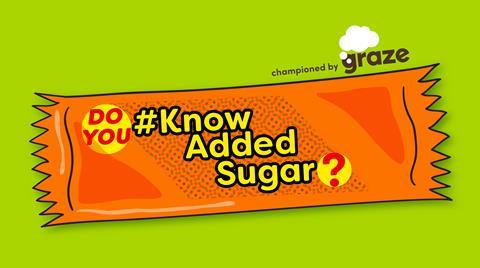 Graze is launching an educational #KnowAddedSugar campaign which aims to grow awareness of 'added sugar' in products.
The brand has identified a lack of consumer awareness around 'added sugar', with research by Graze revealing that less than 3% of adults know the recommended daily limit (RDL) for total and added sugar consumption and over half of British adults are unaware of how much sugar they eat in a day.
The campaign aims to provide people with the tools and information they need to make more informed, healthier choices – including a first of its kind #KnowAddedSugar Index which will be hosted on the graze website
For retailers, graze will also launch its 'Choose Less Sugar' messaging across shopper marketing materials. These materials will be displayed in-store and online across retail partner channels.
Joanna Allen, CEO of Graze, said: "There is an added sugar crisis in the UK right now and we must do more to address it. We know that 61% of UK shoppers think brands need to do more to support them in making healthier choices, which is why we are launching the graze #KnowAddedSugar campaign. We work hard every day in our kitchen to create delicious graze snacks that are lower in added sugar, without compromising on taste. We're proud to say that since 2019, we have cut 160 tonnes of sugar from our products, and our graze Oat Boosts contain 45% less sugar than your average cereal bar.
"Whilst we're focusing on how we can continue to help shoppers in leading healthier and more balanced lives, we can't do it alone. We need support from retail partners to help drive change in-store. As part of this campaign, we are supplying retailers with 'Choose Less Sugar' point of sale which they can proudly display in-store and online, encouraging shoppers to make healthier choices. Together, we believe we can make a difference."