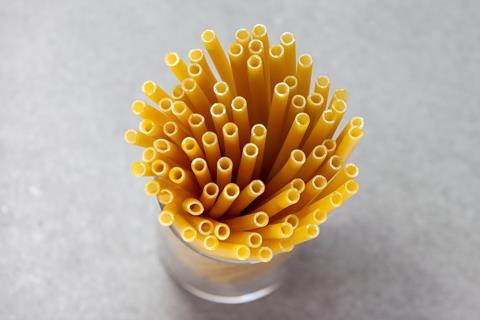 Pasta straw company Stroodles' edible tableware has been launched in Spar Appleby Westward stores.
The new range includes biscuit spoons, wheat bran plates and bowls, and wafer cups.
Their new edible, vegan spoons are made from biscuit and have a one hour use time with cold dishes and 30 minutes with hot dishes. The ice cream (6.8 and 7cm) and dessert spoons (8.4cm) are available in oat flavour and a gluten-free chocolate version. Large 14cm spoons are available in classic, cacao, pepper and masala variants. The coffee stirrers are 11.5cm in length, made from biscuit, are gluten-free and vegan and can be eaten after use.
Stroodles' edible plates and bowls in which you can serve hot and cold food, are made from wheat bran and are designed to be 100% biodegradable, vegan and compostable in 30 days. Their plates are available in diameters of 16, 20, 24 and 28cm, with a round bowl variant of 20cm diameter and an oval bowl measuring at 24 x 16cm. Additionally, smaller 250ml bowls and 100 and 30ml saucers made from biscuit are soon to be released.
The new edible cups are made from wafer, designed to last for at least 40 minutes with hot drinks and be heat-resistant up to 85°C. There is no transfer of heat and the wafer doesn't change the drink's taste. The cups are available in 110ml and 220ml volumes and are perfect with hot drinks, as well as cocktails and even desserts.