French bakery manufacturer Bridor has unveiled three new additions for its gourmet breads range.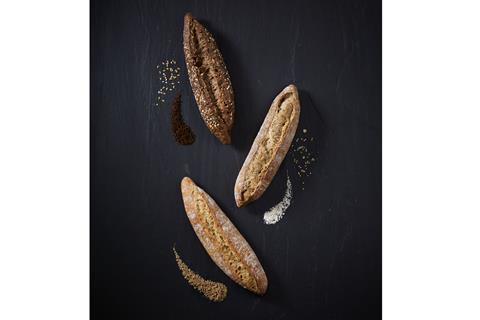 The brand's latest gourmet half-baguettes are available in three flavours:
Caractère - made with an exclusive Bridor blend of traditional wheat flour (T65) and gaude flour.
Cereals and Seeds - made with a cereal sourdough on a wheat flour base for a taste of germinated seeds, including: white and black sesame, sunflower, amaranth, millet, white quinoa, chai, oats and buckwheat.
Rye and Cereals - made with rye, buckwheat sourdough, malted wheat and six seeds: sunflower, poppy, millet, sesame, yellow and brown flax.
Weighing 120g, the half-baguettes are supplied part baked. The breads have been specially designed with an irregular, rustic appearance and are available to retailers through the foodservice channel.