Keep your cool and offer good availability in the key areas of premium, healthy and convenient snacking to ensure chilled stays a hot spot.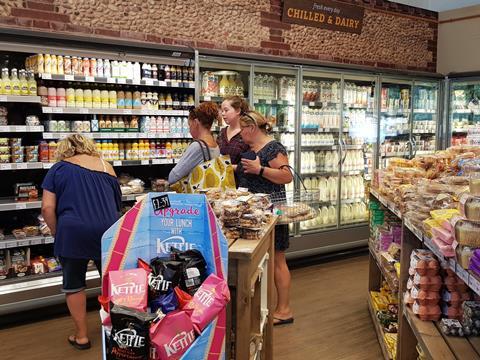 Few c-store retailers are likely to forget the long hot summer of 2018.
It was the year that demand for cold drinks went crazy, when the British football team wasn't a national embarrassment and, if you squinted slightly, Blackpool seafront was coming on like the coast of Ibiza.
It was also the summer that chilled came into its own. Not just as the area of the store shoppers went to for milk and cheese to take home, but for snacks, sandwiches, prepared fruit and other on-the-go products to fuel their fun in the sun.
Most retailers will be crossing their fingers for more of the same soaring temperatures in 2019. And, as Guy Warner from the Warner's Budgens chain points out, the warm Easter weather earlier this year offered an invaluable practice run.
"The good weather over Easter was really great for our chilled sales overall," he explains.
"It's the picnic-style items and the food-for-now products that did really well for us. We're talking about quality pork pies, sausage rolls and sandwiches for people to take away with them, and also accompaniments like salad."
Whatever the current economic worries about Brexit, when the sun comes out customers don't seem to mind splashing out on some premium on-the-go food they won't have to prepare at home.
"Our shoppers are fully prepared to pay for convenience, without a doubt," says Guy.
"Done well, with the emphasis firmly on quality, there's the potential to make stores a lot of money with chilled produce."
The stats back up Guy's chilled strategy. Overall, a quarter of c-store shoppers buy something from chilled, and tend to spend more than their ambient-seeking counterparts (Kantar Worldpanel).
"Chilled shoppers are worth investing in – they spend longer in store (and this reflects in the fact they are more impulsive), they have bigger baskets, and spend more per trip," confirms Alice Dolling, senior account manager at HIM.
"Range is more important to chilled shoppers than average convenience store shoppers, [so] a range of chilled products and pack sizes that suit these key missions will be paramount."
Less sugar, more sales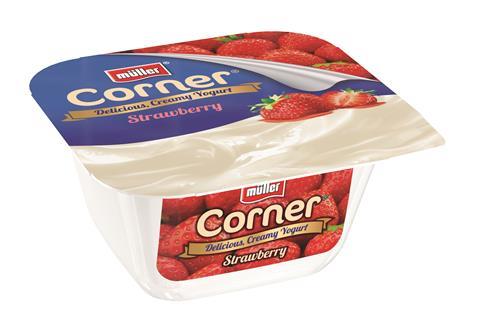 Müller Corner now has up to 9% less sugar. A rigorous r&d process identified two specific strains to create a less sour-tasting yogurt. "By changing the culture we've created something unique," says Müller chief marketing officer Michael Inpong.
Shining examples
We know that chilled can be a stone-cold sales winner – especially in hot weather. But how do retailers get the category right without losing their cool?
Guy describes doubling down on chilled during sunny spells as "basic retail", with getting the stock levels and timing right the essentials to sunny sales.
He says that success for the chilled category in his store over the recent bank holiday period came from his team noting any local events happening that would ensure shoppers were looking at options for picnics, and keeping an eye on the weather in the run-up to the bank holiday.
He also points out that the kind of products doing well in chilled are changing. Guy says that his offer now skews towards healthier fare. And that stores that focus solely on the high salt, fat and sugar end of the chilled spectrum might well be missing a trick.
"I believe that healthy eating is having an impact across everything in fresh and chilled," he says.
"I really hate using the term, but even 'White Van Man' is choosing more healthy options. For example, sushi is now in every convenience store in the land, while prepared fruit continues to be really big for us in impulse.
"It really isn't for your traditional 'healthy shopper' anymore – it's for everyone."
For Guy, his healthy alternatives mean wraps and flatbreads along with more traditional bread options in sandwiches, 'no-mayo' choices, and making sure salads are well represented. Items such as sausage rolls need to reflect provenance and quality.
It's a trend that Costcutter has certainly picked up on when shaping its range. Laura Sayer, head of directs at Costcutter Supermarkets Group, explains that the healthy options can be super-lucrative for stores, since healthy shoppers are prepared to spend more on the right selection.
"Recent IGD research suggests 85% of shoppers are actively trying to improve some part of their diet and are looking for fresh, healthy produce to help them achieve this," she says.
"We know that healthy eating isn't a new trend, but it is evolving and presents a real opportunity for retailers to drive basket spend. For example, research has shown that the average shopper would be willing to spend £1.44 on a single snack, whereas a healthy snacking shopper would be willing to spend £1.84."
Sayer points out that healthy eating today is just as likely to mean vegan products or dairy- and gluten-free. "There has been a 360% increase in people choosing vegan alternatives," she says. "As a result, this has created an increased demand for products that answer a specific dietary need. In response, our Co-op own-brand range includes high-protein products such as the Satay Chicken Snack Packs with Chilli, Egg & Spinach Pots, Falafel & Houmous Snack packs and an array of free-from options."
Matt Hutchinson from Select Convenience & Post Office Bents Green in Sheffield has also noticed a shift towards healthier options. "I think in chilled people are staying away from the high-fat rubbish and choosing other things," he says.
"Chilled snacking sells really well for us across the store. It's all about people buying food on the go. The things that sell tend to be products such as our mini pork pies, carrot sticks with houmous and fruit pots."
Plus, sushi is also proving popular. "I can't really believe it, but we're doing loads of sushi," he reports.
"I think it's down to things like Yo! Sushi opening up in town. Sushi also used to be quite expensive, but it's come down in price and so more people are up for trying it."
The other big factor heating up chilled sales is Nisa stores' access to Co-op products, with retailers saying the customer reaction to the range has been outstanding.
"We do really well with chilled and that's down to our suppliers," says Matt. "Customers just really like the Co-op brand and the fact that it stands for quality. They know it's going to be something special," he says.
Luke Cordon from Wakefield Road Nisa in Fitzwilliam, West Yorkshire, also sings Co-op's praises. "The Nisa and Co-op move enabled us to stock a lot better quality products," he says.
"We've been constantly expanding our chilled range. It really gives us an edge over local competitors and what they offer. For example, sandwich sales have been better than they have been for a good five or six years. The quality and range is just really good."
The store saw chilled space virtually double following a refit to the new Nisa Evolution store format in 2018, which Luke says has helped take the store to "the next level".
Yet while investing in chilled can signpost a more quality offer, this strategy only works if you're prepared to work hard on the range and merchandising, too.
Mission accomplished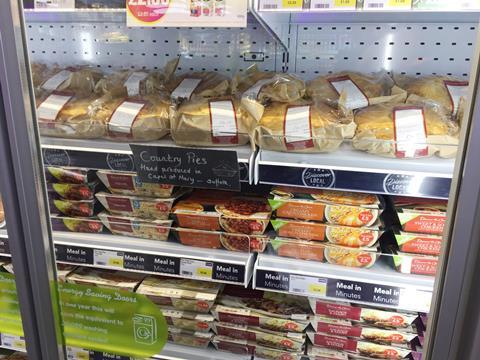 Is chilled taking over in convenience? It's certainly a category with plenty of potential to boost footfall and basket spend, according to Laura Sayer, head of directs at Costcutter Supermarkets Group.
"With 80% of shoppers who are looking for food-to-go products buying chilled (HIM) and a whopping 45% of what goes in shoppers' baskets being chilled (Nielsen), it's a category that can prove a real sales driver for retailers," says Sayer.
"However, understanding shopper needs is crucial. Through our business growth programme Shopper First: Drive Five to Thrive, we've provided retailers with the insights they need to respond to key shopper missions."
This level of targeting is essential since so many shopper missions feature chilled produce. For example, in c-stores a limited amount of space might have to service milk-seeking top-up customers and those on a meal-for-tonight mission alike."
Plus, consumers need to trust that a chilled range is going to be top quality and well presented, and Costcutter's agreement with the Co-op has provided retailers access to a name that shoppers instantly value.
"Our supply deal with the Co-op has provided a major draw for shoppers," says Sayers. "Coupled with a strong supply chain that is providing a reliable delivery service day in, day out, our retailers are benefiting from the right range, pricing and promotional offer they need to grow their sales."
Careful management
James Lowman, chief executive of the Association of Convenience Stores, says that a little bit of carefully-managed trial and error is all part of the journey.
"Compared with supermarkets, in c-stores you might be doing relatively low volume in chilled with a lot of fluctuation from week to week," he says.
"This will especially happen when you're starting off in chilled and trying to establish potential along the way. You've also got to maintain standards to ensure that customers trust you to deliver a decent chilled offer. That means dealing with things like wastage, because that's going to be part and parcel of offering products with short shelf-lives."
This is part of the journey that Luke is experiencing right now with chilled. "We do struggle a little with dates just because the products are higher quality so will go out of date quicker," he says.
"It's about finding that happy medium. To be honest some products are just too posh for the area we're in. And with others, when you communicate properly what's on offer and get the word out, people really go for it.
"We'll give 99% of things a go – and see what works for us."
One category that does work for c-stores is yogurt. According to Mintel, three-quarters of UK adults eat spoonable yogurts or fromage frais, with parents buying three different types on average for their family. Plus, yogurt drinks are regularly consumed by one in five adults, which is why Yazoo is such a c-store favourite.
Yogurt heavyweight Müller has been working overtime to revitalise the category. Not only has it revamped its Corner recipe with a sugar reduction of up to 9%, but has reworked its Müllerlight recipe, which now has 0% added sugar, features a thicker and creamier texture and is suitable for vegetarians.
The recipe changes are being supported with a pack redesign and the relaunched range will also be backed by two large multimedia marketing campaigns.
The campaigns, which will feature across billboards, print advertising and social media, will include two new TV adverts starring British athlete Dina Asher-Smith and recently crowned European Indoor Pentathlon champion Katarina Johnson-Thompson.
Michael Inpong, chief marketing officer at Müller, says: "We know that when Müller grows, so does the category. So our overall approach is to continue strengthening our core brands, developing a leading private label proposition, and innovating to target the 46% of the category where we have limited or no presence.
"This is a revolutionary milestone for our brand, and the category. We've created our best-ever recipes, backed up by our biggest-ever marketing campaigns, and we're continuing to innovate on sugar reduction."
With a massive category covering everything from healthier choices to more indulgent options, and a limited amount of space, retailers are choosing the yogurt products that chime with their customers. For Matt, this means getting behind a quality local brand with the right price point.
"It's interesting," he says. "We've tried all the big brands down the years, but there's only one that sells really well for us. That's our line from Longley Farm, which is a local supplier not that far from the store.
"We have a metre of them in the store. They're only 40p and we sell absolutely loads – about 200 a week in total. People just seem to like the fact that they're made locally."
Meanwhile, elsewhere in Yorkshire, Luke reckons that it's the sweeter end of things, where yogurts start to blend into chilled desserts, which does the business for his retailing family.
"In the past yogurts are where we've struggled at the slightly higher end," he says.
"The thicker-style healthy yogurts haven't done that well for us when we've looked at sales. What does work is the sweeter products, such as your Milky Way and Rolo desserts. The Co-op line is great with this, too, especially the cheesecake. I had some myself the other day and it was absolutely fantastic!"
Rustling up profits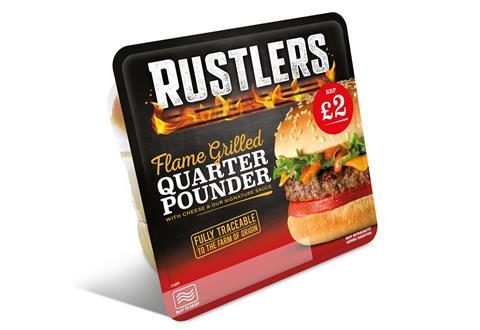 For some customers, when time is tight only a microwave meal will do. They provide maximum convenience for hungry people who don't want to bother turning on the oven and so make a reliable c-store staple.
Some retailers make heat-up snacks even more appealing by having a microwave in store, such as Louise Hammond, owner of a Mace forecourt in Halesworth, Suffolk. "We have an in-store microwave with all the market-leading products, as we believe nothing beats enjoying your purchase in seconds," she says. "However, those two minutes of waiting do allow enough time for customers to purchase other goods while waiting."
Kepak Foods claims it is crucial for retailers to stock food and drink that can be easily prepared and which delivers on taste. "Rustlers fits the bill perfectly, providing a tasty solution that takes only minutes to be served," says Kepak Consumer Foods shopper marketing manager Monisha Singh.
Kepak has established eight shopper needs that are being fulfilled by convenience foods, and 'quick option', 'treat myself' and 'fill me up', account for 74% of these needs.
"On average, shoppers will buy two packs of Rustlers per trip, so we're working closely with the channel to educate them on the right range for their store and best practice for merchandising the chiller, such as ensuring 100% availability on shelf," says Singh.
To boost sales through summer, Rustlers is teaming up with Warner Brothers for the new multiplex monster movie Godzilla: King of the Monsters.
The partnership includes the chance for consumers to win a trip to New York, providing shoppers with another reason to buy in-store.