Hunter & Gather is championing natural condiments with the introduction of an egg-free mayonnaise made using avocado oil.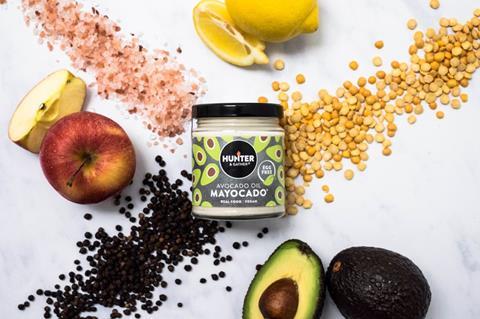 The brand's new Mayocado is aimed at those looking for sauces and meal accompaniments that are healthier but still deliver a strong flavour and taste.
The product is made with 100% pure avocado oil, water, filtered apple cider, lemon juice, black pepper, pea protein, konjac root & pink Himalayan salt.
The use of pure avocado oil means the Mayocado is packed with oleic oil, folates, vitamins C,E,K & B6 and 'better-for-you' mono-saturated fats.
The egg-free mayo is also suitable for vegetarians and vegans and contains no unsavoury seed oils, sugars or inflammatory fats. It comes in 175g jars with an rrp of £4.49 each.
Amy Moring, co-founder of Hunter & Gather, said: "Making a mayo that was accessible to the plant-based community without compromising either in terms of taste or quality of ingredients, was a challenge we were ready to accept because this is a condiment that appeals to food lovers of all ages and contrary to what some people may believe, ketchup isn't always the answer."
Hunter & Gather's Mayocado is available to independent retailers via wholesalers CLF and Tree of Life.