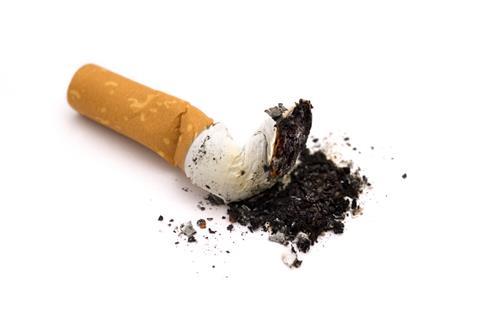 Shoppers aren't the only ones celebrating borders opening back up after Covid-19. Sadly for c-store retailers, the return of international travel means the gangs behind illicit tobacco are cock-a-hoop too.
"I don't really think the illicit tobacco trade ever really went away as a problem during Covid-19," says Terry Caton, who runs a Londis in Chesterfield.
"But I do think [the pandemic] did possibly restrict the amount of tobacco coming into the country. Now people are moving around more freely and I think we'll see the illicit tobacco trade ramping up again. And that's going to be noticeable in respect of our tobacco sales in store."
The latest stats show that Terry is right to worry about his wholly legal profits being snuffed out.
"The sale of illicit tobacco and vape products has a direct impact on convenience retailers, especially where there is illicit trade taking place nearby," says James Hall, anti-illicit trade manager at Imperial Tobacco UK.
"Our calculations show that a retailer selling £5,700 of cigarettes and £1,300 in RYO products a week could lose £1,233.43 a week in turnover from illicit tobacco sales. This demonstrates why it's so important that retailers and their staff are well educated on the issue so they can stay vigilant and notify the relevant authorities of any suspected illicit sellers in their area."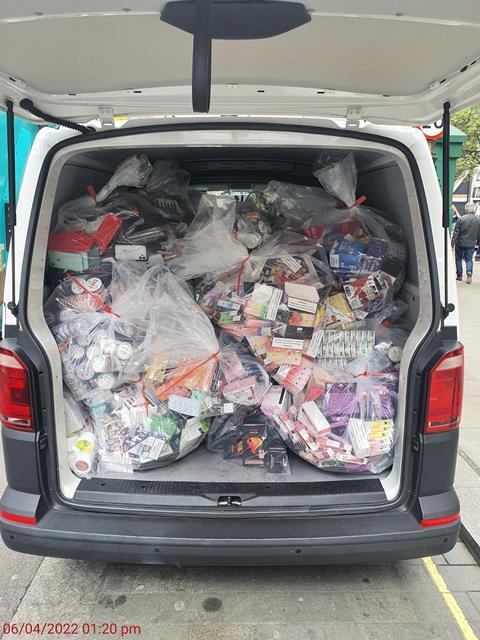 JTI is expecting the problem to grow. "Despite the dampening effects of travel restrictions and lockdowns, the illegal market for tobacco products was never going to disappear and demand for cheap illegal products remains unabated," says Ian Howell, JTI's fiscal and regulatory affairs manager. "The ending of these restrictions is likely to facilitate a surge in the supply of illegal tobacco."
Unfortunately, despite smoking rates falling overall, UK consumers seem to have a sharp appetite for back-street smokes.
"According to the latest KPMG report, the UK is ranked second for illicit cigarette consumption of the 30 European nations included in the study," says Kate O'Dowd, head of commercial planning UK and Ireland at Philip Morris Limited.
"More than 17% of cigarettes here were recorded as counterfeit and contraband (C&C) – that's a staggering 5.2bn individual cigarettes. Perhaps most worryingly of all, counterfeit cigarettes alone are at a five-year high in the UK, up 9% versus 2019."
JTI has made equally alarming findings. "Illicit tobacco continues to be a serious issue for law enforcement, retailers, suppliers and communities across the UK, with the latest research from Kantar highlighting that 37% of smokers have recently bought some form of illicit tobacco," says Howell. "The problem is particularly apparent in London, where 48% of smokers purchased illegal tobacco but the East Midlands, the South East and the North of England were also above the average (ibid)."
Imperial's Hall claims that consumers' lack of knowledge around illicit tobacco is fuelling the issue. "Despite the fact that 'branded' tobacco products have been banned from sale in the UK for over six years, 20% of consumers say they still only buy 'branded' cigarettes or RYO [Tobacco Manufacturers' Association] TMA Anti-Illicit Trade Survey 2021. With this in mind, education clearly has a big role to play in encouraging consumers to move away from buying illicit products, and retailers can help raise awareness of the issue of illicit trade through their customer base."
Lost profits are only one single part of the problem. By now, every adult knows that cigarettes aren't a risk-free product – but illegal manufacturers are dragging health dangers to new lows. Counterfeit cigarettes have been found to contain mites, insect eggs, fungi and even faeces.
"This is all very concerning – for consumers' safety – but also for retailers of legitimate products, who are paying the price through lost trade," says O' Dowd.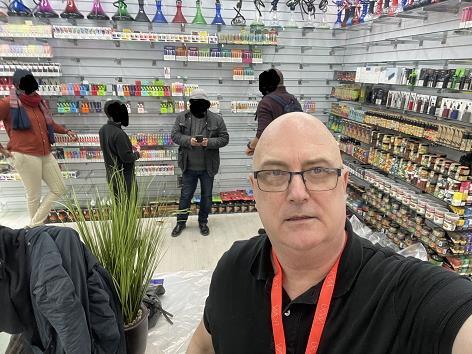 Over the last few years gangs have been moving into the burgeoning illicit vape market. "In terms of vaping, we are aware of an increasing number of products that do not adhere to the UK's rules and regulations," says JTI's Howell. "Some products have nicotine levels that are too high, while others have fill volumes in excess of the limit."
The problem is affecting retailers like Shaun Shafiq from Oxbridge Lane Premier in Stockton on Tees. This year he installed a Vapestop unit which he praises very highly.
"The stand is brilliant," he says. "I've seen the footfall increase and customers seem to really be getting into the different flavours – so the more selection you have the better."
However, he's seeing evidence of the illegal trade in the products customers come in and ask for. "What we've seen is people coming in and asking for high-strength vapes that we just don't sell," he explains. "And I've heard that they're illegal to sell anyway according to the guidance. So I've personally been advising people to stick to products that meet the legislation."
Shockingly, according to estimates from the UK Vaping Industry Association's director general John Dunne, around 40%-50% of the disposables market is made up of illicit products.
"The disposables market is extremely large and has only really come to the forefront in the last eight-nine months," he says. "Trading Standards raids across the UK are seeing 70%-80% of stock being taken out of the stores and that's just the tip of the iceberg."
He recently attended a police raid on a souvenir shop Oxford Street, London, (pictured above) which saw £100,000 worth of goods, including illegal vape and other "smokeless" products, removed from shelves.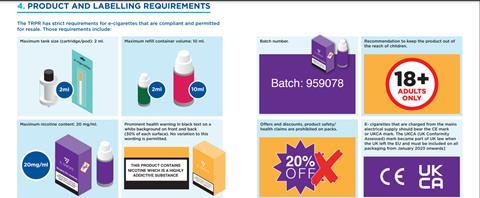 The illicit vape trade is so prolific and the vaping category itself has grown at such a rate, that it has been challenging for some retailers to keep up with which products they can and can't sell, and which suppliers are genuine. Thankfully, the Association of Convenience Stores has lots of useful advice online via its assured advice guide on e-cigarettes.
Disposable vape manufacturer Geek Bar has launched a campaign to crack down on rogue suppliers and producers of non-compliant and counterfeit products, and was recently involved in closing 12 counterfeit factories in China, which had manufactured more than 100,000 counterfeit Geek Bars destined for the UK..
"For people who want to stay on the right side of the law it's not hard," says Dunne. "Only buy products that are from a reputable wholesaler. Check products are registered on the MHRA website or on www.vapeclick.com. Retailers in particular should remember it is their responsibility that the products they sell are legal to be sold in this country."
One of the big problems for modern tobacco, whether vapes or ciggies, is the illegal trade's prevalence on social media. One of the reasons Shaun has people come in and ask for illicit products is that shoppers see them for sale on their phones every day.
As part of its campaign to tackle illicit vape suppliers, Geek Bar is looking to shut down social media accounts that give the impression that they are official Geek Bar channels selling or promoting non-compliant products.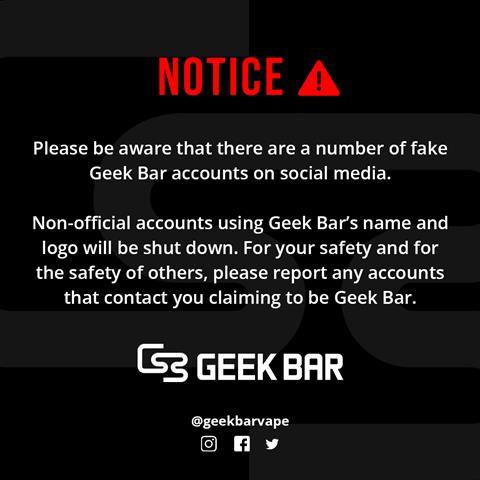 "We are seeing a lot of [stock] being sold across social media apps and also through well-known online marketplaces, with the disposable phenomenon driving that type of illegal online sales," says Dunne. "That's how a lot of young people are getting hold of these things."
Social media platforms are an increasingly popular channel for illicit tobacco sales, adds Howell, claiming that 19% of smokers surveyed by the Tobacco Manufacturers' Association in 2021 had bought illegal tobacco from online sellers, up from 4% the previous year (TMA).
Hall adds that sellers are finding cunning ways to avoid detection online. This includes listing illicit products as something much more innocent.
"Illicit tobacco products are often sold as 'duty free stock bought in error' to avoid detection, with sellers using various tactics to beat the algorithms in a bid to throw anyone policing online off," he says. "Disguising products to appear as something else is another way they try to avoid detection, such as recent seizures which saw illicit vape products appearing as highlighter pens and fidget spinners."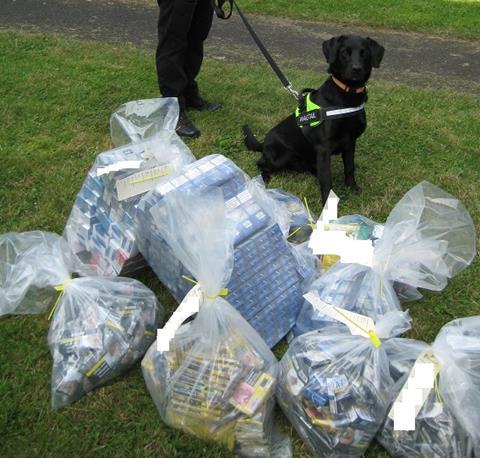 So what can be done to extinguish the illicit trade in 2022?
Terry says that authorities need to come down harder in order to turn the tide in favour of legal sales.
"We obviously focus on what we can do in-store in terms of having the right products," he says. "But the authorities also need to step up to do their bit with restrictions – and make sure buying illicit tobacco is just no longer acceptable."
Happily, there have been some major successes.
"The Finance Act 2022, which provides HMRC officers with powers to apply 'on-the-spot' fines of up to £10,000 against those dealing in illegal tobacco products and to revoke the registrations required under track & trace legislation, is an encouraging step and one that JTI has long advocated for," says Howell. "But in order to stamp out a resurgence of illicit trade, these powers must be extended to Trading Standards officers, who currently undertake a significant portion of enforcement action in the UK."
What's more, The Khan Review, entitled 'Making smoking obsolete', which was published earlier this week, proposes dedicating an additional £15m per year of funding to local trading standards to boost enforcement. "The proposed additional funding for local authorities to enforce against those selling illicit tobacco products is welcome, and is something that we've highlighted as a necessary priority for Government for a long time, but we need to see this implemented and we need more than £15m investment to close the £2.3bn tax gap caused by illegal tobacco sales," says Association of Convenience Stores chief executive James Lowman. "Unless we tackle the black market, the recommendations to further regulate the sale of tobacco through legitimate businesses will not be effective."
Another victory in the battle against illicit trade was Operation CeCe, a joint initiative between National Trading Standards and HMRC, which seized over 13 million illegal cigarettes worth more than £7m in its first year, 2022.
Yet, the success rate for conviction shows just how big the problem is. And the pandemic court-slow-down means that many illicit tobacco traders haven't been punished.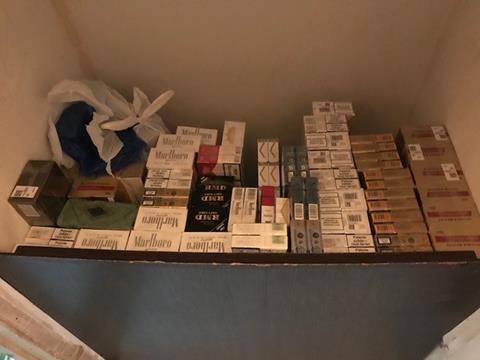 "In the fiscal year 2020/21, 1.14 billion cigarettes and 149.6 tonnes of RYO tobacco were seized, which resulted in 43 convictions and 578 penalties issued," says Howell.
"Comparatively, the previous year saw 1.167 billion cigarettes and 151.7 tonnes of RYO seized, with 261 convictions and 2,015 penalties handed out [Gov data] These seizure levels highlight that the flow of illicit tobacco has continued unabated, while Covid-related closures of courts and the resulting backlog appears to have reduced opportunities to penalise wrongdoers."
All agree that suppliers are key partners in tackling the problem. Many have been working hard to come up with innovative solutions.
Philip Morris is investing significantly in preventive and protective measures within the supply chain, implementing track-and-trace solutions worldwide, and supporting customers.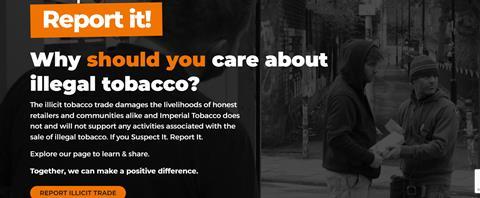 Imperial Tobacco offers information and advice for retailers at: www.suspect-it-report-it.co.uk.
The firm has also seen success with its Suspicious Activity Reporting App SARA. "Reports of potential illegal trade activity through our dedicated anti-illicit trade app, SARA, which launched in January 2017,has led to a huge increase in the information we've been able to share," says Hall.
"Before the app was launched in 2017, we provided just 180 reports but since then we have supplied almost 3,300 – all of which have been shared with law enforcement to help them take action against the offenders."
Hall urges retailers to take action. "We need retailers and their staff to be alert and take action by reporting any suspected illicit activity to the relevant authorities," he adds.
"We would strongly advise against any retailers getting directly involved or approaching any suspected illicit tobacco traders. Instead, we'd urge everyone to contact the appropriate authorities with concerns of illegal tobacco activity in their locality, speak to their Imperial rep about SARA or phone Imperial Tobacco directly."
JTI's "Don't Be Complicit in Illicit" campaign and dedicated microsite features a host of advice to help retailers join the fight against illicit tobacco in their area by providing them with more information on the scale of the issue, plus it has an easy 'report' function.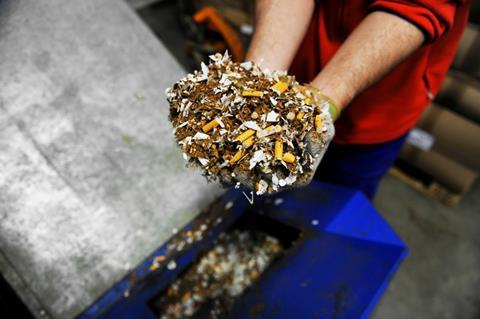 The firm also regularly conducts test purchasing to identify retailers selling illegal tobacco and since the start of 2020 it has gathered evidence on over 160 of them.
"We urge all retailers to continue reporting anybody they believe to be selling illicit tobacco," says Howell. "By encouraging more people to report suspicious activity to the relevant authorities, retailers can help protect their local communities. Educating and training staff on illicit tobacco is also vital, as the more staff who are aware of the issue and the warning signs to look out for, the better.
"It's also important to only obtain your stock from reputable wholesalers, cash & carry depots or company salesforces. In the case of cigarettes and RYO you will always be asked for your EOID and FID as part of the tobacco 'track and trace' regime."
The vast majority of c-store retailers loathe the illicit trade – which destroys legal profits while spreading unsafe products. And as Terry says, in a year where cost-of-living rises are causing havoc, c-stores could do without other challenges.
"What I've always said is that if something doesn't look right in tobacco then the relevant people must be notified," he says. "I've been in retail long enough to know the damage [the illicit trade] does to retailers who are actually trying to trade with legitimate products.
"Trade right now is hard enough as it is without having to compete with anything illegal!"
Sadly, this year the cost-of-living crisis may actually drive more customers towards dodgy tobacco.
"The illicit tobacco trade will remain a significant problem this year and beyond," says Howell. "The duty increase in last November's Budget was one of the biggest ever and will have done nothing to help stop the demand for illegal tobacco products.
"However, smokers need to consider that every 'black market' purchase is funding organised criminal gangs."