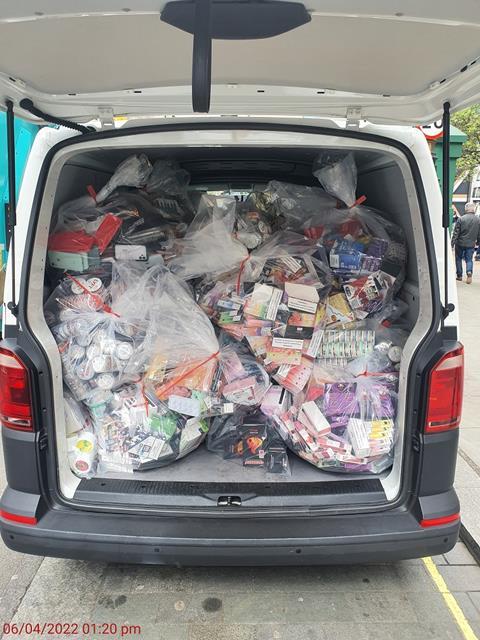 Counterfeit and illicit vapes and tobacco products were found amongst a £100,000 haul by Westminster City Council and the Met Police.
As part of a joint operation, officers discovered nearly 4,500 disposable vapes, containing excessive levels of nicotine or not conforming to UK standards set by the MHRA in the haul that needed 43 large sacks to bag up. The authorities also removed 23 products, which stated they contained cannabis, for testing.
Also seized in the raid were 420 counterfeit vapes and 2,366 Snus, a moist form of smokeless tobacco which is usually placed under the upper lip, with no English labelling.
The list of items taken away in the latest raid which took place on 6 April also included:
Counterfeit mobile phone covers with the trademarks of Kenzo, Louis Vuitton, Nike amongst others
Counterfeit Apple Airpods
Counterfeit Sony PS4 consoles
USB Chargers with no safety labelling
Unlabelled packets of shisha tobacco
This was the second raid on an Oxford Street shop in the space of a fortnight. On 29 March, over 1,500 counterfeit goods worth more than £22,000 were removed.
Raj Mistry, executive director of Environment & City Management at Westminster City Council, said that the raid showed the local authority's commitment to keeping Westminster clean and safe.
"We are putting these questionable traders on notice that they will not be tolerated in our city. We'll continue to take action against such unsafe trading activities in order to keep our residents and visitors safe," he said. "We will not allow those selling illegal or counterfeit goods in Westminster to keep up such unsafe practices. Sooner or later we will identify such illegal trading and we will seek prosecutions and the maximum fines."
Assisting in the 6 April raid was John Dunne, the director-general of the UK Vaping Industry Association (UKVIA) which is the largest trade body for the vaping sector.
He said: "Trading in a safe and compliant manner is at the heart of our organisation's values. As a body we work closely with Trading Standards officers across the country to get rid of these rogue sellers, which give our industry as a whole a bad name.
"It is important to ensure adult consumers can purchase safe products while also keeping them out of the hands of young people."