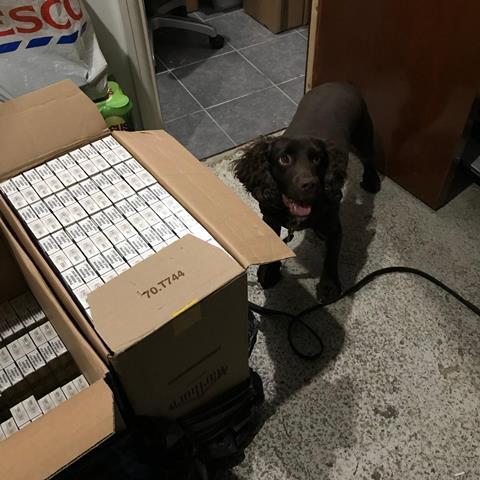 Mihai Lupes, who owns the Bacovia store on Neasden Lane in North West London, has has been fined £6,000 after a specially-trained sniffer dog discovered 14,000 illicit cigarettes on his premises.
The operation was led by Brent & Harrow Trading Standards in July 2021, following a tip-off that the shop was selling Romanian-labelled tobacco products.
Officers found 700 cigarette packets, containing 14,000 cigarettes, that were not in standard packaging and were missing the necessary health warnings to warn smokers of the dangers of the habit required by law.
The products were seized and Mihai was summoned to court. He plead guilty to possessing the illegal tobacco products on 23 June 2022 at Willesden Magistrates Court and was fined a total of £6,096.
Mihai had previously been prosecuted twice for similar offences and once for selling alcohol to an underage customer.
The Magistrates said: "This is the third similar offence and you learnt no lessons. You keep committing the same offence."
Councillor Harbi Farah, Brent's cabinet member for safer communities and public protection, said: "Selling illegal tobacco puts people's lives at risk and can do real damage. I hope this case sets an important example that we will go after heedless law-breakers to protect the public's health and get illegal tobacco products off the streets."
The operation was part of Operation CeCe, a National Trading Standards initiative in partnership with HRMC to disrupt the illegal tobacco trade at all levels.