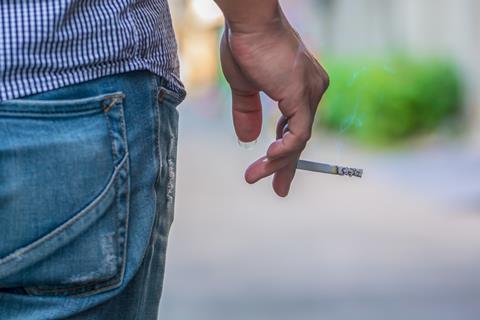 The amount of lost revenue caused by illicit cigarette rose to £2.7bn in 2021, a new report has found.
The KPMG report, Illicit cigarette consumption in the EU, UK, Norway and Switzerland, commissioned by Philip Morris International (PMI), found that lost revenue caused by Contraband and counterfeit (C & C) products rose by £515m compared to 2020.
The report found that while overall cigarette consumption in the UK dropped by 0.4% to 30.2bn cigarettes when compared to 2020, C & C consumption rose 0.23bn to 5.5bn and represents 18.1% of the overall market.
This equated to £2,747m in lost revenue to the UK, up £515m on 2020. The report found that the north-east and Yorkshire and the Humber where the areas of the UK with the highest consumption of C & C produce. Poland was reported to be the main source of C & C products into the UK.
Cem Uzundal, head of UK field force for PMI said: "The KPMG report highlights how illicit tobacco is prevalent in the UK, with counterfeit increasingly becoming an issue.
"Our undercover operatives regularly visit retail premises the length and breadth of the UK, gathering intelligence that's shared with trading standards and law enforcement, to assist their efforts to take action.
"This report should be a wakeup call to everyone involved in making or selling illicit cigarettes. My message to retailers selling illicit product is that your actions put both your customers and your business at risk – you stand a very real chance of getting caught and facing the penalties."
European focus
The report also looked at the EU, where counterfeit now accounts for 2.8% of all cigarette consumption in the EU27, compared with 0.7% in 2017. The increase of illicit consumption was driven by an estimated 33% increase in counterfeit consumption in France. Overall, France remains the largest market for illicit cigarettes in the EU, with a total of 15.1 billion illicit cigarettes consumed in 2021, comprising 29% of total cigarette consumption in the country,
In Ireland, cigarette consumption dropped 0.4% year-on-year to 3.2bn while C & C made up 16.8% of overall consumption, dropping 0.46% compared to 2020. C & C consumption was found to be more common on the west coast of Ireland.
Shifting distribution
The research also showed that border restrictions have "complicated traditional routes of entry for illicit goods and have made carrying contraband across borders more risky".
This means that organised crime gangs have shifted their focus towards manufacturing counterfeit and as a result, law enforcement are detecting a higher number of illegal factories within the EU27.
It also found that illegal manufacturing sites are increasingly moving West in Europe to get closer to higher‐priced end markets and reduce the risk of moving higher value and more easily detectable finished goods to consumers. This has led to concerns that the increasing popularity of in or near end‐ market illegal manufacturing also provides new options, such as using cars instead of trucks for road transport to reduce detectability and the financial and disruptive impact of seizures
Gregoire Verdeaux, senior vice president of external affairs at PMI, urged action to stem the rise of C & C products.
"The findings of the KPMG Report should be a real wake-up call," he said. "It's alarming that in countries that maintain high excise taxes on cigarettes, such as France, instead of driving a decrease in smoking prevalence, we see a rise in counterfeit cigarette consumption. In fact, in France in the past five years, while the average price of a pack of legitimate cigarettes has increased by more than half, the number of adult smokers has only marginally decreased.
"But there is also hope. Other EU countries have adopted differentiated policies on alternatives to cigarettes that support the continued decline of cigarette consumption while reducing illicit trade, and they are already yielding encouraging results. The European Commission in Brussels should make this the foundation for the future."