Exactly 12 months since the sugar tax came into force, retailers are adjusting to the new pricing regime and influx of new products.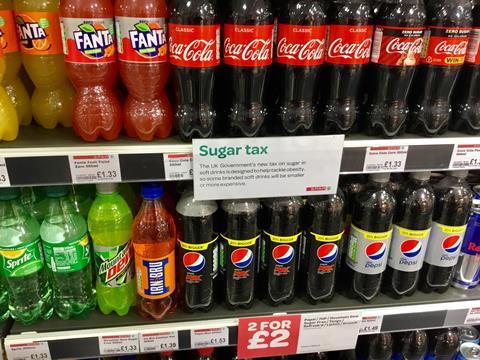 The soft drinks category has undergone a major overhaul over the past 12 months thanks to the introduction of the Soft Drinks Industry Levy almost exactly a year ago. But despite the upheaval for retailers, what seems to have remained constant is consumers' thirst for soft drinks.
Londis Westham Road in Weymouth, Dorset, saw a strong uplift in soft drinks sales last summer thanks to the warm weather. "If you plotted a graph of the temperature increase and then plotted the sales increase of soft drinks, they would be very similar," says manager Dave Hiscutt.
It's a good category for Robert Kirkwood, too, whatever the weather. "Soft drinks is quite a busy category for me," says the owner of two Premier stores in Fife. "I get carbonated drinks direct from Barr Soft Drinks and I pick up from Booker four days a week and soft drinks is one of the main categories I spend on," he asserts.
"Even in the winter period it's going well. Come spring time it's really going to take off. I'm quite lucky as I get a lot of workmen and people from the local car garages and every other purchase is soft drinks."
However, while retailers' view of the category is bright, adapting to the change the Soft Drinks Industry Levy has created hasn't been without its dark side.
Sandeep Bains, owner of Simply Fresh, Faversham, in Kent, claims that the levy has forced him to move away from pricemarked packs in order to avoid taking a hit on margins.
He says: "Since the sugar tax we've seen the margin on soft drinks slashed. Thankfully for me, being where I am with not too much competition, I'm able to go non-pricemarked and push the price up slightly more.
"Retailers need to ask themselves do they really need to do pricemarked drinks, or could they get away with charging 30p or 40p more? It depends on your area and your competition."
Sandeep claims that tight margins on soft drinks, including Coke, Dr Pepper and Fanta Fruit Twist, means that he can stock these lines only in a non-pricemarked format. "I can't work at 25% or 30%. On stuff like Lucozade and Ribena, if you buy smart when it's on promotion you can still get your 45-50% margin.
"When I opened in 2013, my water was 75p for a bottle of Evian and Volvic. The rrp was about 50p, but I've never had any complaints from customers. Obviously, you've got to weigh it up – look at your competition and your demographic – but there might be an opportunity to make more cash margin."
Nigel Dowdney, owner of Earlham Shopper and Stalham Shopper in Norfolk, says his soft drinks sales haven't seen a slump since the levy.
"We are only just now able to judge how our soft drinks sales have changed year on year since the levy," he says. "So far they seem to have held up pretty well."
But trying to keep track of prices in the soft drinks category has certainly been a challenge, he admits. "I think the pricing structure for some soft drink products doesn't make much sense and is quite confusing," he says. "When the sugar tax was introduced it was supposed to target high-sugar variants, but it doesn't seem to have made much of a difference for me.
"I do all my ordering through Nisa, but there doesn't appear to be a lot of guidance from the wholesaler side either. If I'm confused by all the changes as a retailer, then I dread to think what the average punter makes of everything."
Ralph Patel, owner of The Look-In, Woodmansterne in Surrey, agrees. "It's been a challenge in the soft drinks category with all the price changes and new launches," he says. "Sales have been a bit up and down as a result and we've been trying to keep shoppers informed."
Arjan Mehr, owner of Londis Bracknell in Berkshire, has been trying to do the same in his store. He says: "Soft drinks sales over the past year have stayed pretty steady. The levy doesn't seem to have made much of a dent in sales as most of my customers don't seem to know which drinks have been affected by the tax."
It's a different case for Dave, who says his customers understand why the price of some soft drinks has changed. "There was enough about it in the press, everyone's been aware of it," he says.
"It wasn't a surprise when it [prices] went up, and consumers can then make the choice as to whether they want to pay the extra money or not. A lot of them get the reason why and most of them understand it's not our fault."
What has changed for Dave is his reliance on promotions post-sugar tax. Dave explains: "We were running two for £2 deals before the sugar tax, but we can't do that now purely because of the buying in price. We need to retail soft drinks at £1.49 to make the numbers balance, but we're selling it for more money and the sales haven't really dropped."
Coca-Cola adds new fruit flavours to light range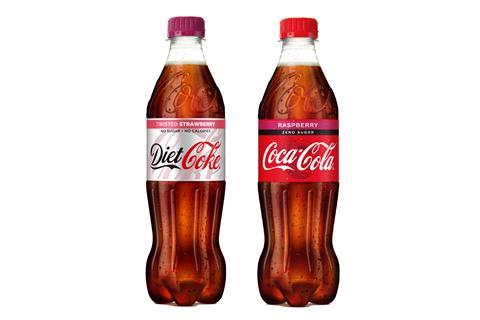 Coca-Cola European Partners (CCEP) has extended its light colas portfolio with two new variants: Coca-Cola zero sugar raspberry; and Diet Coke twisted strawberry.
Available to c-stores now, the new lines are designed to help retailers maximise sales in the flavoured cola segment, currently worth almost £190m and in 25% value growth (Nielsen, 2018).
The launch of the two fruit flavours will be backed by a £7m out-of-home, digital and TV marketing campaign. In addition, more than two million consumers will have the chance to taste the drinks through sampling activity throughout 2019.
The introduction of the strawberry and raspberry flavours follows the addition of Coca-Cola zero sugar peach, Diet Coke exotic mango and Diet Coke feisty cherry last year, with the cherry variant being phased out to make room for the new additions.
Simon Harrison, vice-president for commercial development at Coca-Cola European Partners GB, says: "Our light flavoured colas are increasingly popular with consumers who are looking to try new and exciting variants of their favourite soft drinks. They are also an example of how we are energising our core brands as we continue on our journey to becoming a total beverage company.
"Some 7.4 million households in Great Britain buy flavoured colas. This equates to an increase of 1.7 million buyers over the past year, adding 30% growth to flavoured colas in 2018 (Kantar Worldpanel Take Home 52 w/e 2 December 2018), demonstrating the opportunity for more flavour variety within this well-established soft drink sector."
Low sugar
Matt Gouldsmith, channel director for wholesale at Lucozade Ribena Suntory, believes it is now clear how vital no- and low-sugar lines are for c-stores.
He says: "We've seen a significant growth within low- and no-sugar soft drinks since the soft drinks industry levy was introduced last year. Shopper spend on zero sugar and low sugar drinks has increased by 33% and 29% respectively, showing just how important this segment of the market is."
Trystan Farnworth, commercial director for convenience and impulse at Britvic, has noticed a similar trend.
"Since the Soft Drinks Industry Levy came into effect last year, we've seen a significant uplift in people switching from full-sugar drinks into low- and no-added sugar alternatives across the board, showing that consumers have embraced the change, and manufacturers are adapting their brands," he asserts.
Jeeta Bhadal, owner of One Stop Woodhouse in Leeds, is making the most of the growth in this area by dedicating more space in the fixture to zero- and reduced-sugar lines. He says: "Low-sugar or no-sugar soft drinks are consistently good sellers for us. We've definitely noticed a shift, with people buying more of the healthy lines such as bottled water.
"Most of the soft drinks brands seem to be working hard to create reduced sugar alternatives to their regular soft drinks."
Ralph has done the same in his store and says the soft drinks category has done a better job than most other categories at switching to low-sugar alternatives.
He adds: "Healthier lines that are low- or no-sugar are now widely available and you have the option to stock less-sugary lines for almost every drink in the category."
Arjan concurs: "I agree with the soft drink brands' strategy on low-sugar drinks. It is definitely important to have these products in stock and offer people that lower calorie choice.
"Products such as Pepsi Max, Diet Coke and Coke Zero are all mainstream drinks and people expect to see these products in stock, so it makes sense for retailers to have them as part of their range."
Emma Hunt, marketing director for Vimto Soft Drinks, expects the move to low- and no-sugar products will only continue. "The trend for watching what we put into our bodies is continuing to gather pace. There has been a clear increase in consumers choosing low- and no-sugar options in the wake of the 2018 sugar tax, with sales of low-calorie soft drinks experiencing growth of 71% (Nielsen Value Sales, Total Coverage, MAT 8 September 2018)."
Sandeep has seen the take-up of healthy drinks grow in his store, as customers look to cut down on their sugar intake and calorie consumption.
"There's been a slight increase with people choosing zero variants," he says. "Generally, as a culture, we are moving towards healthier alternatives."
Amy Burgess, senior trade communications manager at Coca-Cola European Partners (CCEP), believes the soft drinks category reflects the health and wellbeing movement seen across the grocery industry.
She says: "The health and wellness trend has exploded in recent years and the value of the health food and drink market is estimated at £22.7bn (Kantar Worldpanel: Value of food and drink chosen for Health In Home/Carried out 52 w/e December 2016). Consumers have become increasingly more in tune with their wellbeing and this is affecting the way they shop.
"As more consumers look to make positive changes in their lifestyles to be healthier, sugar content has become a major factor in their choices and they're continuously on the lookout for these options in their food and drink."
Huib Van Bockel, founder of Tenzing Natural Energy, agrees: "Last year's levy has encouraged more people to explore low-sugar options, proving to people that reducing the amount of sugar does not mean you have to compromise on taste."
With all the new formats and flavours that have launched into the category in the past year, though, making sure retailers' soft drinks displays are easy to shop is more important than ever.
To help keep their offer on-trend, James Logan, commercial director at Refresco UK, says c-stores should dedicate prime shelf space within their range to drinks with less sugar.
"Retailers should display low-sugar drinks in a prominent position as shoppers are becoming more health conscious and are prepared to pay extra for drinks that are good for them," he says.
"When asked on a scale of one to 10 how important healthy options are, with 10 being most important, 44% of convenience shoppers rated healthy options eight, nine or 10 out of 10 (HIM Omnichannel Tracker August 2018)," he adds.
Arjan has noticed that a growing number of his customers are looking to lead more healthy lifestyles, which means there is an opportunity to sell more low- and no-sugar drinks.
He explains: "It may be a long process, but it seems that people of all ages are looking to be more active and, because people are going to the gym more often, they need drinks that fit in with this more fashionable way of being healthy and exercising."
Cashing in on flavoured milk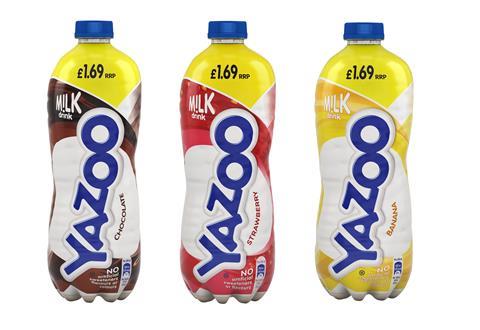 Flavoured milk is exempt from the soft drinks industry levy, so the sub-category is well-placed to appeal to health-conscious consumers, says Wayne Thompson, customer marketing manager at Yazoo UK.
He says: "Flavoured milk is growing 11.7% year on year (IRI InfoScan Total Market, Flavoured Milk, Value sales 52 w/e 5 January 2019). However, many retailers have been missing the opportunity to grow their soft drinks category by not including dairy drinks within the fixture front of store, having often sited them only within the dairy drinks chiller or the ambient aisle."
Thompson argues flavoured milk meets current consumer needs for taste and, in the right format, convenience within an impulse offering.
Yazoo research claims 38% of consumers see flavoured milk as a healthier alternative to fizzy drinks, showing how the category looks set to take a bigger share of retailers' drinks mix.
In fact, some stores are already reaping the rewards. For example, David Charman's Spar Parkfoot store in West Malling, Kent, saw a 48% increase in dairy sales after a shelf re-order and use of branded POS (Friesland Campina Store Project, February 2018).
Adjustment needed
Dave anticipated the increased demand for healthier drinks last year and adapted his fixture as a result back when the levy came in. "Last year we made various changes to take into account the sugar tax," he explains. "We put more focus on healthier drinks.
"There was a perception piece as well. We wanted to make sure we were pushing healthier drinks with the whole sugar piece being so in your face at the time."
Dave's soft drinks bay used to be headed by regular Coca-Cola and Monster energy drinks, but he has since changed the area to focus on health.
He says: "We've changed the flow so that we lead in from the bottom with waters, then flavoured waters, then go up into smoothies, juices and all those more health-conscious drinks.
"Then the next two bays are dedicated to Coke products, but we really highlight the sugar-free ones. We've reduced some of the 'full-fat' facings, too."
Radnor Hills gets fired up with sparkling water range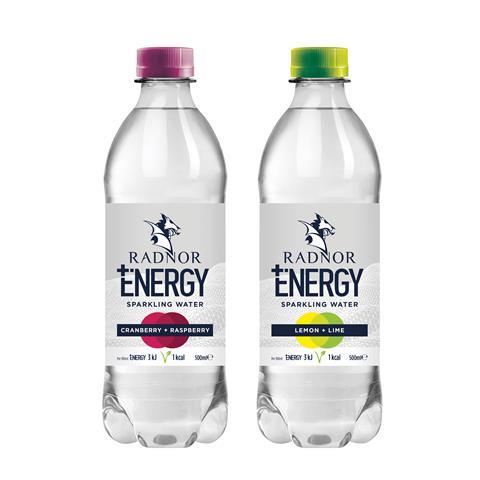 Radnor Hills is launching its new five-calorie energy drink at this year's National Convenience Show (NCS).
Radnor Plus Energy is made using sparkling water and is available in two flavours: cranberry & raspberry; and lemon & lime.
Each 500ml bottle is boosted with seven B vitamins and 70mg of natural caffeine – around the same as a cup of coffee (rrp £1.29).
The spring water used to create the Radnor Plus Energy drinks is sourced from the company's family farm in Powys, mid Wales.
William Watkins, owner and managing director of Radnor Hills, says: "We have created the ultimate range of great-tasting energy waters that contain natural caffeine. Each 500ml bottle is designed to give you a convenient energy boost without having a dreaded sugar crash."
Radnor Hills will be on NCS stand N101 at the NEC in Birmingham, from April 8-10.
Old favourites
So what has the health trend meant for regular soft drinks? Dave reports that sales of regular soft drinks in his store have stayed fairly consistent. "Red Coke sales have been hit, but it's not made a drastic difference," he says. "It's still a strong, great performing product."
Within take-home, Gouldsmith claims that the growth in low- and no-sugar drinks has had a knock-on effect on sales of regular soft drinks.
"Growth in low- and no-sugar soft drinks is mirrored at the other end of the market with a decline in high-sugar drinks (with more than 8g sugar per 100ml), which are down by 8% in the months following the levy. These patterns of behaviour illustrate the relevance of our portfolio of drinks to today's consumer as they become increasingly aware of making healthier choices (Take Home Soft Drinks – Spend/Value, 20 w/e August 18 vs 20 w/e March 2018)."
However Jeeta argues that full-sugar lines still have their place and should remain a permanent feature. "You are always going to get some people who want the full-sugar options and, although it seems like that number is getting smaller, you still have to give shoppers all the choices."
Logan at Refresco UK agrees: "In 2018 there was strong growth of no-added sugar and diet drinks (up £55m), but in terms of actual overall sales the figures show that there is still significant demand for regular drinks in the larger categories such as carbonates and energy, with regular carbonates adding £42m in the past year (IRI 52 wks to 30 December 2018)," he says.
In an attempt to keep pace with the fast-changing soft drinks category, Nigel updates his fixture on a regular basis using a mix of planograms from Nisa and the soft drinks market leaders. The take-up of low sugar drinks and new flavours has been slower in his stores and, as a result, big branded favourites remain strong sellers.
He explains: "We change our range using the information we have from all the big suppliers. Most tend to focus on the best-sellers anyway and we update our range about once a quarter.
"Original Coke is still the top seller for us, closely followed by standard Pepsi," he says. "These lines sell well in my area because they are popular with kids and we get pupils from the local schools coming into the stores on a daily basis."
Nigel is also clear on what sizes his customers want when it comes to regular soft drinks. "The 500ml bottles are the best format for us" he states. "I've noticed that my customers are less willing to experiment in almost every category when it comes to new variants.
"That's why they stick to the big names they trust, even if that means paying a few pence more. More often than not, people are shopping on autopilot anyway so aren't always looking at the price."
Ralph has reduced the number of facings he gives to high sugar and calorific drinks, although he recognises that consumers still need choice.
He says: "We haven't done away with high-sugar lines just yet, because there is still a need for these types of drinks from some customers, and on certain occasions. Everyone wants something sweet every now and again."
However, he concedes that it is the high-sugar drinks that have to make way for the intake of new and healthier lines.
"The demand for healthier drinks is higher now so we have to make space for them by stocking less of the drinks with high sugar and calories," he says.
Burgess says that to keep a wide range of consumers happy retailers need to make sure they stock a balanced soft drinks offer which includes both best-sellers and low-sugar alternatives.
"While it is important to ensure you have a wide range of low- and zero-sugar products in stock, don't reduce space given to your current best-sellers. Shoppers still want choice," she cautions.
"Place your lower- and zero-sugar soft drinks next to original variants and review your range, removing slowest selling lines to make space for flavoured varieties of lower- and zero-sugar variants."
Gouldsmith agrees that offering variety in soft drinks across the spectrum is crucial. "One year on from the introduction of the soft drinks industry levy, we advise retailers to continue to stock a full range of choice for their shoppers. Having the right range, including low- or zero-sugar options, will drive sales from the increasing number of shoppers looking for healthier soft drinks.
"Recognisable, established brands with a high rate of sale will comprise the must-stock essentials within each category in store," Gouldsmith adds.
"With a category like soft drinks, where the market is fast-moving and full of innovation, it becomes even more important to include these must-stocks in your range to ensure shoppers can always find the drinks they're looking for."
Burgess say that convenience store retailers should stock drinks that tap into consumer trends, but not at the expense of making the fixture hard for customers to shop.
She says: "While choice remains important, ranges shouldn't become too broad and confusing for shoppers. Retailers need to look at their sales data and trim the tail, removing slower selling lines and duplication to allow for multiple facings of best-sellers or the stocking of new products."
While the past year may have been turbulent for c-store retailers looking to get the most out of their soft drinks range, there is potential for more upheaval to come with proposed legislation restricting pricing, promotions and location, advertising watersheds and the implementation of a national deposit return scheme.
However, reports from retailers and suppliers show just how resilient the soft drinks market is, and suggest that the category will be able to adapt to whatever changes may come its way.
A changing market
£2.4bn
size of the soft drinks category in UK convenience channel, growing at 9% 
(IRI Marketplace, Value Sales, MAT to 30 December 2018, GB Convenience)
up 9.4%
The volume sales increase in plain sparkling water category during the past year 
(IRI Data: Convenience, 52 w/e 16 February 2019)
up 11%
The volume growth in low-calorie colas over the past 12 months 
(IRI Marketplace, Volume Sales, MAT to 30 December 2018, GB Convenience)
15%
of consumers switched from general soft drinks to milk drinks in 2018 
(Mintel – Added Value in Dairy Drinks, Milk & Cream - 2018)