Radnor Hills is set to launch a new canned spring water range into convenience stores and forecourts next month.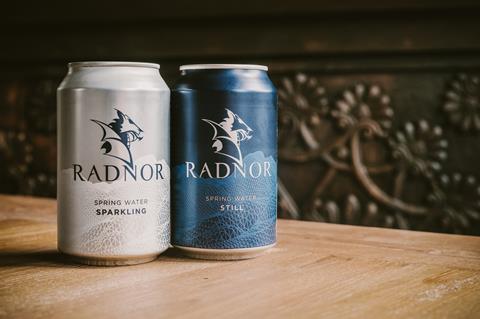 The pure spring water is sourced from the company's family farm in Powys, mid-Wales, where it takes seven minutes to filter from the ground into a can.
Available in two variants: still or sparkling from November, Radnor's new 330ml cans (rrp £1 each) are 100% recyclable, transport efficient and boast a long shelf life.
William Watkins, owner and managing director of Radnor Hills, said: "Installing our first ever canning line has been an exciting new adventure for us as a business, and we are so pleased to be able to offer our customers yet another format for their spring water and other products."
Radnor Hills' portfolio of canned drinks also includes its fully school compliant range Radnor Fruits, which features a blend of 45% fruit juice and spring water.
The range was recently redesigned into a 330ml can, taking inspiration from the craft beer market and made using no added sugar, preservatives or artificial colours or flavours. The drinks also count as one of your five-a-day.
Two natural and unsweetened infused waters are the next products that Radnor Hills plans to launch in the UK, following the rollout of its new still and sparkling canned waters next month.