Demand for healthier lines and imaginative flavours means retailers may need to re-examine how to meet those between-meal moments.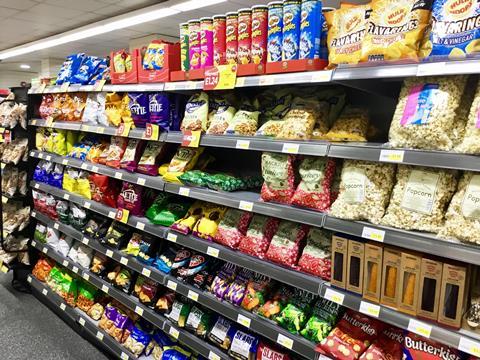 With consumers continuing to fit food around their busy lifestyles, demand for snacking products shows little sign of slowing down.
In fact, crisps and snacks are bought by 97.9% of the UK population (Kantar, February 2019) and the category continues to benefit from the growth of the food-to-go sector, which is expected to hit £22.8bn in value by 2022 (IGD 2018).
As time-pressed shoppers more frequently swap sit-down meals for grazing on the go, c-store owners such as Edinburgh Premier retailer Dennis Williams are cashing in on strong demand for snacking.
"Crisps and snacks in general have been very good for us," says the Broadway convenience store owner. "The £1 bags, in particular, have been going very strongly as people see them as a value option to have alongside their lunch."
Dennis and wife Linda dedicate about two metres of their snacking range to £1 bags, which includes lines from a range of brands including Walkers. PepsiCo has a close relationship with the Scottish retailing couple as Linda used to work for Walkers.
"We've always had good support with our crisps range," Dennis adds. "The category is a good footfall driver and works well alongside our food-to-go deli counter."
Ginsters marketing director Mike Smith says that the snacks category has grown to a level that goes beyond standard lines and sharing bags. He says that savoury pastry, for example, is the fifth most snacked category among young, pre-family shoppers (Harris Interactive Survey 2018).
He believes retailers need to respond to this demand by focusing on British produce, quality and world flavours. "There is a growing desire for convenient and versatile savoury snacks that don't compromise on taste. Studies have shown the number of shoppers that rank supporting British farmers as 'highly important' has grown year on year, and almost half of all shoppers are prepared to pay more for British food (IGD 2018)," he asserts.
"Alongside quality, recent data has shown that Tex-Mex, modern Asian and North African spices are continuing to gain momentum with millennial and Gen Z consumers, swiftly shaping the snacking category. These profiles tap into a growing consumer demand for ingredients with vibrant colours and flavours, bringing the appeal of street food, global tastes and a sense of culinary adventure into the snacking market."
Andy Brown, sales director at Envis Snacks, adds: "In this day and age of increased pressure on space and competition, stocking products that offer some real differentiation is an extremely effective way to drive incremental sales."
Bimal Patel, co-owner of Londis Ferme Park Road in Crouch End, London, agrees that consumers are now more adventurous and he has developed his snack range to include a real mix of flavours.
"I'm really proud of our range of crisps and snacks," he says, "and the breadth of products that we offer to our consumers. It is a growing category for our store and has been for some time."
Bimal says he has witnessed a bigger appetite for healthier snacks. "We sell plenty of the multi-seeded variants and baked chips that have become really popular with our customers. They are looking for those exotic flavours that are much healthier as well."
Bimal says about 60% to 70% of his customers buy some of his more unusual flavoured crisps, including those flavoured with vegan cheese. This demand is encouraging him to stock more of these types of lines.
He adds: "It's not just younger people that buy these types of snacks. If they didn't appeal to everyone in our area then we wouldn't have them in stock.
"In the past year demand has really changed and lots of people are now buying more of the alternative snacks flavoured with things like beetroot."
Seabrook's Alton Towers on-pack promotion returns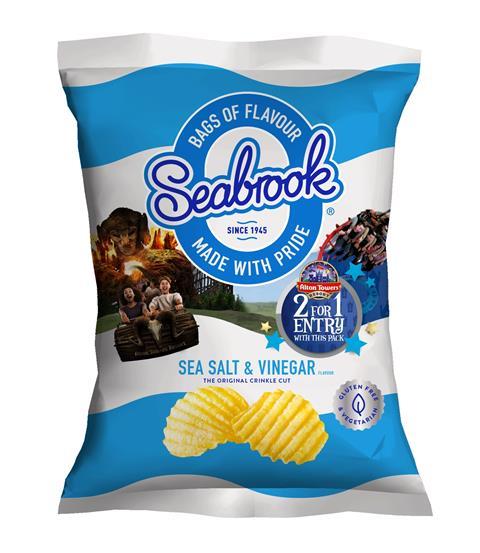 Building on the success of last year's multi-million pound partnership, Seabrook has once again been named as exclusive savoury snack partner for Alton Towers Resort.
As part of the deal, the brand has relaunched its on-pack promotion giving consumers two-for-one entry at the theme park (worth up to £56).
The campaign will run from now until September.
The promotion will run across Seabrook's crinkle cut multipacks, 80g pricemarked packs and 31.8g bags.
Seabrook is also doubling its TV spend in 2019 to ensure continued growth throughout the activity. Seabrook will be returning to TV screens as part of the promotional activity, and the brand will also be supporting the launch with radio advertising, social media, digital advertising and a PR campaign.
Seabrook Crisps commercial director Jon Wood said: "In a time where consumers are often bombarded with promotional overload, an offer which genuinely provides good value to the consumer will stand out among competitors and grab the attention of young adult and families alike."
Healthy interest
Bimal is keeping his range on-trend by stocking a collection of nut-based snacks that sit in a separate display alongside his regular crisps and snacks line-up.
He explains: "We do all sorts of nuts in boxed and bagged formats which are made with lots of healthy fruits and vegetables for flavour.
"These kind of products go hand in hand with crisps so we make sure that the range is kept close to the healthy lines within our range to make the most of demand."
Kettle Foods channel manager Sarah Beck claims that the trend towards healthier eating has grown significantly in recent times. "This attitude goes beyond the category and is firmly planted in consumers' mindsets, breaking away from key moments such as Veganuary and Lent," she says.
Paul Hargreaves, chief executive officer at Cotswold Fayre, concurs that a growing number of shoppers are now looking for healthier options in the snacking category.
He says: "Crisps will always be popular, but more people are having them as a weekend treat rather than an everyday staple. There is always room for some guilty pleasure, but generally the future of the category is pointing towards more healthy options and innovation.
"Consumers are definitely seeking out alternatives to potato crisps, albeit slowly. Vegetable and fruit-based snacks are perceived as healthier by consumers and are seeing growth. Crisps that are baked not fried are gaining traction, as are thicker crisps, due to a lower-fat content. I think more healthy crisps are the way forward," he adds.
Dennis has had lots of success with his healthier snacking lines."We do a range from Snack a Jacks and have a big range of baked crisps which are lower in calories and fat," he asserts. "These lines are becoming more popular as people are now definitely a lot more health-conscious."
Last year Public Health England's Change4Life campaign set out the government's latest advice for families looking to lead healthier lifestyles. The campaign focused particularly on kids' snacking and recommended 100-calorie snacks at a maximum of two a day for this group.
Rather than being a hindrance to the category, Anca Lazar, brand manager of Cathedral City Snacking, sees the government advice as an opportunity to grow sales of high protein and dairy snacks. She says: "Snacking has reinvented itself in a big way over recent years and snacks today need to work harder and smarter than ever to appeal to growing consumer concerns surrounding health and convenience.
"Consumers are becoming more mindful of calories, which means that naturally nutritious, protein-rich snacking products such as dairy-based snacks have become increasingly popular with shoppers."
Simon Knight, sales and marketing director at Burts Chips, believes that government concerns about public health are likely to impact the snacking category going forward. "Increased attention given to health issues in the media in particular has drawn a spotlight on some of the concerns surrounding the industry," he says, noting that 26% of the UK are classified as obese and 37% of the population claim to be unhappy with their body (IRI MAT to 7 October 2018).
"Consumer perceptions of snacking have already taken a momentous shift in the past few years, as waves of health and well-being trends have made an impact on attitudes towards food and health in general," he adds.
Mark Cleary, owner of eight Spar stores in the north of England, is responding to the need for c-stores to offer more healthy snacking products by adding to his offer.
"We have recently extended our healthy snacking range, which includes nuts, bars and other protein-rich snacks," he says.
"These products seem to be most on-trend at the moment. We have a store near a university so these types of health products tend to do better than they would in our stores that are on council estates."
Manchester retailer Paul Stone, who owns a number of Spar-branded sites across the region, is also hoping to capitalise on demand for healthier snacks by revamping his range over the coming months.
"I'm looking forward to changing the balance of our snacking range and bringing in more health products that seem to be growing in popularity all the time," he says.
Raaj Chandarana, of Tara's Londis in High Wycombe, has similar plans for his store, driven in part by the surge in interest for plant-based products.
He says: "I've noticed that my customers are buying more healthy products and that is reflected in the snacks that we sell in our store.
"The demand for veganism is only growing and more customers in our area seem to be following a vegan diet. It not only works for health, but it also fits with halal eating, too. I see it becoming a much bigger market for retailers in the future."
Walkers guarantees taste across better-for-you portfolio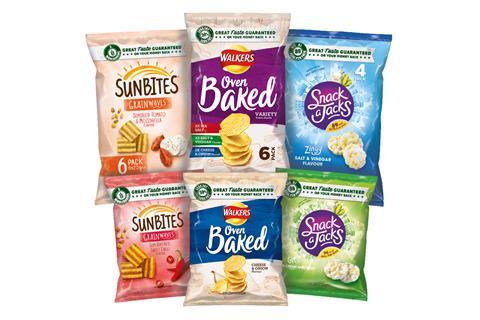 Walkers is rolling out its first-ever 'taste guarantee promotion' across its better for you snacks, to help retailers drive sales and tackle consumer misconceptions about the range.
The 'Taste Us. Love Us' campaign is being launched to demonstrate Walkers' confidence in brands such as Snack a Jacks, Sunbites and Walkers Oven Baked. The better-for-you portfolio covers a range of PepsiCo products including reduced fat, wholegrain and corn snacks.
Michal Iwasyszyn, marketing manager at Walkers brand owner PepsiCo UK, said: "We know that shoppers are concerned about taste when choosing smarter snacks, but as soon as people taste our products, the repeat purchase rate is phenomenal – for example, the repeat purchase rate for Sunbites is 54% (AC Nielsen Sep 2018/Kantar Worldpanel Sep 2018). Snack a Jacks, Sunbites and Walkers Oven Baked are all great tasting so we have no doubt that this campaign will be a real success."
Packs will boast a distinctive flash to generate standout, stating: 'Great taste guarantee, or your money back'.
The promotion will run throughout 2019 and will be supported with TV activity, influencer campaign, digital, on-pack flash, sampling and in-store stackers and POS material.
Free from
Free-from snacks are another area of opportunity for c-stores, and a range that has performed particularly well for Dennis is Pom-Bear. He says his customers appreciate the product's gluten-free content and appeal to younger shoppers.
He explains: "You have to offer these types of lines as part of your crisps and snacks mix, because people want to be given more options and those that are better for them."
Atul Sodha, owner of Londis Harefield in Uxbridge, West London, found out only last year that Pom-Bear was gluten free and when he promoted the product as such on social media he received a great response.
He explains: "I was approached by a mother looking for a snack for her kid who is a coeliac. Most of the Free-from snacks she bought at the time were for adults so some kids were picking on this kid because he couldn't have the regular snacks, like Monster Munch, that most children eat.
"Of course, everything changed when she came in and bought Pom-Bear. She was really happy and knowing that one product listing had made such a difference to a little kid made me feel really positive."
Burts Chips' Knight suggests that retailers who focus on improving their better-for-you and Free-from snacking range can grow their sales.
"Better-for-you ranges are showing significant growth at 15%," he asserts, "with an estimated total value of £207m. In addition to this, one in three consumers now buy Free-from foods during their trips to the shops, of which 22% buy gluten free; 19% buy dairy free; and 16% buy wheat and lactose free (IRI MAT to 7 October 2018).
"Consumers are striving to be more mindful snackers, meaning they increasingly make more considered purchases, expecting better-for-you snacks to not only be low in fat, salt and sugar, but also to offer added benefits such as protein or fibre. They also want clean labels that list natural ingredients they recognise," he says.
While health remains a key trend for retailers to consider when stocking up on crisps and snacks, Kettle Foods argues that there is still room for indulgent snacks.
"There is absolutely a place for indulgent snacks," says channel manager Beck. "While the healthier eating trend is set to continue, people still want to let go and treat themselves, and crucially they don't want to be disappointed with their choices. When people treat themselves, they want to do so in a quality way."
The company also offers a snack that straddles the two extremes – Metcalfe's popcorn – as Beck explains. "Popcorn is one of the few snack items seen to be both healthy and indulgent," she points out.
Bimal's Ferme Park Road Londis sells two brands of popcorn to ensure he caters for health-conscious consumers and those wanting to indulge. "Popcorn sells well in the evenings and we have a good split between products from Propercorn and Butterkist that cover all bases," says Bimal. "Demand for popcorn has taken off particularly over the past three years."
He has five metres of space dedicated to bigger bags of snacks including popcorn. "We do plenty of sharing bags which sell especially well at the weekends, particularly when people have family or friends coming round and are seen as a more indulgent option."
Dennis finds that sharing popcorn sales often soar during the colder months, when we're more likely to stay indoors. "We stock things like popcorn all year round, but the times when Strictly, The X Factor and Britain's Got Talent are on are when sales really take off.
"I think sharing crisps and popcorn rely on families getting together in front of the telly as this is the time when it makes sense to have a bigger bag."
Beck claims that bigger bags are big business. "Sharing growth in convenience shows little sign of slowing down, and we're seeing a continued double-digit growth. It's actually the main driver of snacking growth in convenience at +23% over the past two years (Nielsen Value Sales to 1 December 2018)."
Kettle creates new chips with fruit and veg pairings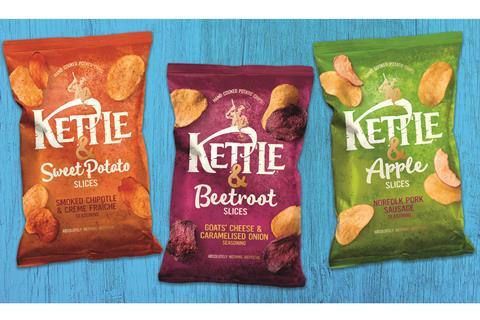 Kettle has launched a crisps range with premium flavours and made using beetroot, apple or sweet potato slices.
Available now, the Kettle & More line-up comprises three variants: Kettle & apple slices with Norfolk pork sausage seasoning; Kettle & sweet potato slices with smoked chipotle & crème fraiche seasoning; and Kettle & beetroot slices with goats' cheese & caramelised onion seasoning. The range comes in a 100g sharing bag format, rrp £2.25 each.
The new chips are made with 100% natural ingredients and have been designed to drive sales in the crisps and savoury snacks category. Kizzy Beckett, senior brand manager for Kettle Chips, said: "We're incredibly proud of the new extension to the Kettle Chips brand. The new Kettle & More range shows Kettle at its most playful and innovative, while staying true to our core principles.
"We're committed to using 100% real food ingredients and ensuring our customers receive a product that is crunchy, tasty and satisfying. We can't wait for consumers to taste the new range as it is something quite different for UK crisp eaters to experience."
The launch of Kettle & More is being supported by a trio of television adverts, with a combined spend of £5m.
The TV campaign is also being accompanied by a social media and digital advertising campaign, designed to highlight the real food credentials of the range. The activity will continue to push the brand's #RealFood RealPleasure messaging.
Premium
In addition to stocking the right pack formats, retailers also need to consider whether their customers may be willing to pay a premium for certain snacking lines. This is something Bimal has done to great effect in his store. Some of his range retails for as much as £1.99 for a small bag, but he says customers are willing to shell out, especially if the product ticks that healthy box, too.
"People are 100% willing to spend more for a product that is better quality, tastes good and might also be better for them," he asserts.
"These premium products also offer us good margins and help to broaden our range. Most customers want to have as much choice as possible when it comes to buying snacks."
Burts Chips' Knight agrees that high quality, premium snacks are important for driving footfall and adding value into the category.
"With 54% of consumers perceiving high quality ingredients to be the defining characteristic of premium snacks, brands have been promoting quality credentials to great effect," he says.
"Stocking a range of snacks in a variety of formats and pack sizes is key for retailers to tap into growing trends, as consumers are not only buying larger pack sizes at higher unit prices, but they are willing to pay more (up to a 9% premium) for a healthier product (IRI MAT to 7 October 2018)."
Kent Crisps shows off its heritage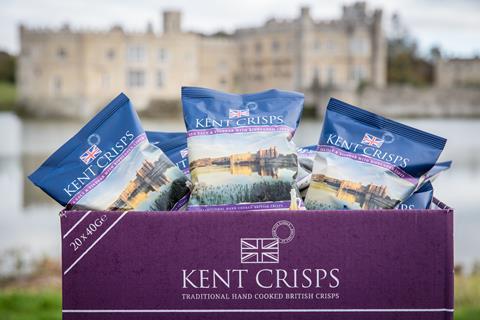 Kent Crisps is changing its range with a new pack featuring Leeds Castle, designed to mark the monument's 900th anniversary.
The new-look packs, which will appear on the sea salt & vinegar with Biddenden cider flavour, depict the view over the castle. The brand's existing range also features imagery of UK landmarks.
In addition, Kent Crisps has introduced a smaller 30g bagged format, aimed specifically at the on-the-go market.
It is available in two flavours: sea salt & vinegar with Biddenden cider; and Ashmore cheese & onion.
Kent Crisps owner and managing director Laura Bounds commented: "Our ethos at Kent Crisps has always been about promoting Kent and its food, drink and tourism offering by featuring key destinations and landscapes on crisp packets and working with local producers as flavour partners.
"Our passion lies in being able to collaborate with like-minded businesses who champion Kent, the local countryside and all it has to offer.
"Leeds Castle is celebrating 900 years in 2019, which creates the perfect opportunity for the castle to feature on our sea salt & vinegar with Biddenden cider flavour crisps; a collaboration which perfectly showcases Kent's exceptional food, drink & heritage."
Kent Crisps, featuring the Leeds Castle design, are available to order now in 40g bags (rrp 85p) and 150g bags (rrp £1.99), along with the new 30g pack formats.
Merchandising
Whether you choose to stock up on traditional crisps and snacks, or go heavy on healthy, it is vital that c-store retailers ensure that their offer is easy for customers to browse.
"Snacking goes hand in hand with convenience, so retailers should bear this in mind when they are planning their ranges," says Kevin Butterworth, marketing director at Symington's (brand owner for Mug Shot, Naked Noodle, Naked Soup and Naked Rice).
Jon Wood, commercial director at Seabrook Crisps, agrees: "Retailers can take simple steps in order to cash in on this rise in on-the-go consumption, such as positioning crisps near the till to entice consumers to pick up a pack while they're in the store looking for something else."
Bimal is cashing in on on-the-go customers by positioning most of his grab bag offering alongside his food-to-go section. "It makes sense to have the smaller bags next to our food-to-go so that people can pick them up together," he says. "We include both traditional brands and healthier options within this range."
Beck thinks c-stores can make their fixture easier to browse by creating clear sections in-store for different types of crisps and snacks – displaying by formats, then by type and finally grouping products together by brand.
"C-stores should also consider cross-merchandising their snacks around occasions and associated products," she adds, claiming that this is especially effective with indulgent snacks. "When people treat themselves, they want to do so in a quality way. In this respect, cross-merchandising of indulgent snacks is perhaps even more important than everyday treats. If customers are looking to treat themselves to a Big Night In, cross-merchandising aids this shopping mission."
Using eye-catching POS can also help to give snacking products more visibility. "POS is important to break up the fixture and grab attention, whether this is by highlighting some brand activity, for example an on-pack promo, or flagging new products or features of the products that will appeal to the consumer, such as under 100 calories," she says.