Burts Potato Chips has changed its name to reflect its growing range of brands and investment in its snacking line-up.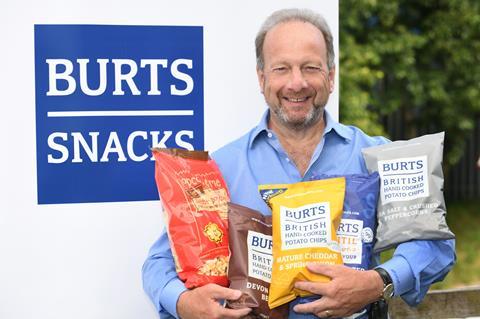 Following its acquisition of Savoury & Sweet in December 2017, the newly-renamed Burts Snacks will continue to manufacture a range of crisps, popcorn, compression popped and flash fried products in the UK.
This includes lines from Burts Potato Chips; Guinness Crisps; Jim Beam Crisps; Levi Roots Crisps; Lentil Waves; and the Popcorn & Me brands.
The company is investing in a new frying hall in Leicester and pallet handling automation centre in Roborough to strengthen Burts Snacks' position in the market.
David Nairn, managing director of Burts Snacks, commented: "At a time when other UK snack manufacturers are consolidating into larger, multi-national portfolios, at Burts Snacks, we're bucking the trend by staying true to our core values by remaining independent and investing in our people, products and facilities to ensure we maintain our status as the leading specialist in premium brand and private label snacks."